Whimsy Christmas Lone Star Quilt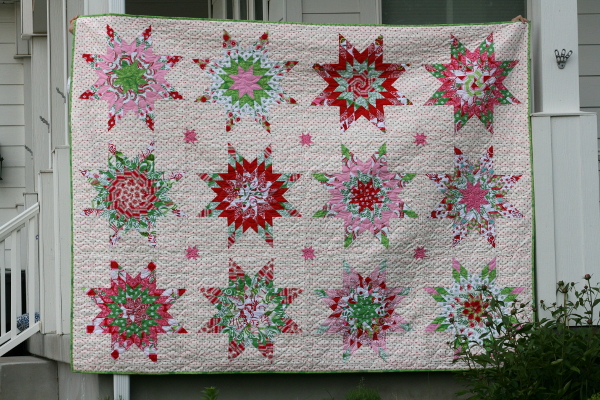 This is the most traditional lone star quilt I've made to date, with twelve lone star blocks set in three rows.  I love it so much.
Piecing these stars was a fun exercise in choosing fabrics, and it never bores me to see all the different combinations that can be created (even within a fabric collection) in these stars, depending on placement of color in different orders.
This quilt was also a good lesson for me in viewing distances.  Blocks that look like they have plenty of contrast up close, can end up reading very differently at a distance, as you can see when you compare the photo at top with the following photos of individual blocks.  In this project I didn't have a particular goal, and there was no right or wrong; I merely wanted to experiment and see what happened.  I love learning lessons from fabrics as I sew!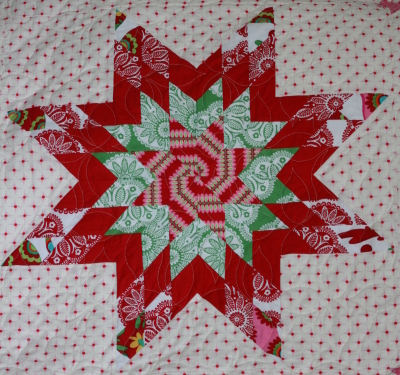 Rather than choosing fabrics with small scale prints for obvious color contrast (like my sample block in the tutorial), I decided to use prints that were larger in scale and see how these more modern prints worked in the stars.  The resulting blocks are busier and sometimes more lacking in contrast (especially from a distance), but they also have a lot of personality up close.  I really like them.
As you can see above and below, the solids really stand out and define the star.  In the star above, I like how the stripe print creates a sort of spiral in the center star.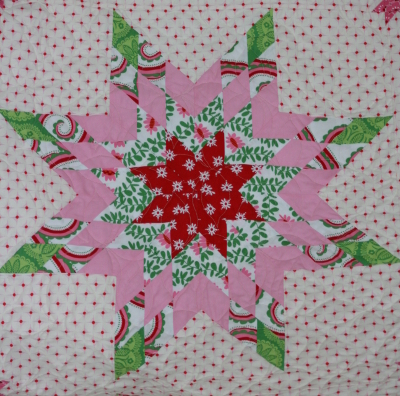 Choosing prints similar to your background fabric will cause that round in the star to recede, as you can see below.  I love how the center star and first round are so bold, and the others disappear a little.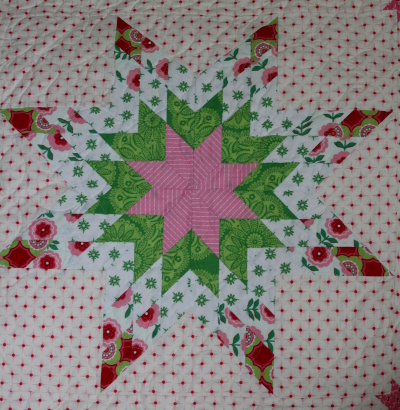 Below you can see how the large scale swirl print creates lots of movement between the green center and the pink solid.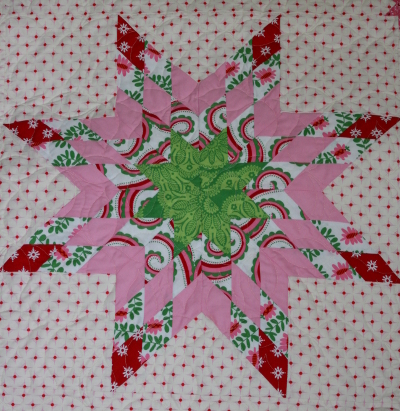 The green print in this block helps balance the craziness of the center star.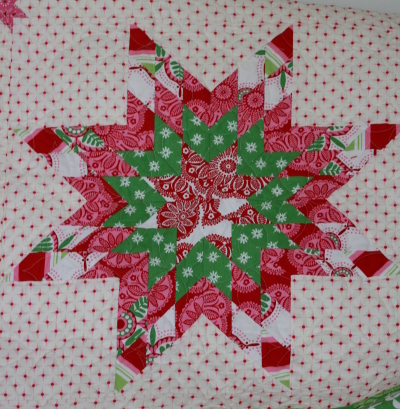 This block felt like a risk to me when I made it because I was combining so many busy prints with softer backgrounds, but when finished it was one of my favorites.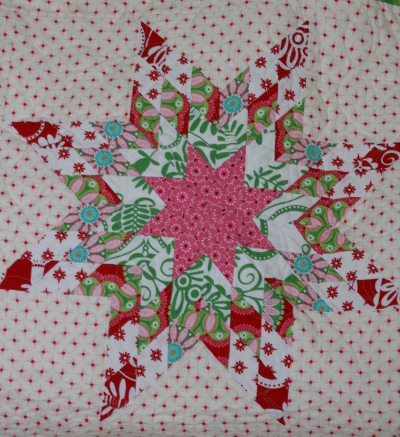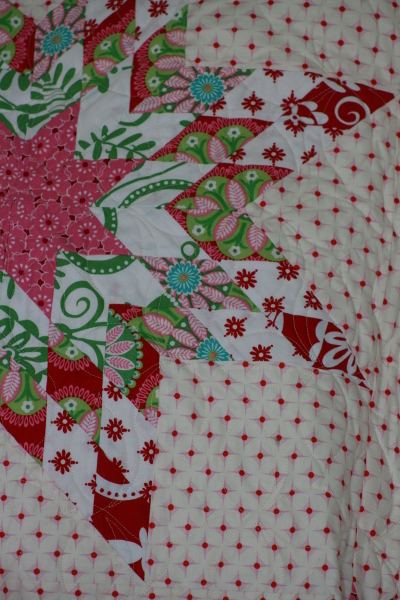 The outer points on the star below make me so happy.  I love how they stand out and the second and third rows recede.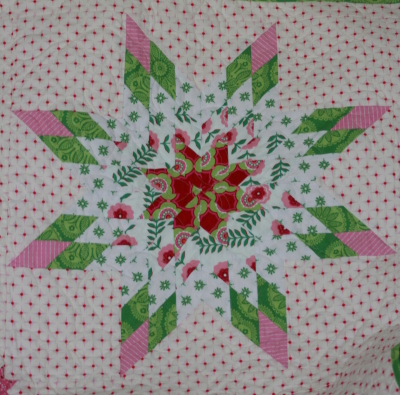 Most of these fabrics are from the Whimsy Christmas fabric collection by Pillow & Maxfield from several years ago, with a few others added.  The pink dot background fabric is from Heather Bailey's Nicey Jane collection, and this particular print was included in the reprint earlier this year.  The quilting was done by Melissa Kelley of Sew Shabby Quilting in an edge-to-edge vine pattern.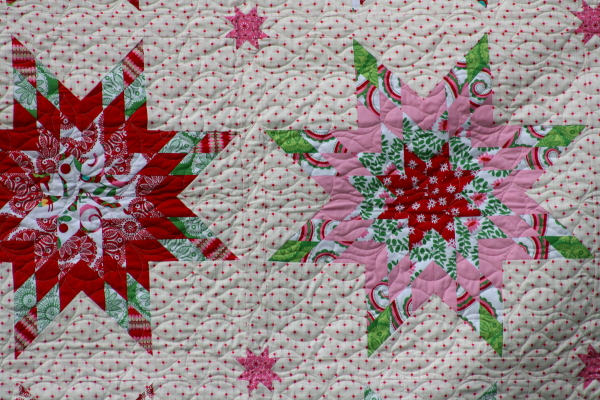 Each of these stars are made from two inch strips, pieced according to my instructions in my Lone Star Block Tutorial.   For more information about my lone star projects, visit my Lone Star page.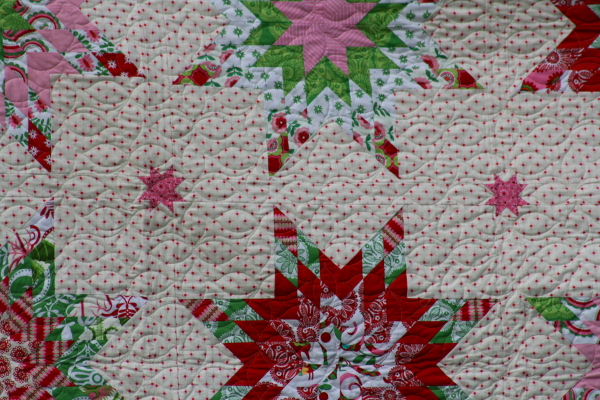 I made small stars at the posts in my sashing to break up the large negative space where the corners of four blocks join.  I chose a pink and red print which adds to the "traditional Christmas + pink" color scheme of this quilt.
My favorite Whimsy print was found in two colorways which I stitched together for the backing:
Each of these blocks measure 22″ square and the sashing/border is 1.5″, making the entire quilt approximately 72 by 96 inches.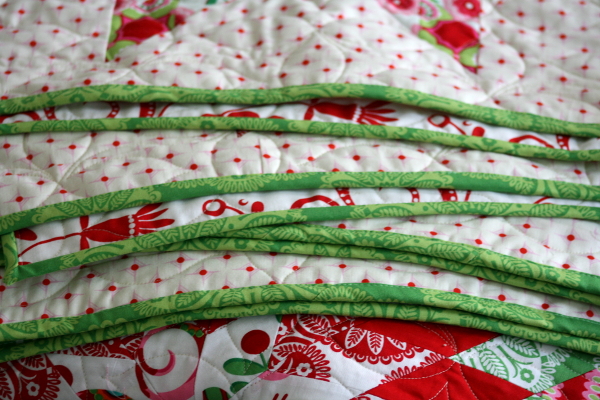 I can't wait to see my little girls snuggled under this beauty for the holidays.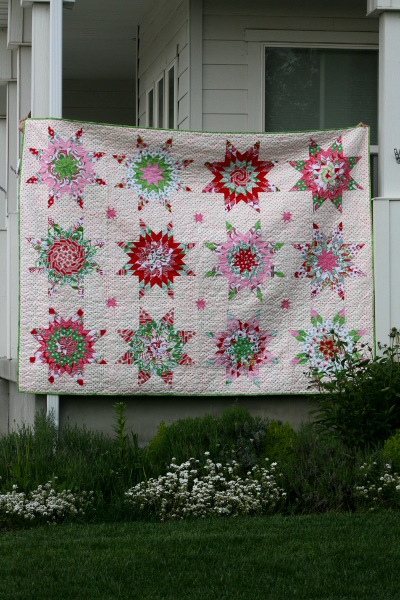 Jennifer