Liberty Dresden Quilt Top
A friend of mine recently went to London, and while she was there, posted a video of the gorgeous collection of tana lawn available at Liberty of London.  London is my dream destination and yet I've never been there….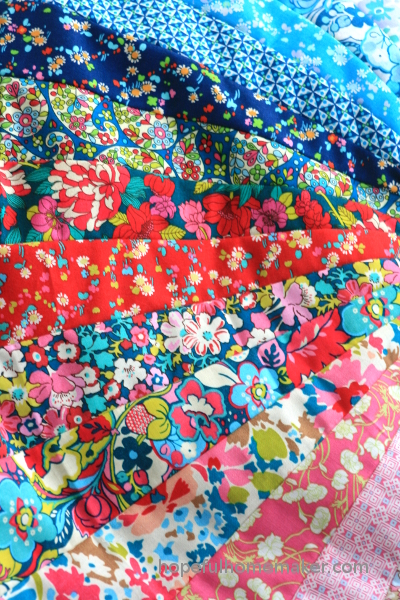 When I saw her video I remembered a project I started last spring at Kathy Doughty's workshop.  These prints are from the quilting cotton collections that Liberty released several years ago.  I have carefully saved every little scrap and was excited to find I could cut 36 long wedges from my pieces!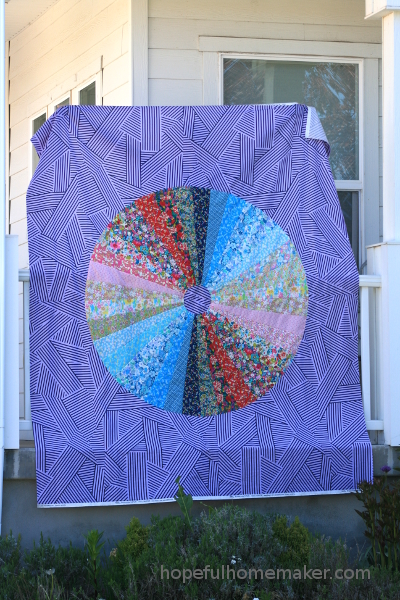 For this project I used a ten degree wedge ruler that is 25 inches long.  My fabric pieces weren't quite that long, and on a few of them I added a strip to make them longer.  The dresden is 49″ across.
I had a number of ideas in mind for the background of this quilt – NONE of which included this purple Mostly Manor Stripe by Victoria Findlay Wolfe.  I had a smaller piece on hand and it happened to be sitting nearby when I was selecting the background.  On a whim I tried it out and to my surprise I loved it!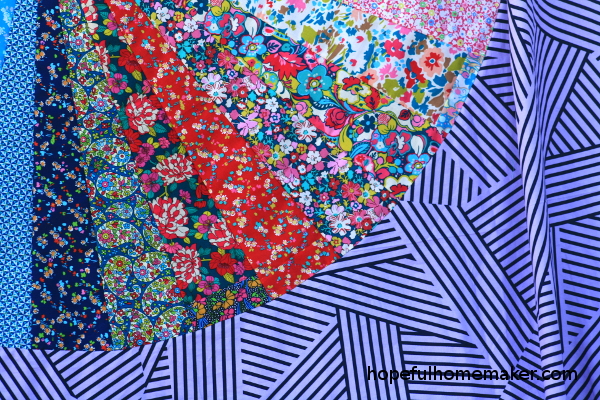 I loved purple as a second grader, but have avoided it since.  I am learning that it has it's place in design and sometimes is just the right color to complement a project.  The bold navy stripes in this print turned out to be a beautiful contrast to the small scale prints in the wedges.  I waited impatiently for yardage to arrive so I could assemble the top.
I hand appliqued the outer edge of the dresden to the background.  Now it's just lacking a center, which will be this awesome yellow.  I am currently debating quilting ideas before I decide when to applique the center circle in place.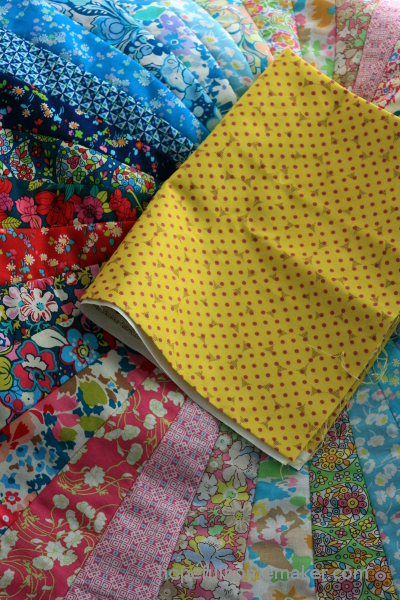 I love the colors and prints of these designs.  My Fireworks quilt was the original project I made with them.  It am happy to have made another quilt top using leftovers.  This was a refreshing fast project to indulge in and now I want to make more dresdens!