Favorite Tools: Foundation Paper Piecing
I love the accuracy of a foundation paper pieced quilt block.  Foundation paper piecing involves printing a pattern on paper, then sewing fabric to the back of the paper along the seam lines to achieve the design.  It seems there is no limit to the amazing designs that can be sewn with this method.  It does, however, require careful attention to detail along with extra time and steps.  I've found that having a few tools on hand makes a big difference in both my sewing experience and my final product.  So without further ado, here is my list of favorite tools for foundation paper piecing.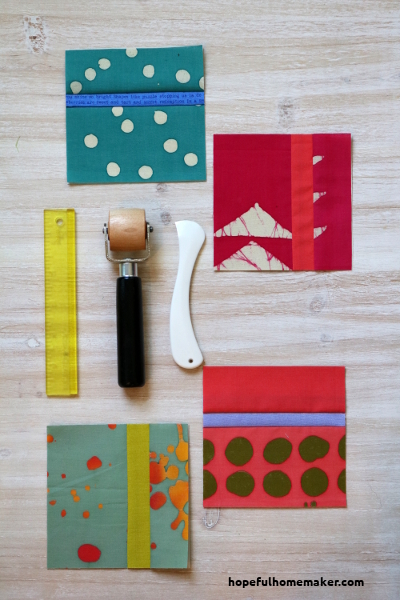 1. The

Add-a-quarter ruler

is a lifesaver.  It has a lip on the edge of it that sits over the seam, up against the folded paper when you're trimming your seam allownace after adding a piece of fabric.  Simply line up the ruler and cut, and you have a 1/4″ seam allowance.  It comes in two sizes and I use both.  This might be my favorite tool for foundation paper piecing.
2.  The

Seam roller

is perfect for pressing your fabric.  It isn't always convenient or even possible to iron every seam when foundation paper piecing, but rolling the seam roller over it always does the trick.
3.  My

Hera marker

is a tool I use for both foundation paper piecing and for machine quilting.  When I need to fold over a part of the paper pattern, I use the Add-a-quarter ruler and the Hera marker to crease the paper, and it folds perfectly along the line so I can then trim my seam allowance.  For quilting, this tool is invaluable for marking quilting lines on quilts.  I have a few of them now, so I'll always be able to find one – no matter how messy my sewing table is!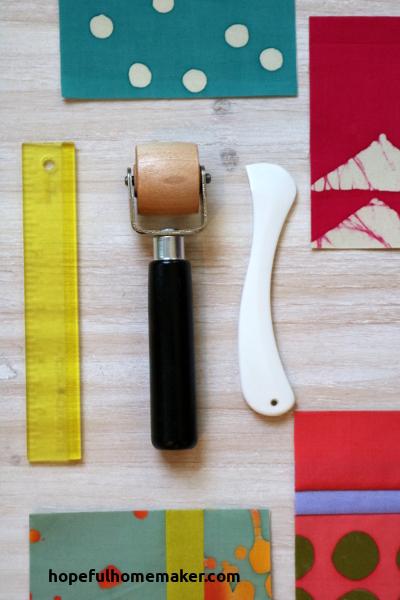 4.

Carol Doak's paper

for foundation paper piecing is a must.  This newsprint paper (see blocks printed on it below) is thin and easier to sew through than regular copy paper.  It also tears more easily when I remove the paper from my quilt block.  Because it is uncoated, it doesn't slip when I sew my fabric to it.  This paper comes in both

8.5″x11″

and

11″x17″

.  I use both sizes, depending on my project.  The paper feeds easily into my printer or a copy machine.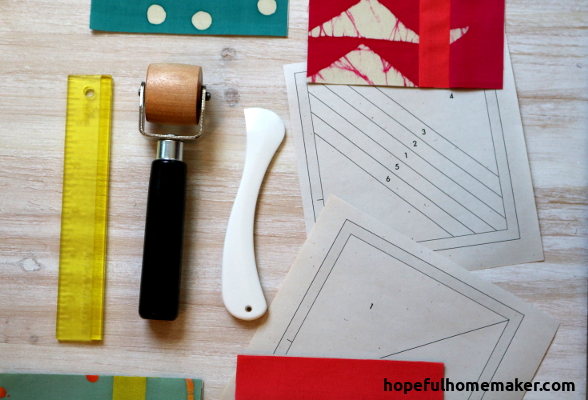 5.  I keep a square

rotating cutting mat

next to my machine when foundation paper piecing.  It makes the process faster.  A good

rotary cutter

is also important.  The final tool I use with fpp is a glue stick.  A small amount holds my fabric in place on the paper while I stitch, and the paper is easy to pull off later.  I use a regular Elmer's washable glue stick, like the ones I buy my kids at the beginning of the school year.
6.  If you're looking for a great machine, I purchased t

his Juki

just over a year ago.  It has been a dream to sew with.  I love my machine.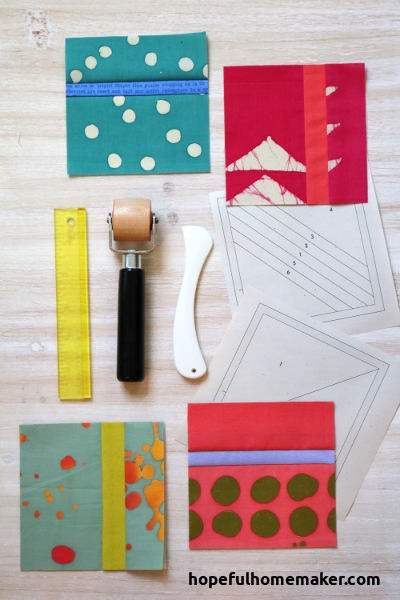 That is my basic list of favorite tools for foundation paper piecing.  I highly recommend that you add them to your sewing supplies if you plan to learn foundation paper piecing.  You will be glad to have a few tools to speed up the process and improve the quality of your blocks.