Vintage Summer String Quilt
I promised myself I would finish any patriotic colored projects before Labor Day this year, and there's nothing like sneaking in right at the deadline!  Today I quilted and bound my Vintage Summer String Quilt.  This

might

be my oldest WIP – I posted my first blocks

here

and


here



back in 2012.

Ouch

.  My husband walked through the kitchen just now and congratulated me on getting it done.  Then he asked, "How long ago did you say you started it?  Was it nine months?"  I laughed and said "2012" to which he replied, "There have been an awful lot of world events that took place since you started that quilt!"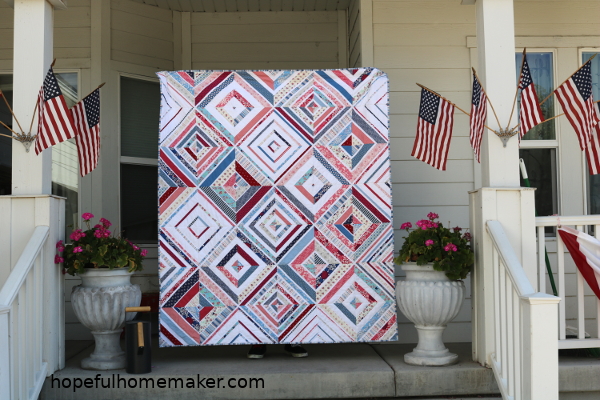 So true, and there have been a lot of personal and family events in that same time!  So, why finish it now?  I pulled my blocks out every year or so to that question.  It felt like a lot of work.  Every time I looked at the fabrics I concluded that I still loved them, so yes, I wanted to finish it.  My vintage summer string quilt is foundation paper pieced, meaning the strips were sewed onto paper, and

I followed this pdf

for my measurements.  I wrote on the back of each block which block it was in the quilt.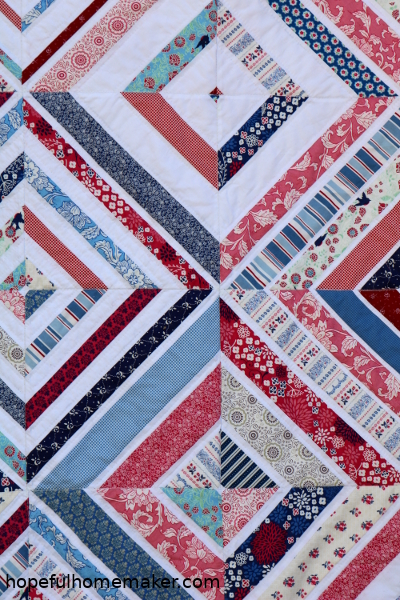 This quilt is not my best work.  This was my first experience with paper piecing.  I bought a random pad of paper at the office supply store simply because it was 11″ wide, and didn't notice I was buying a slippery, glossy paper that would make accuracy difficult.   I had never heard of my (now favorite)

Carol Doak newsprint

which is perfect for fpp.  It even comes in

legal size

which would have been perfect for this project.  So I sewed and my fabric moved and slipped and accuracy was a real challenge.  I put it away, intending to re-do the inaccurate blocks, and when I got it out again a year or two later, I would start in a different place, always writing on the back of the blocks, always with the same challenge, and put it away again.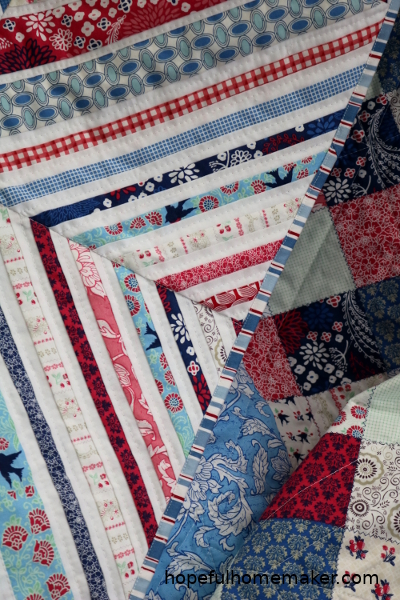 This year I made the decision to use every block as it was, finish the last few (with glue to help, this time) and sew the quilt top together.  I'm glad I did.  It's an imperfect quilt with a long journey and many mistakes, but I love it.  The  mismatched seams have nothing to do with usefulness.  Kind of like people, like real life.  Done is better than perfect!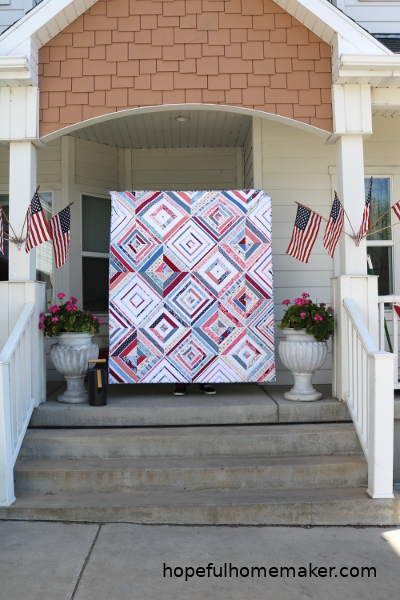 From a distance I enjoy the lights and darks.  It's interesting how distance softens my mistakes as well; a good life  reminder for me.   I am grateful I located yardage of a two prints a few years ago which I used for the backing.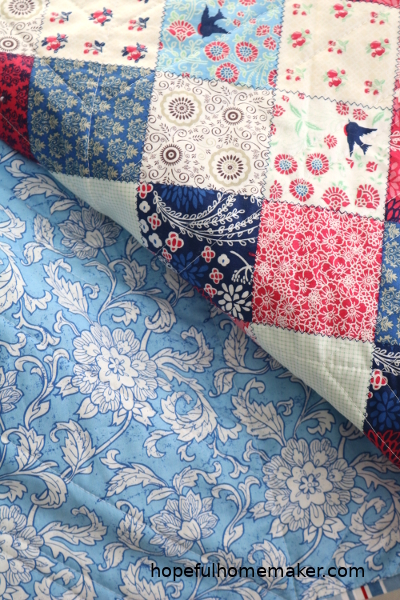 I also saved a fun red, white and blue stripe for binding, and it looks great.  Lately I've hand finished all my bindings but today I opted to finish it by machine.  I quilted it in white thread with straight lines in all the white strips.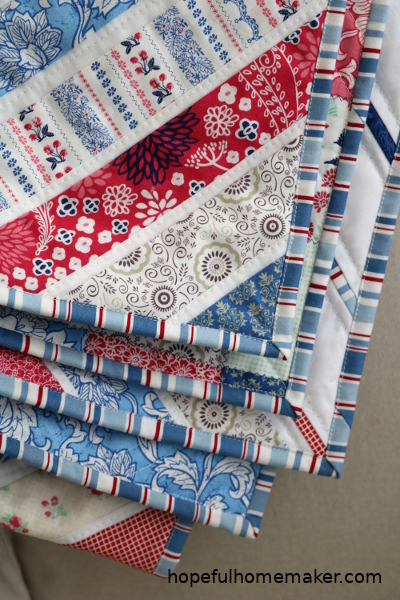 My Vintage Summer string quilt is the only string quilt I've ever made.  It might be fun to make another in a different style someday.  For today, I'm celebrating a finished quilt, one last day of flags for the summer, and keeping commitments to myself.  That last one especially.  I love keeping a promise I make to myself.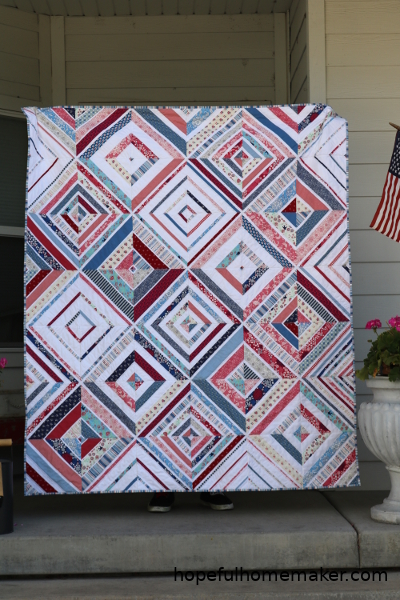 Happy Labor Day!
Jennifer