Lone Star Tree Skirt Sew Along: Cut & Sew Strips
Welcome to the Lone Star Tree Skirt Sew Along!  Today is the official start of our five week project.  You have your copy of the pattern and your fabrics chosen.  (If you missed the first video about choosing fabrics, you will find it here.)  Whether it's your first lone star project or your 100th, we're going to have a great time.  It's time to start!
Week one covers the first six steps in your pattern, cutting and sewing strips and then cutting them again to make strips of diamonds.  These steps are simple but require accurate cutting and sewing, as well as care in keeping your fabrics organized.  I shared all my tips in the videos below and I hope you find them to be helpful. (Note: I neglected to include ironing instructions in the pattern, which has been fixed.  Please watch for those in the videos!  If you download the pattern from your Etsy account again, you should have the updated version.)
There are two videos this week.  The first covers cutting, pressing, and arranging your long strips together into sets:
This second video demonstrates how to sew your strip sets together, press seams open, then cut them into diamond strips:
That's all there is to it!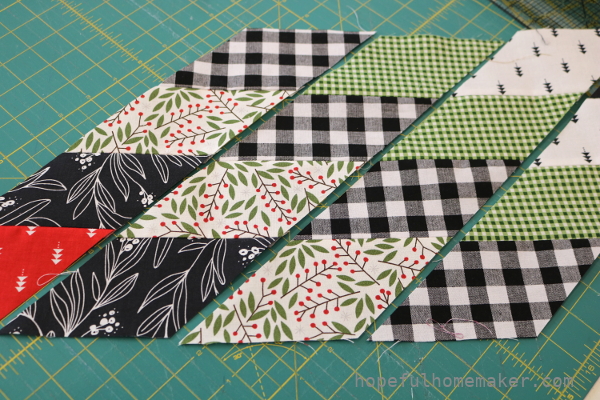 I love seeing the pattern begin to emerge when all my diamond strips are cut.  Our goal this week is to have 8 sets of diamond strips ready to sew into larger diamonds.  I'm excited about the black in my fabric pull and can't wait to see these strips come together.
You can purchase a pattern here.
We will meet back here next Monday for week two of the sew along.  Please share your progress with the hashtags #lonestartreeskirt and #hopefulhomemaker.  I'll be watching for them!
Remember that all posts for this project can be found on the Lone Star Tree Skirt Sew Along page.
Have a great week, and happy sewing!
Jennifer