Raspberry Applique Blocks Assembled
Early this year I started a new applique project, Raspberry Applique, a monthly block of the month pattern available at Raspberry Spool.  Crystal created each block based on different flowers and bushes indigenous to Australia.  I wanted to use applique in a new way, or with a new style, so this was a great fit.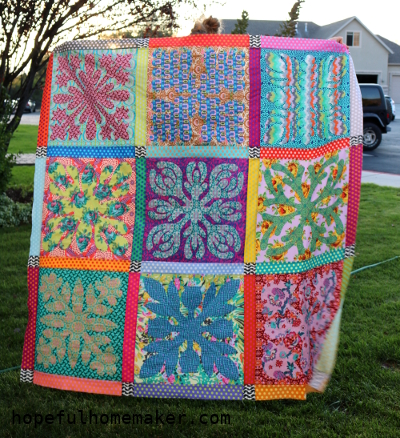 I purchased the pattern and stalled instead of starting.  Unable to decide on fabrics, I fell behind for several months.  Then one day I was looking through my Amy Butler fabrics, thinking sadly of her retirement from fabric design, when the idea to use her fabrics in this project struck me.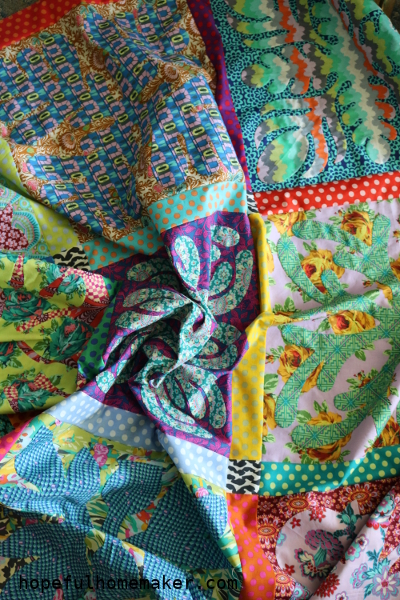 This quilt is an education in layering prints and designs in a bold and busy way.  I would like to get really good at it, and I deliberated carefully over my fabric choices for each block.  Some turned out perfect; others I would change.  But I'm learning.  I like to have a new goal with each quilt I make, and using busy prints together successfully is my goal with this quilt.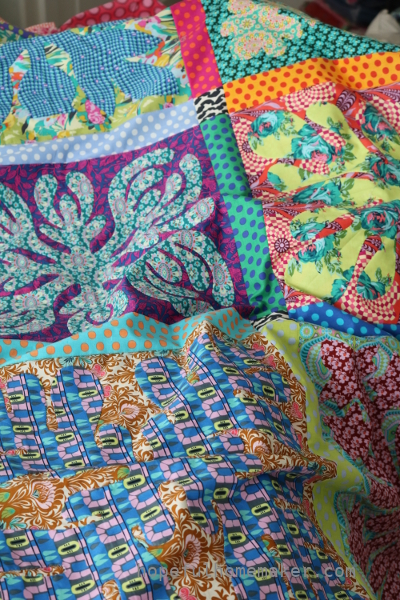 Some blocks have great contrast while others blend together; I tried to balance all of this both in my blocks and in the layout.
After completing all nine blocks I decided that there will be no solids in this quilt, and the only white will come in the prints I use.  I want a bright, lavish quilt.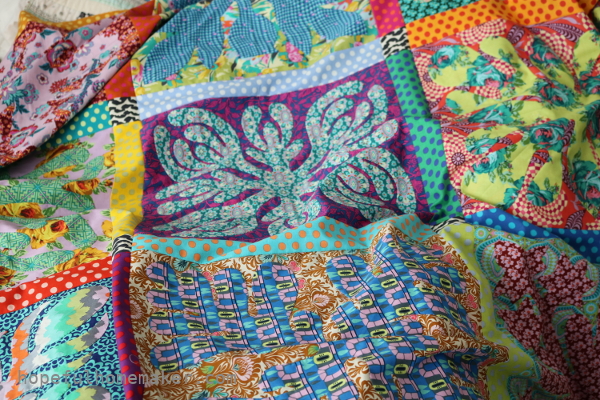 To accomplish my goal I used Kaffe polka dots in a different color for sashing around each block.  Knowing the friendship between Amy and Kaffe, and how his designs influenced her artwork, it felt appropriate to introduce the dots.  It also helps add more color and whimsy to the quilt.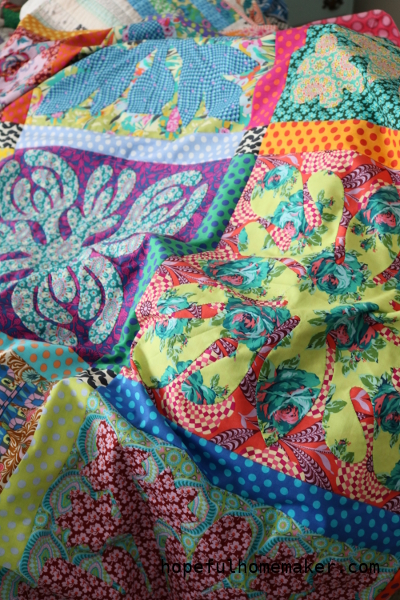 This is where the raspberry applique pattern ends and my own design will begin.  I will turn this project on point and design four large corner pieces to frame the applique blocks.  It's going to be big and bold and gorgeous, even though I have no idea yet what I'll do!  I'm excited to explore the unfolding of this quilt in coming months.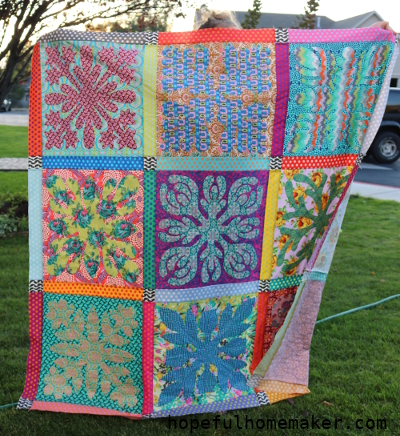 For now, life's a little crazy and I need a guest room – so no space for chaotic sewing and fabric everywhere.  It will have to wait, but it does beckon me every time I walk past…
This is a design project I can't wait to get back to!