Anchor Baby Quilt
Nothing says love like a soft, handmade baby quilt, and this one was a delight to make.  The cute mom-to-be was a long ago babysitter for my kids, and now she's expecting a baby boy of her own.  When I received a nautical themed shower invite and heard that her nursery was similarly decorated, I wanted to make a quilt that would fit right in.  So I made her an anchor baby quilt.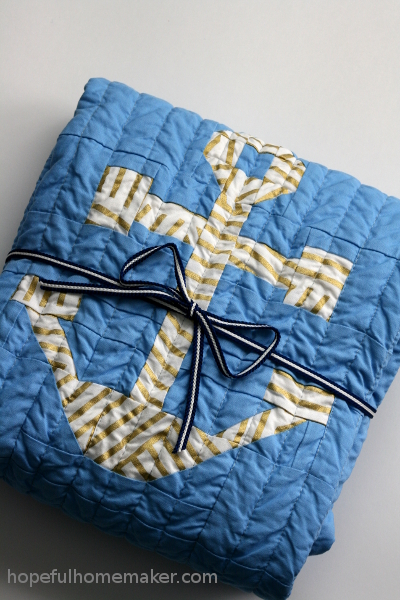 I used my

anchor quilt block tutorial

to make the anchor.  The gold and white stripe is a print by Victoria Findlay Wolfe that I love.  It contrasts well with the blue solid.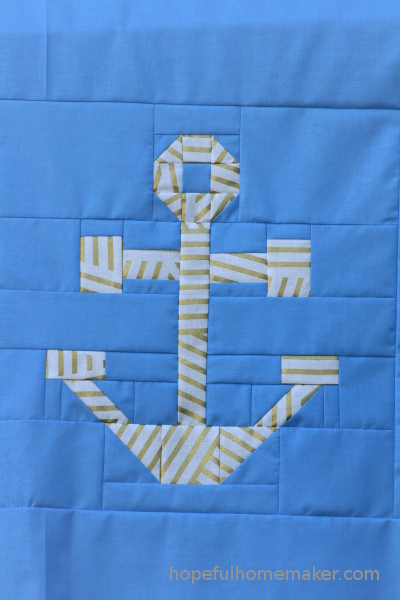 Piecing the quilt top was quick and simple. I bought two yards of the blue solid.  After making the anchor block, I cut three strips from the remaining blue:  20″ x width of fabric (WOF), 14.5″ x WOF, and 12″ x WOF.  From the 14.5″ wide strip I cut two pieces, one that is 17.5″ x 14.5, and one that is 10.5″ x 14.5.
I sewed the 10″ piece to the right of the anchor block. The 17.5″ piece went to the left of the anchor.  I sewed the 12″ strip across the bottom. The 20″ strip went on top to finish my anchor baby quilt top.  Easy as can be!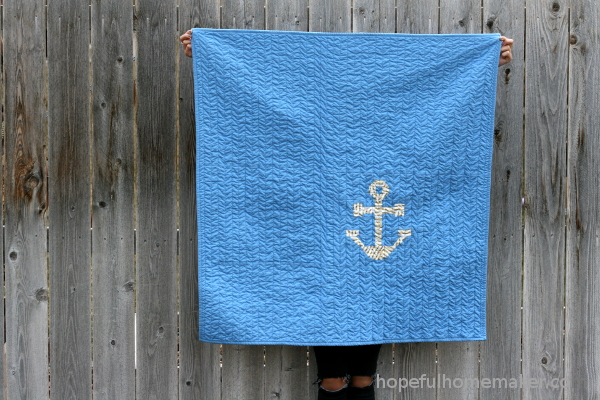 I used a higher loft batting so I could get a fun, puffy, watery look with my straight line quilting.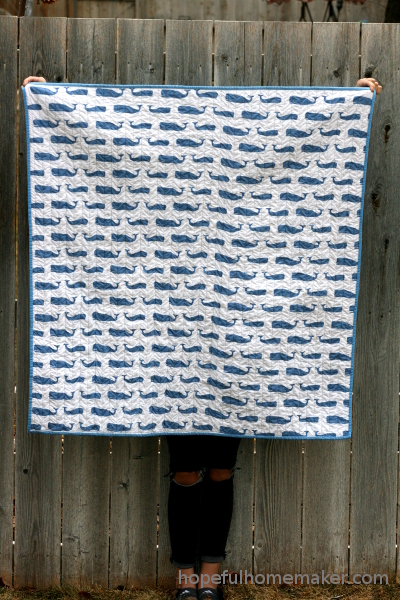 The back of the quilt is a cute whale sheet I had in my stash.  I bound the quilt with the last bit of blue fabric.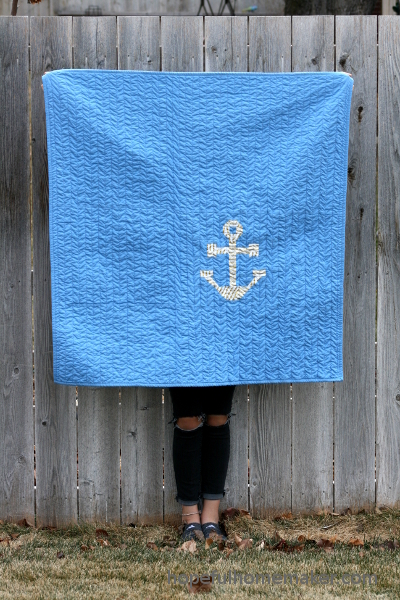 I enjoyed making this anchor baby quilt for an amazing young mother!  It was also fun to finally use my anchor block tutorial in a way I'd considered, but never tried.  Classy, but simple to make, gifts are always a win!