Jenny Eliza Quilt
This is my Jenny Eliza Quilt, named for the fabric collection it comes from.  The Jenny Eliza fabrics were designed by Jennifer Paganelli and I loved them at first glance.  I bought a piece of every print, went home, and promptly cut them up.  I made some half square triangles and sprinkled them in with squares in a random, patchwork style.  Within hours I had a quilt top.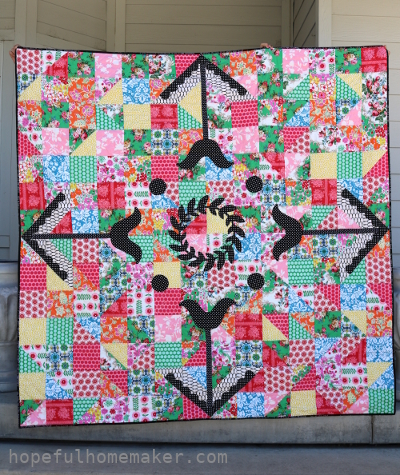 But it felt incomplete.  I'd added some black and white in the center of each side, just for fun, as a subtle hint at structure.  It wasn't enough.  It needed another layer.  So I folded it up and hung it in the closet to wait for an idea.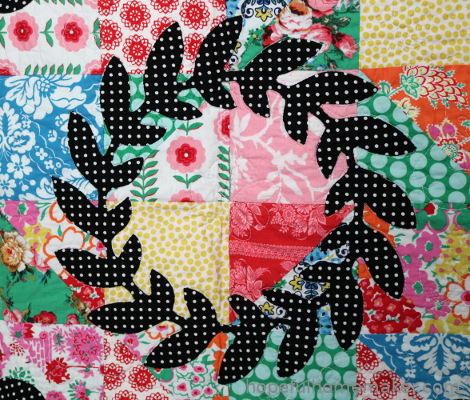 Shortly after I attended an exhibit of quilts from Pakistan and India, and they affected me emotionally.  I couldn't stop thinking about them.  At length I decided to add some applique to my Jenny Eliza quilt top.  But I had one rule:  it had to come from my stash.  I picked a high-contrast black polka dot (less than half yard) and got started.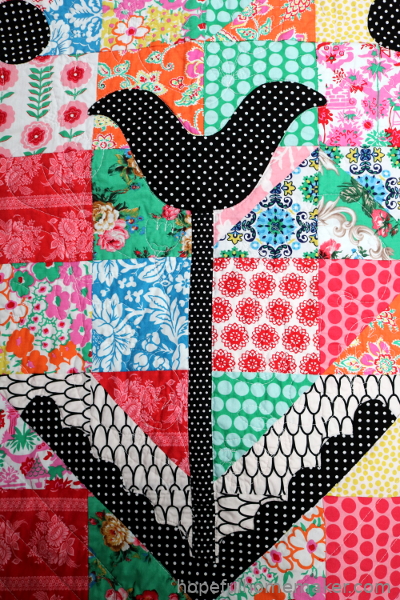 Scale was a challenge.  The wreath in the center should have been larger, but I didn't have a piece of fabric wide enough.  Drawing, cutting and appliqueing it was tricky.  I finished it, stepped back, and felt dismay.  It was too small and it looked silly!  Somehow I had to stretch this small amount of black fabric.  I needed to create a large enough design to hold its own on the quilt.  Afraid I'd ruined it, I pressed on.  Using the black and white half square triangles on each side as a guide, I added stems, a tulip type flower, and scalloped leaves to each side.  Four small circles completed it, and I was OUT of fabric.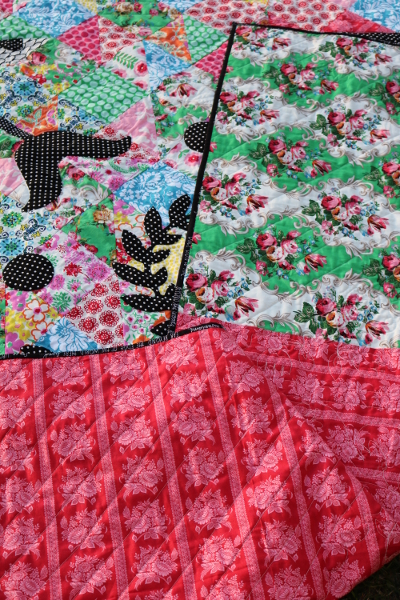 Somehow, it worked.  I'm happy with this first attempt at a layer of applique over a quilt top.  I used the last of my yardage to make a quilt back.  I quilted diagonal lines on the outside of the applique design into the corners, and filled the center with folksy flowers and leaves.  I'm not very good at floral quilting designs yet, but the busyness of the patchwork and the backing was very forgiving and gratefully it's not something you notice right away.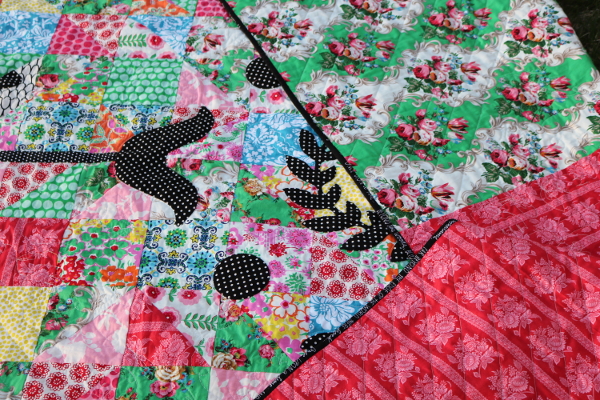 I'm still intrigued by using a quilt top as a canvas for applique.  I started doing that with a

lone star quilt top

a couple of months ago, and it's very slow going with all the hand stitching.  My

Till We Meet

quilt top might get an applique layer too.  We'll see how long it takes me!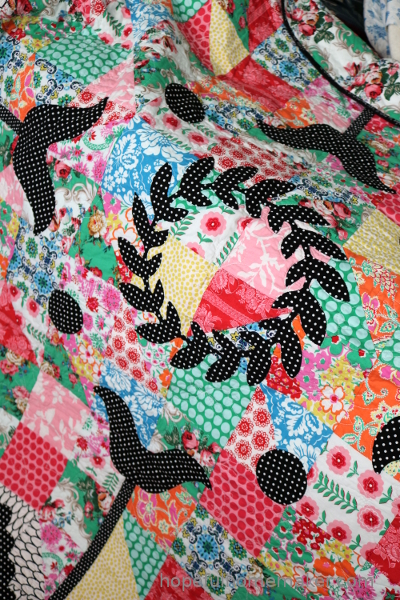 I learned a lot from making my Jenny Eliza Quilt.  It took me a few years to finish, but it taught me a great deal, and for that I'm grateful.