HOME Quilt Block – a paper pieced pattern
I watched a lot of quilters make house-themed quilts in 2020.  It made sense!  Most of us now spend far more time at home than we once did.  I wanted to make one but didn't see a pattern I was drawn to.  Then, in October, I suddenly remembered the quilt block I'd drawn up with my sister a couple of years ago, and it was exactly what I wanted.  Meet our

HOME quilt block

, available now in my

Etsy shop

!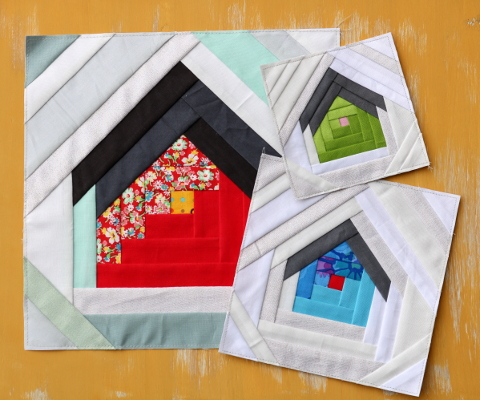 This foundation paper pieced pattern comes in three sizes:  4″, 6″, and 10″ (finished).  It's a house, made log cabin style – which I LOVE, because log cabin blocks are like comfort food, but sewing.  And we need all the comfort we can get right now, it seems!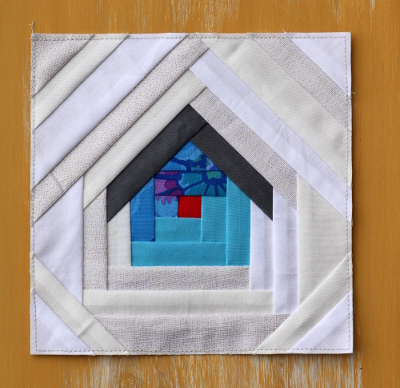 The roof of the house makes the top corners reminiscent of pineapple blocks, as well. I guess you can say that the HOME quilt block combines three different blocks into one:  house, log cabin, and pineapple.  It's a lot of fun.  Especially that tiny 4 inch one.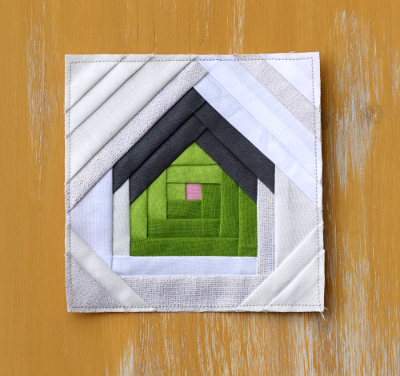 I imagine countless ways to sew these blocks, including making different sized houses, depending on where you choose to switch to background fabrics as you sew.  The first project I made was this mini quilt, made with nine of the 6″ blocks.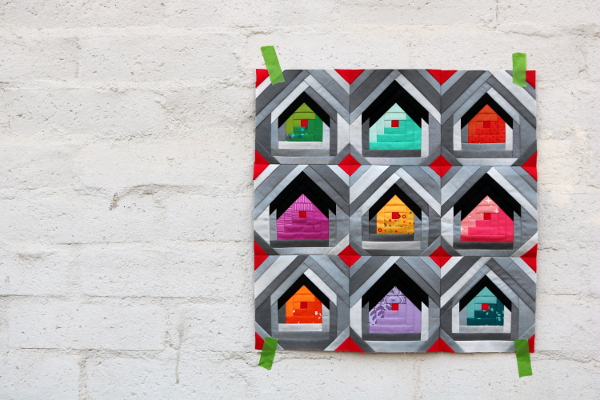 These blocks make a striking stand-alone project. They would also be fun in a row quilt, or a medallion quilt, or even dropped into a patchwork quilt.  I think the 4 inch blocks would make a fun set of coasters as a gift.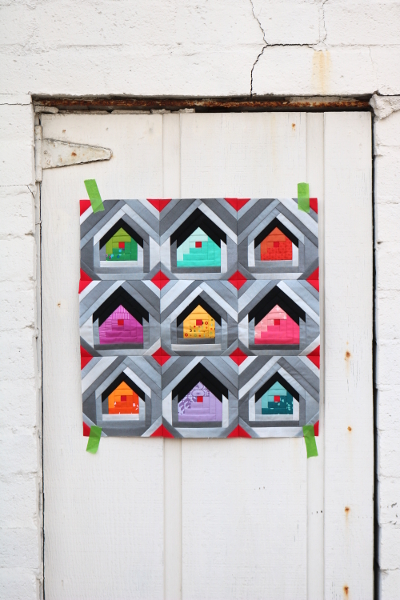 A quick note about my HOME quilt block:  this is a paper piecing pattern that assumes basic knowledge of foundation paper piecing, and also does not include instructions for a complete quilt.  It's just a block, in three different sizes, ready for you to use in whatever way you'd like.  You need a printer to make the block.  If you don't have one you can email the file to a local printer for them to print for you.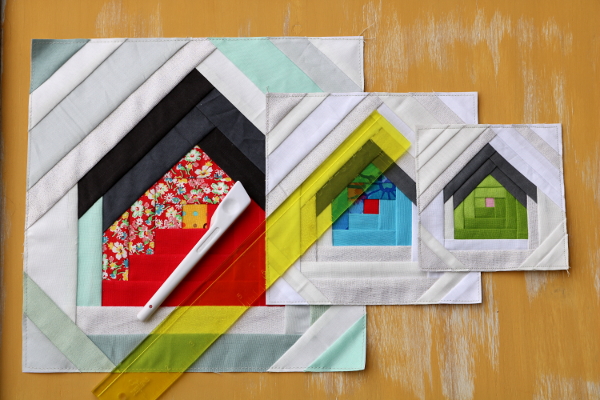 And can I make a plug here for

two amazing products

I wouldn't paper piece without?  First up, the fabulous

Add-A-Quarter rulers

, which come in two sizes.  I have both and use them all the time.  They have a nifty 1/4″ lip that sits right over the seam and folded paper for a perfect 1/4″ trim every time!  I highly recommend them. 
Secondly, I discovered the

Clover Finger Presser


after

I made most of my blocks, and I'll never paper piece without it again.  I was using a seam roller, which never left the fabric flat.  Mine also started leaking oil on my fabrics.  How does that happen?  No idea, but it did.  The finger presser leaves my fabric flat with less effort, which also leads to better accuracy!  It's small, inexpensive, and my new favorite tool.  I will add, it seems to be made for a right handed person, but I'm a lefty and it is working great for me!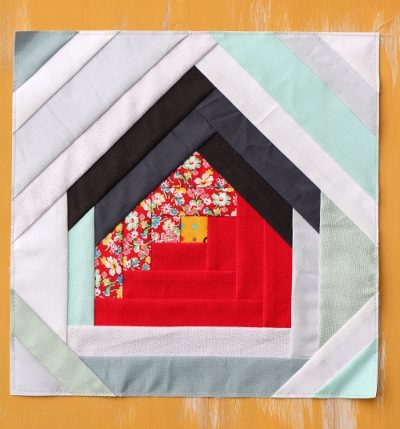 The

HOME quilt block

is for sale now in my

Etsy shop

, and I can't wait to see what you make with it!  I'll be back tomorrow, because I have a quilt top of homes to share.