My Heart, Today – A Finished Quilt
I keep thinking about last year at this time… driving my kids to school, busy as ever, getting ready for a quick trip to QuiltCon.  The coronavirus was just a whisper, and I was working on my little daily blocks or pieces of fabric as

a visual journal of sorts

.  I realized a few days ago that somehow I never shared what became of that quilt top, so here it is – My Heart, Today – a finished quilt.


I quilted it myself and tried to have fun as I went.  Inside the heart I used red thread, and either echoed the design in the fabric or did some simple design.  It was great practice.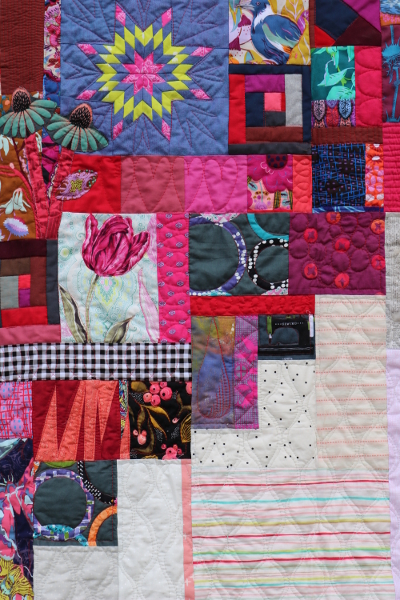 I still love looking at this, even after a year, and remembering all the reasons why these particular blocks and fabrics ended up together.  The good days mingled with the tough ones.  Proof that when they're all put together something beautiful and unique happens.  I never tire of these reminders.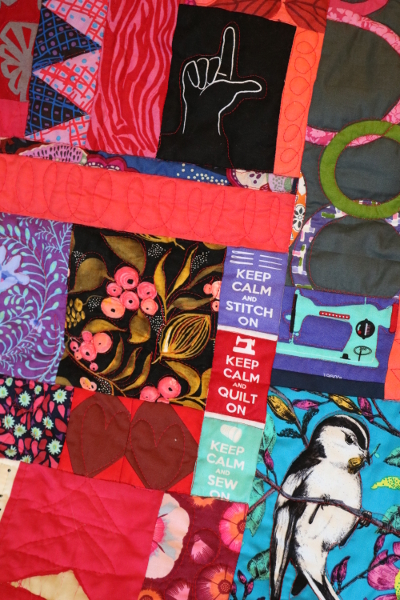 I switched thread color to a soft gray when I quilted the background, and tried a new design.  It's sort of a flame pattern, which I like.  I was also drawn to it at the time because it reminded me of both a refiner's fire and of a candle lighting the way.  Both of those images resonated with me and paired beautifully with the story of this quilt.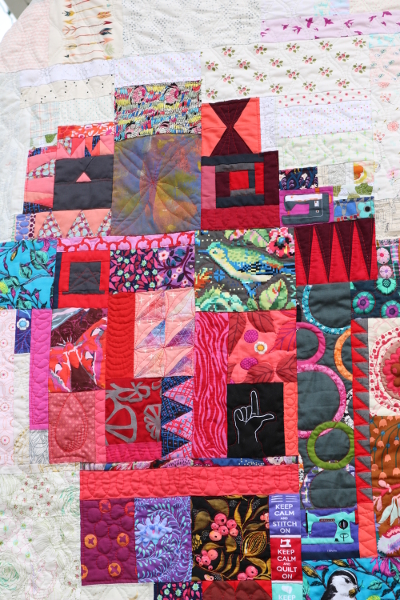 I made a lot of mistakes as I quilted, but overall it worked.  The pattern provides a lovely texture to the background.  Learning, learning, learning – that's what it's all about, in life AND in quilting!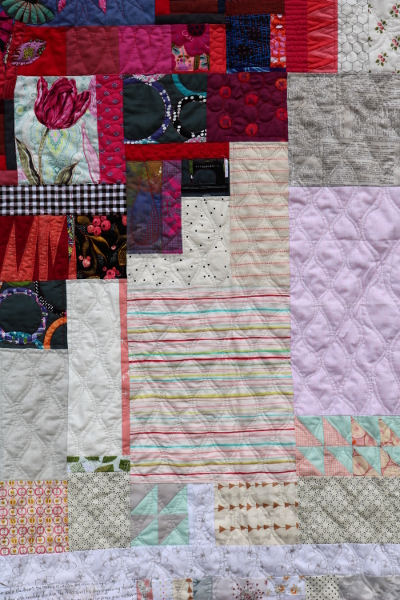 I had some of the incredibly soft and beautiful Outback Wife cotton/wool blend yardage in my sewing stash.  When I auditioned fabrics for the backing, it won.  Right now this quilt is on our family room couch and we love how soft it is!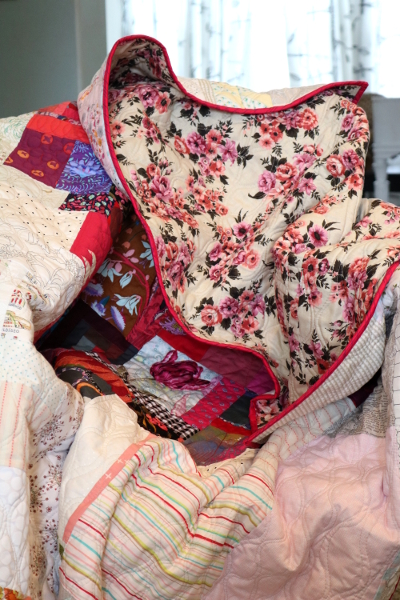 This creative exercise, this daily journaling in fabric, is so fun and rewarding.  I think I could do it over and over again – collect and sew little bits that capture highs and lows.  Every time they could go together in a different shape or design, and it would be like volumes of journals.  In quilt form.  My Heart, Today, is the story of the winter of 2019-20.  I still feel some of it, but I've also come a long way.  Life is crazy, but oh, so good.  And I really love this quilt!