Nicey Jane Layer Cake Quilt
I finished this simple yet cheery Nicey Jane layer cake quilt a while ago.  It sat, waiting for photos, until one day I felt like I should give it to a family we love.  Suddenly I had five minutes to take average pictures in too-bright light before I sent it off to its new home.  And then I promptly forgot all about it, until I stumbled on these pictures.  It's a fun and easy quilt that I want to remember making, so here it is!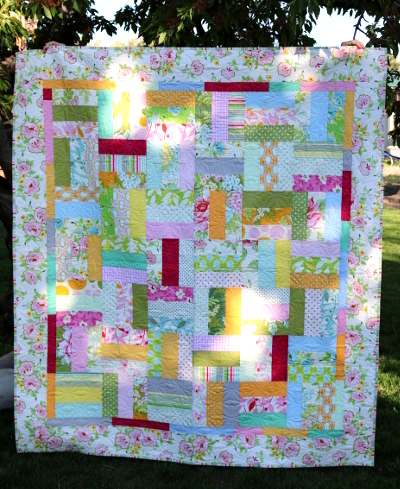 I had a few 10 inch squares of Heather Bailey's Nicey Jane collection, and added a bunch more squares in solids that looked good with it.  Then I cut them into strips, sewed them together to make smaller squares, and made a quilt top.  The leftover bits of solids became a small scrappy border, and then I used my yardage in that lovely floral for a border to get it large enough for snuggling.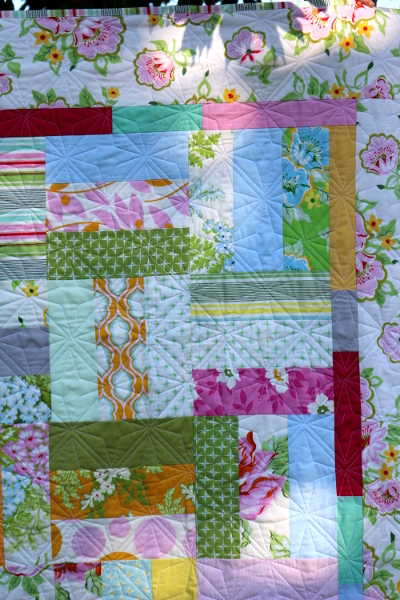 I backed this quilt in a combination of new and old:  a vintage sheet paired with more Nicey Jane yardage.  I'm grateful to have found the photos because I really loved that vintage sheet.  It's nice to remember it.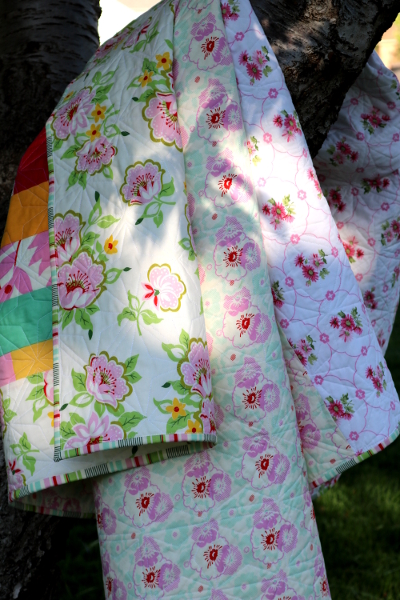 I bound it with the awesome stripe, also from the same collection.  This Nice Jane layer cake quilt is definitely one of the simplest I've ever made, which is a good thing when you have limited fabric or a limited time frame.  Though I think my

Color Stack quilt pattern

is my favorite fast finish for giving away.  One goal of mine is to give away more quilts.   I'm so glad I gifted this one to our friends.  I wonder if this simple design would be a good one to revisit and improve somehow.  It was definitely a fast, fun project.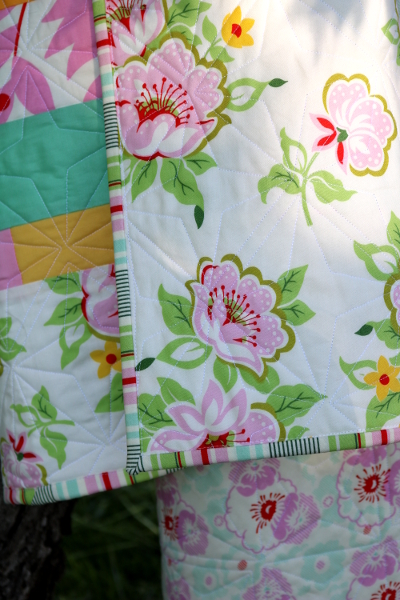 So, the Nicey Jane layer cake quilt was here and gone before we made any memories with it.  I hope it's been loved and used where it is.  I'm grateful to have made it.