Through Tears She Saw More Clearly – A Finished Quilt
If I've a quilt that sums up my life experiences in the last decade or so, Through Tears She Saw More Clearly is probably it.  It tells the story of life's tension between pain/heartache and the learning/growth that follow if we stay engaged in the journey.  This

quilt was inspired by

the early challenges of the Covid-19 pandemic, but it's come to mean much more to me in the last two years.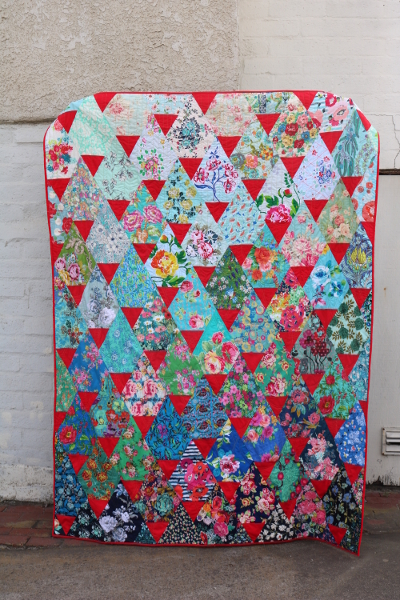 Red-hot pain, teardrop shapes, a waterfall of flowers.   Sadness, emotional turmoil, fresh perspective after the tears.  Letting go and holding on.  So many things.  And so many life experiences can feel like this.  But the ultimate message of this quilt is that growth and clarity are on the other side of struggle.  We can't get them any other way.  I feel like I experience this lesson repeatedly.  Hence the title:  Through Tears She Saw More Clearly.  It always works that way, doesn't it?  They blur our vision, and give us new focus at the same time.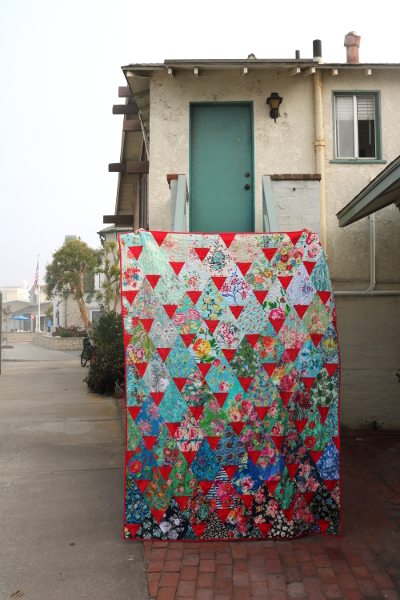 So many favorite prints are included in this quilt.  It's a scrapbook of tempting florals and I'm so glad I cut into precious pieces for it.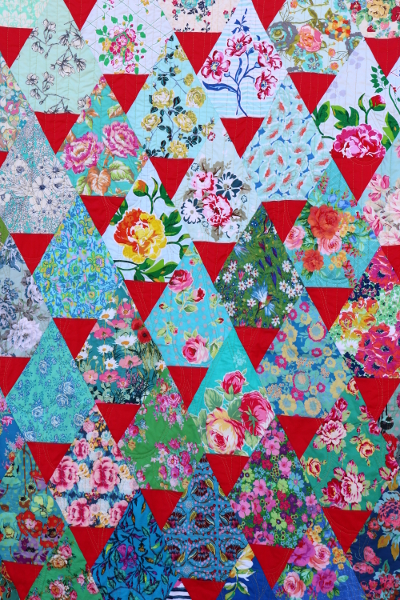 This quilt is the first one where my husband collaborated with me on the quilting design.  I had a deadline and was telling him my plan to quilt it quickly, when he stopped me and said "no, that's not what this one needs."  And then he proceeded to draw the design he pictured.  To my surprise, it was much better than my plan. It was also more consistent with the quilt's message.  So I did my best to mimic his sketch.  (I wish I had kept that little drawing!  I think it was on a napkin or the back of an envelope or something.  Why didn't I at least photograph it?!?)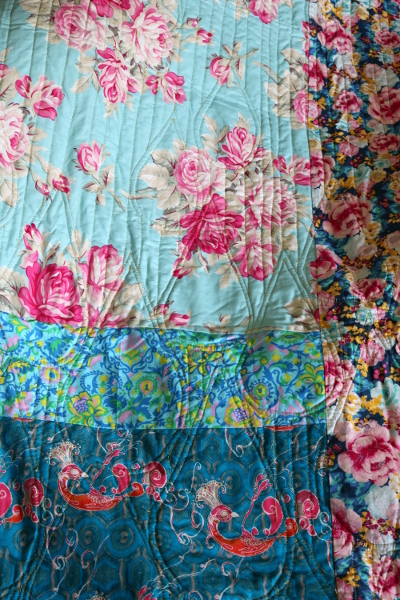 I quilted Through Tears She Saw More Clearly with

gold thread

.  And teardrops.  Fewer and smaller at the top of the quilt, larger and more of them at the bottom.  Each teardrop connects to a gold string that starts at the top.  It's hard to see because the prints are so busy, but I'm glad I did it.  I wish I'd added more dense quilting to make it stand out better.  But I learned a lesson, and the best part was collaborating with my husband on an idea.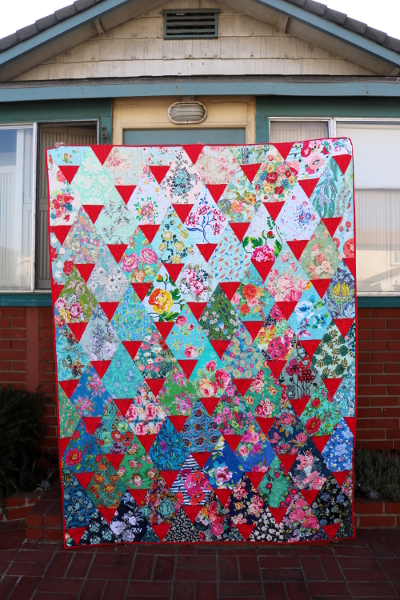 I am grateful for the experience of making this quilt.  Grateful that I'm still learning.  It's a gift to be alive, to struggle and try again.  To see more clearly through our tears.
Jennifer