A Courthouse Steps Quilt: Potential in Constraints
Life since early 2020 has been a time of constraints.  We think of constraints as limitations or restrictions, which is how most dictionaries define it.  But I have this funny habit of checking old dictionaries – the 1828 Noah Webster, to be specific – to see how words were defined and used 200 years ago, as well.  (It's the historian in me; she shows up all the time in funny ways.)  When I settled on the name of this courthouse steps quilt, Potential in Constraints, I looked a little deeper into the word.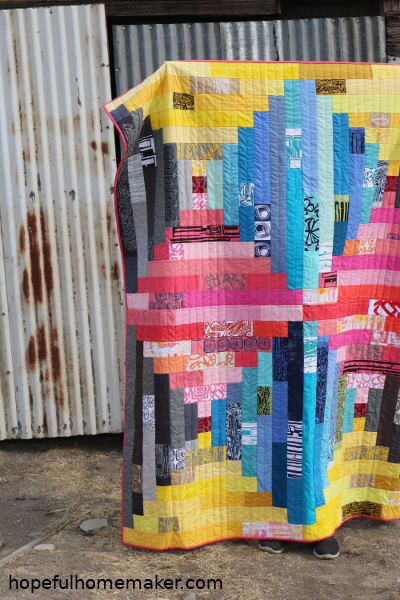 The 1828 dictionary defines a constraint as "irresistible force, or its effect; any force, or power, physical or moral, which compels to act or to forbear action, or which urges so strongly as to produce its effect upon the body or mind."  Aaah.  That's a lot bigger than just limitations or restrictions.  And it fits this experience well.  So, here is my finished courthouse steps quilt, a quilt I could/would ONLY have made in 2020.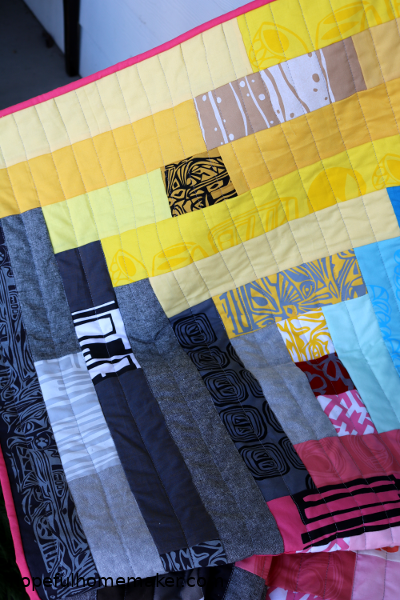 Back in February 2020, just days before the first coronavirus case in the U.S. was identified, I was at QuiltCon with dear friends.  While there, I met the lovely Pantera Saint-Montaigne, owner of

Brooklyn Mojo

.  Her hand screenprinted fabric panels instantly drew me in, but her friendly demeanor kept me coming back to introduce more friends… and buy more of her beautiful scrap packs.  We agreed to keep in touch. In many ways, we could not be more opposite, but we've found common ground to build on.   In fact, she has become a friend.  I wanted to make a quilt to showcase her designs.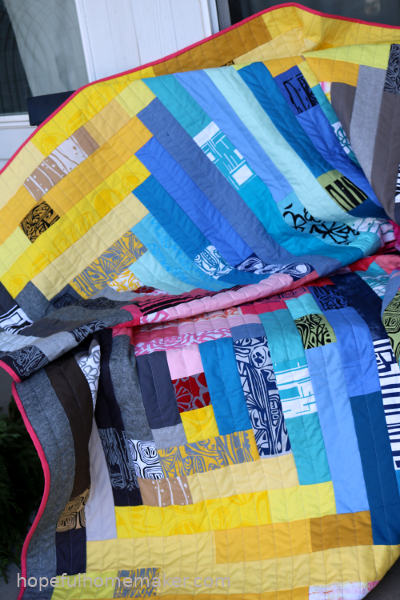 Now for my constraints:  I only had scraps of her fabrics, plus a few panels.  When I started this quilt, fabric was difficult to find and even slower to arrive.  None of the solids I would have bought were in stock.  It became a from stash only project.  I grouped Pantera's fabrics by color and chose four main colorways to focus on:  yellow, blue, pink, and neutrals (gray, white, black).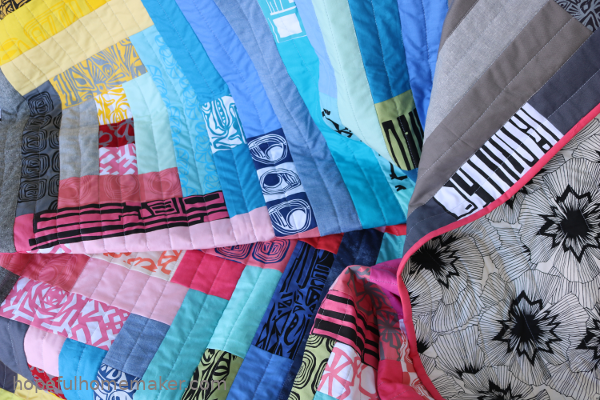 Log cabins have been my favorite block, by far, for the last couple of years.  I don't know why, but sewing them is like comfort food to me.  As I watched social unrest sweep across the US in response to acts of racism in the summer of 2020, I found myself thinking a lot about justice, and mercy.  I remembered times I have literally climbed courthouse steps in search of justice and mercy both, and the weight of it all.  Thinking of Pantera, it felt appropriate to use her fabrics to make a courthouse steps quilt.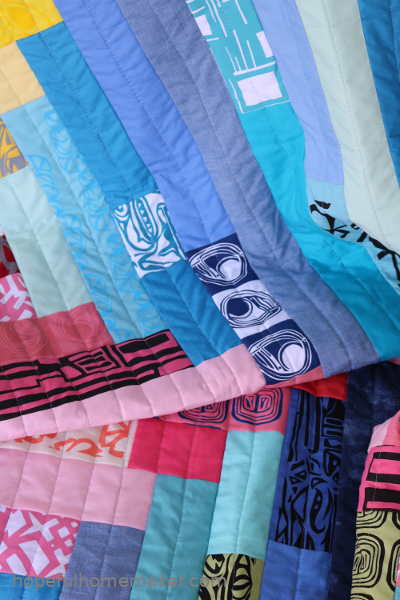 This quilt is just four large blocks, and each block measures 32″ x 37.5″.  The overall quilt is 64 x 75″. Since the quilt is already so striking, I chose simple straight line quilting to finish it.  No need for the quilting to compete for attention!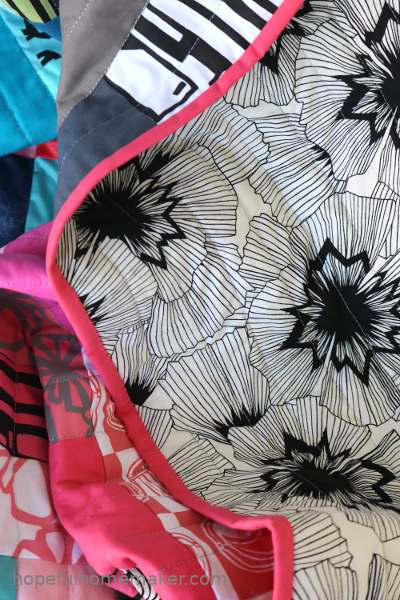 I backed the quilt in a favorite black and white print from Cotton + Steel that I stashed.  I love this fabric, and it's the perfect fit for the graphic designs in Pantera's fabrics.  A pink binding felt like the perfect finishing touch.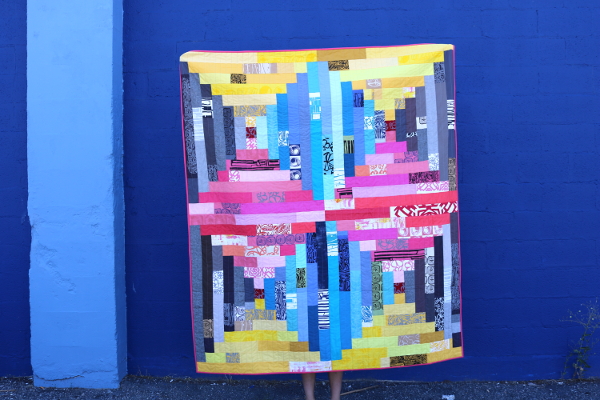 Many thanks to Pantera for designing such unique prints to sew with, and for being the beautiful person she is.  This quilt is a reminder of her friendship, and therefore one of the good things that came out of 2020 for me.