Homage – 1st Progress Report
Well, here I am today with another English paper piecing project.  Though I haven't yet finished an EPP quilt, I am close on my

Mandolin

.  It just needs the edge pieces on two more sides and then I can share it.  I stitch a little bit each morning, and it's coming together slowly but surely.  I guess that progress made me feel like I could jump into an EPP sew along, so at the first of the year I ordered the pieces for the

Homage to Grandmother's Flower Garden

and got started shortly thereafter.  Although it's September, I want to share a Homage progress report.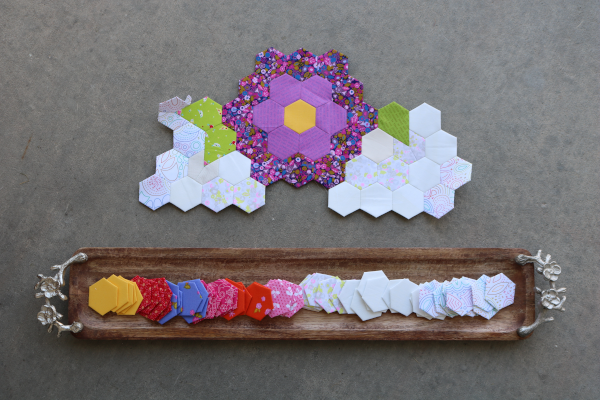 Who doesn't love a Grandmother's flower garden quilt?  I read once that it's the quilt pattern that is most commonly left unfinished, and there's no surprise there!  So many hours, and yet it's one of those iconic epp patterns.  I know I would love to make one, but never have.  When I saw this clever design for a huge ring of flowers set in a flower garden background, I ordered it immediately.  This is my grandmother's flower garden project.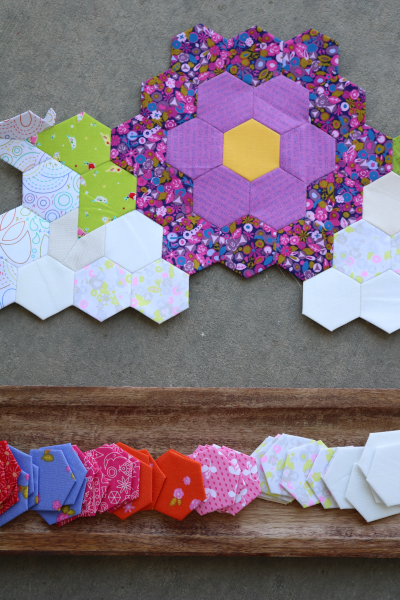 The sew along was cleverly divided into 52 sections, one for each week.  Every section includes some background and at least one colored flower.  Aaaand, I stalled at week 5.  Yep.  I started, sewed what I'd prepped, and then got crazy busy preparing my daughter to go to Guam for an 18 month mission.  Just like all my other epp projects, they tend to sit for long periods if I don't have more pieces prepped.  It's the step I just don't get to, apparently.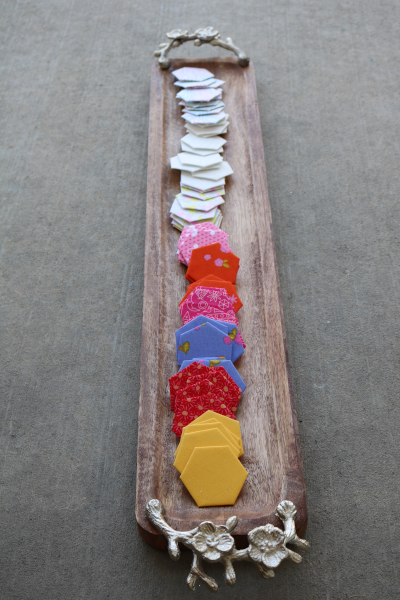 Last week I took an afternoon and selected, cut, organized, and glued pieces for weeks 6-12.  Once I get into it, I really enjoy it.  I'm hoping to pick up the project on the same weekly schedule even though I'm months behind.  I obviously won't finish it in 2022, but I would like to finish it before my birthday next summer.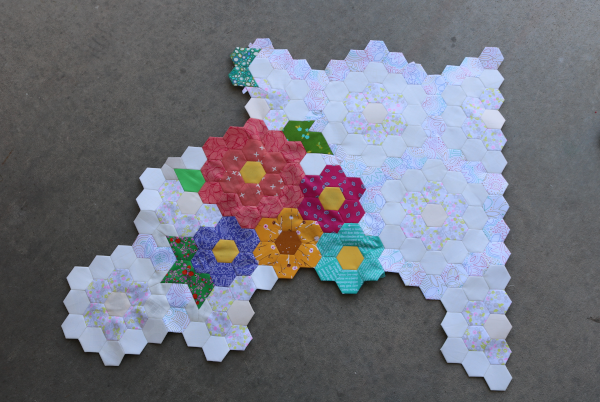 Every time I look at it I'm excited about it again.  It's going to be beautiful.  I just need to be diligent!  And while I'm at it, here's my homage progress report for the first 4 sections.  It's fun to see even this small section come together.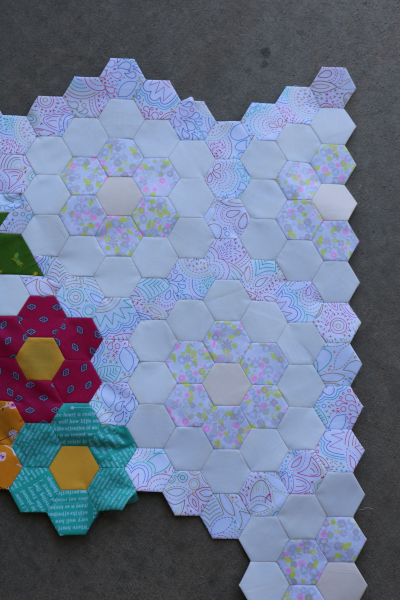 I'm excited to recycle the pieces for a second round of these lovely flowers.  I hope there are many more English paper piecing projects in my future!  But first, more prep work!