20 in 20 Quilt Journal
This is a quilt I hope my children hang on to.  I have a few of those, I guess, but I hope this one is an obvious keeper for them someday.  Why?  Because the quilt became a journal of sorts during the 2020 pandemic. I included bits and pieces of all of us in it.  Color and design guarantee a happy, fun quilt.  But it's my hand stitching of all those words that makes this 20 in 20 Quilt Journal a piece of family history.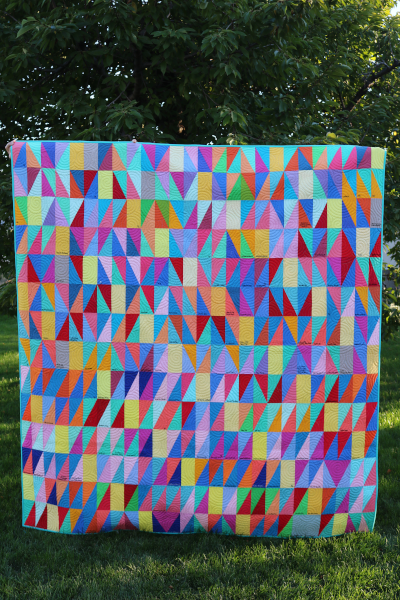 Though the colors and arrangement of blocks appear random, each half rectangle block represents one calendar day in 2020.  You can read all about what each color means in

this post

.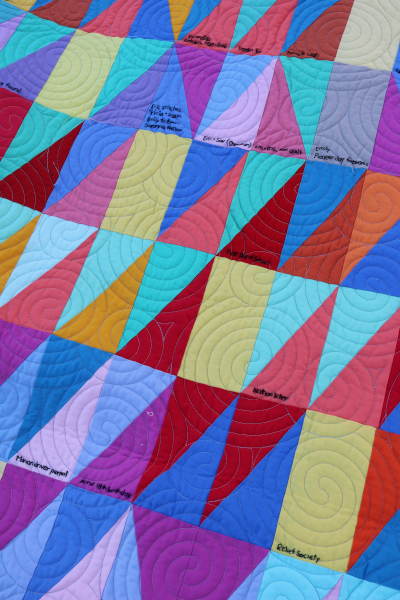 But what I love and treasure now, was never part of the plan.  Following the urge to pencil in a small memory here and there became the best element in the quilt.  Reading those little reminders is really great.  Already I see things I'd forgotten.  What a year!  Loved ones gone, jobs lost and found, injuries, surgeries, answered prayers and family time.  We managed a trip to the beach that included a stingray.  That was a first!  It was also a last.  So many memories.  Highs and lows.  All of it worth remembering.  I love the way this quilt invites me to pause and remember.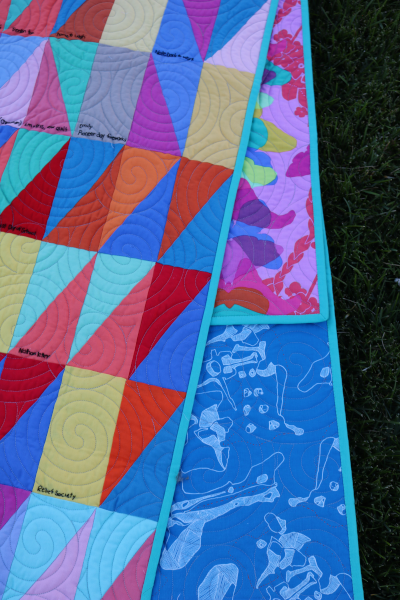 I chose a simple circular E2E quilting pattern to soften the points of the blocks.  Look at the backing!  I paired two favorite fabrics from different designers and they look great together.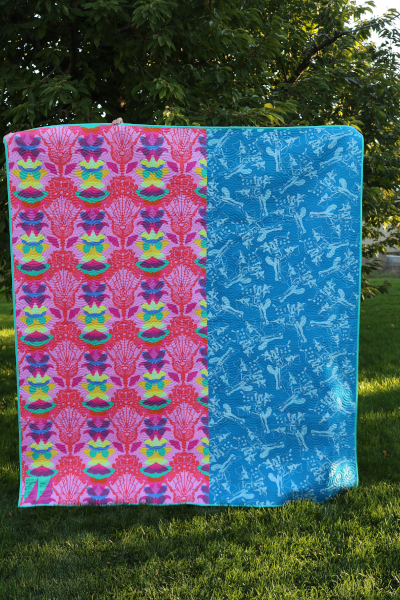 Drumroll, please.  I made a quilt label!  I rarely manage to do it, so this one deserves celebration.  This one serves two purposes:  the last 2 days of the year are represented here, and it's also a label.  I added the list of what each color means plus my name, location, and year.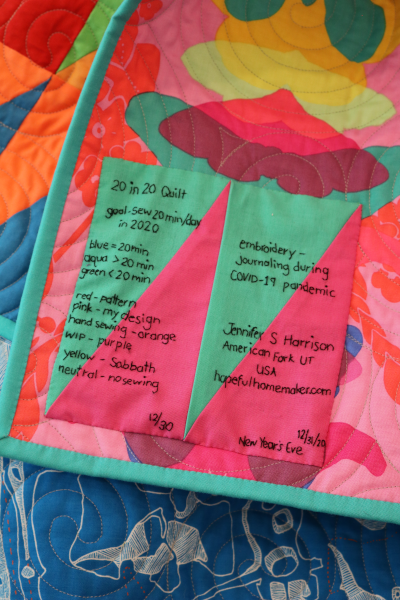 Looking at this 20 in 20 Quilt Journal reminds me how personal quilting is.  It reminds me that this type of project is most fulfilling to me.  I guess I'd better get moving on another "sew your story" type of quilt, because they really fill me up.