Show Up – a Serve Quilt 48″ top
When I wrote my

Serve quilt pattern

, it occurred to me that not everyone would want to make

a 72″ square quilt

, so I also made a version that is two-thirds the size.  This is my Serve Quilt 48″ top, and I'm calling it "Show Up".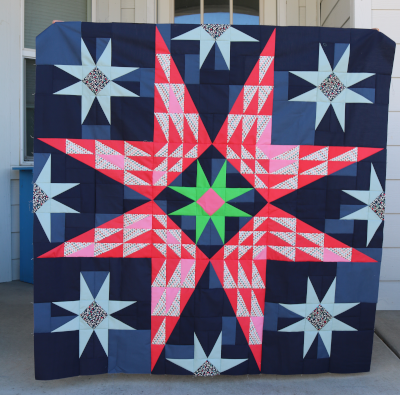 This quilt top is entirely from my stash, and while I LOVED the rich, dark blue, I didn't have enough of it, so I started adding in pieces of another, not as dark, blue for the background.  Kind of like life.  We use what we have, give what we can.  And you know what?  I LOVE this little quilt top!  I love the scrappy, two color background and the way it makes me look a little longer.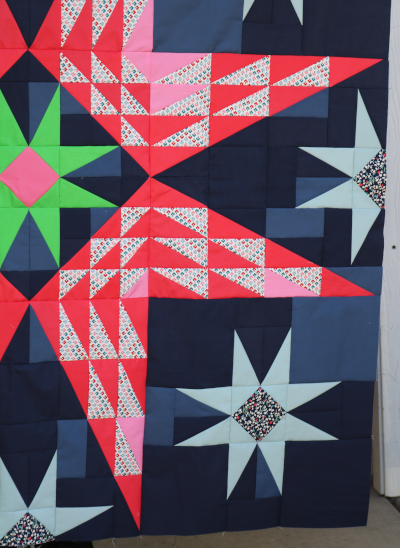 In that same spirit, I decided to play with the red solid also.  The little print I used as the second star color has both red and pink in it, so I decided to sprinkle pink throughout the large star.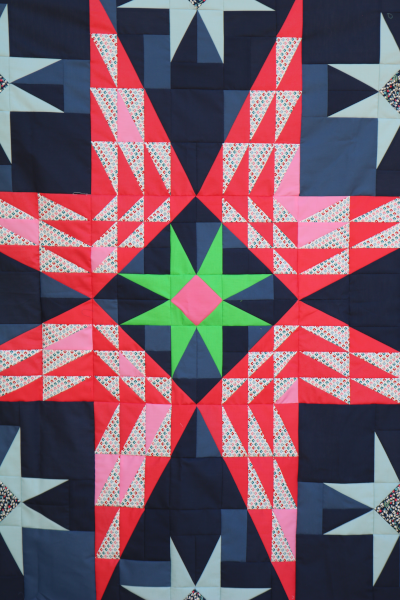 I love the bluish-gray I used for the circle of outer stars, but when I tried to use those fabrics for the center star, they fell flat.  It lacked interest.  I had actually been eyeing this vivid green throughout my sewing sessions, so I gave it a try.  It's perfect.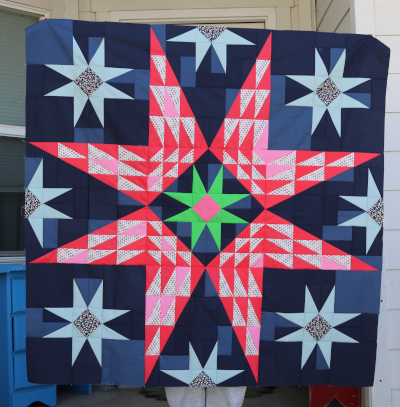 This unintimidating version – a Serve quilt 48″ quilt top – was a fun, quick sewing project.  It would make a great toddler quilt or would also look great on a wall.  In my case, I want to play with adding other elements to this one as borders, just for fun.  I'm brainstorming what I might want to do, especially since adding pinks, the green, and a second blue gives me room to expand the color scheme of this quilt.  Oh, to have more time to sew without deadlines!  Hopefully soon.
Happy sewing!
Jennifer