You could argue that Utah's weather cycled through all four seasons in a week, including two rounds of snow and freezing temperatures.  We need the moisture desperately, but the timing…. is hard.  A week ago I took a little walk around my beloved cherry tree to see the buds beginning to bloom.  But now, when we should have a show of lovely white blossoms, the tree already looks brown.  A wasted season, it seems.
I was sick last week.  A wasted week.
But today is Easter and we're back to spring, so with the sun shining and blue skies overhead I wandered outside to see what survived the cold.  My peonies are coming in well, most of the tulips survived.  My honeysuckle looks dead, and the weeds are thriving as usual.  Honestly, my yard suffers from neglect and dearly needs my attention.  A wasted yard, perhaps.  But while my walk prompted plenty of guilt, I also had to admit that there are some beautiful things happening there.  Beauty I don't deserve, but which is there for my enjoyment.  A gift.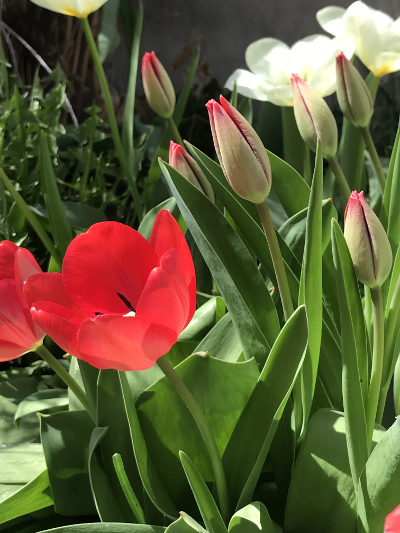 I had the thought that I should return to the cherry tree in spite of its color.  To my surprise, a sound I've not heard for years greeted me:  the hum of hundreds of bees.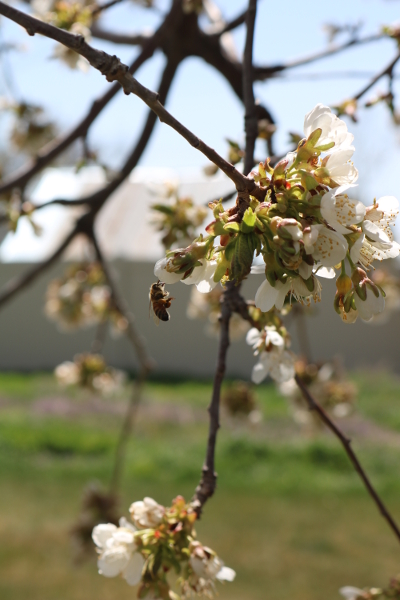 In spite of brown blossoms that froze, others had boomed after the storm.  And where the blossoms seemed lost, the bees were at work.  Undeterred by the wilting brown, they even seemed to prefer the "wasted" blooms over the fresh white ones.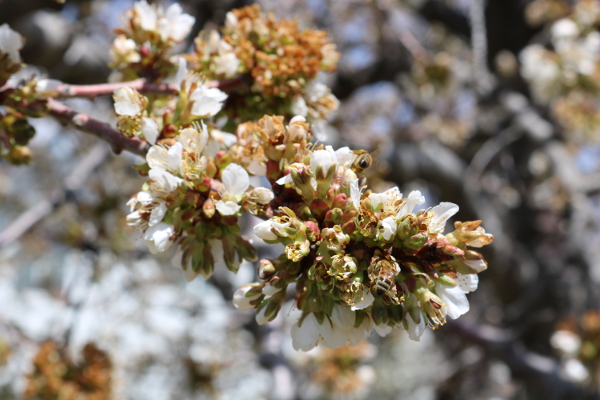 I circled the tree with tears in my eyes.  My own little Easter miracle, it seems, with a beautiful lesson for me: a wasted season redeemed.  The scriptures teach that all things testify of Christ.  Today I witnessed that testimony in the form of bees and cherry blossoms.  Because of Him, our brown, frozen, spent blossoms can still bring fruit.


So many parts of my life are barren of the fruit I expected years ago.  Yet, haply, looking back today, I see Jesus Christ at work.  I see brown useless blossoms that have yielded good things:  humility, compassion, patience, and faith.  I am better for it.  The fruit has been

years

in coming, and even now isn't ready to harvest.  But my wasted season is being redeemed.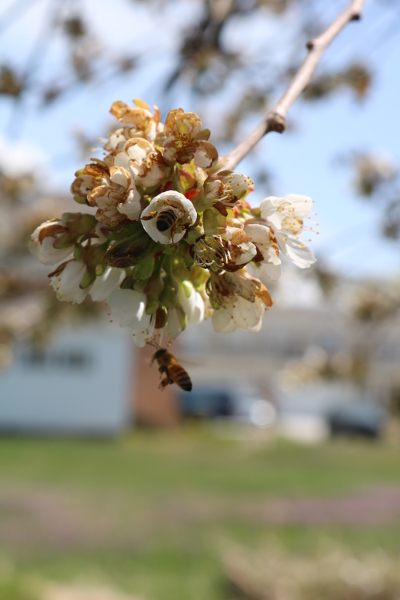 This is my Easter witness to you:  whatever is broken, frozen, wasted in your life can be healed and used for good through Jesus Christ.  Just as the bees find my brown blossoms worth pollinating, so He finds you worth saving.  Such a lovely message, delivered by bees and cherry blossoms.
Happy Easter!