I picked up this cute new pan at Williams-Sonoma last week, and this morning when I was getting ready for a luncheon I decided to try it out.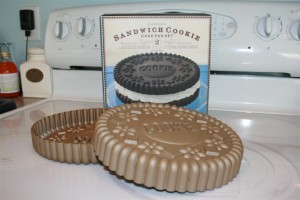 It is actually a set of two pans, and it comes with a recipe on the box, but I didn't have time for melting chocolate and so forth.  So, I decided to just opt for the good old-fashioned Devil's Food Cake Mix, straight from the box.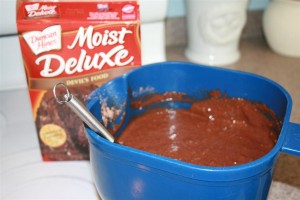 Here, apparently, is the big key:  You have to grease the pans well and sprinkle generously with cocoa powder instead of flour (so you won't introduce any white to the dark brown color of the cookie cake).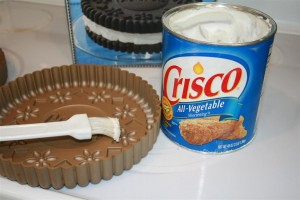 I used a pastry brush to get Crisco in all the little spots.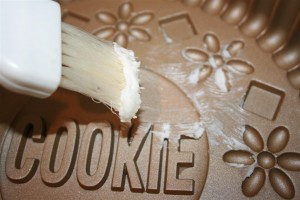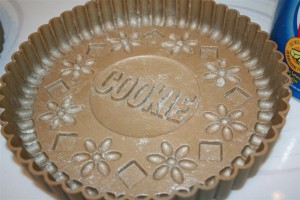 Then dusted with cocoa powder.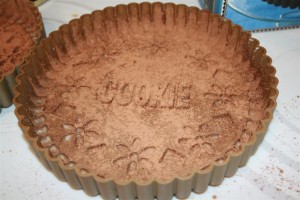 Then poured the cake mix into the pans.  I tapped them a few times on the counter to try to work out any air bubbles (but you'll see later in the post that I wasn't as successful as I hoped).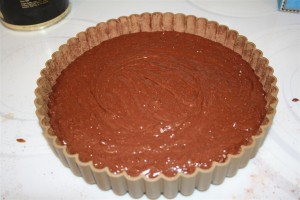 Then I baked the two cakes according to the directions on the box, for 30 minutes at 350.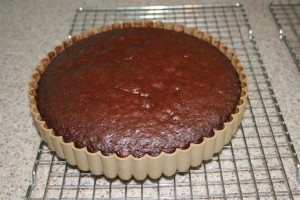 When they were done, I placed them on cooling racks for 15 minutes before inverting the pans to release the cakes.  Gratefully, they came out easily and I didn't lose any cake, but I did feel like there were lots more air bubbles in the tops of the cakes than I wanted.  Oh well.  I'll try a different recipe next time.
When the cakes were entirely cooled, I placed one cake, right side down, on a 10 inch round cake circle.  I then spread vanilla ice cream over the cake and placed it in the freezer for 15 minutes to set.  I used about 1/4 gallon of vanilla ice cream, which I mixed by hand with a spoon for a few minutes until it had the consistency of soft serve ice cream.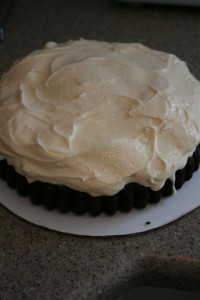 Then I put the other half of the "sandwich" on top, and popped it back into the freezer.  After I put the top on, I realized I should have leveled the cake so it would sit better on the ice cream, but that's what happens when you're in a hurry and you're experimenting with something when guests are on the way over to your house!  I then put the cake back in the freezer until it was time to enjoy.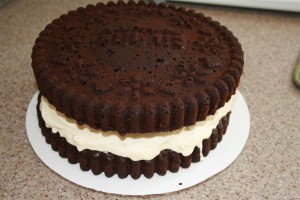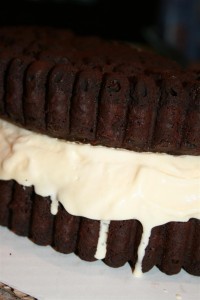 I'll work on the presentation next time, but everyone loved the cute idea of having an "oreo cookie" ice cream cake, and it actually tasted really good.  It turned out to be just the right amount of ice cream and chocolate.  This pan set is definitely a keeper!  Think what a simple, great dessert this would be to pull out at a summer party.  My oldest son has already requested it for his birthday cake this summer.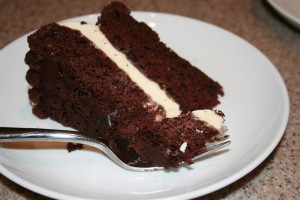 YUM!