Hopeful Homemaker's Homemade Rolls
I wish you could smell these homemade rolls.  In fact, I wish I could snap my fingers and deliver a basket of warm, fresh rolls to your door.  You know what I'm talking about, that one-of-a-kind smell of homemade rolls baking in a warm kitchen.  It's the smell of home, the feeling of being nourished and loved.  It gives us permission to slow down and savor the simple joys of life and family.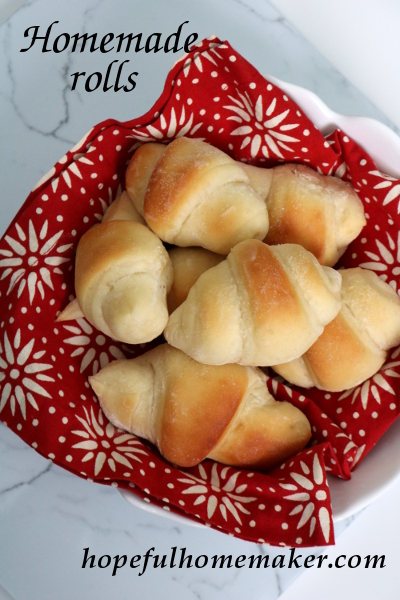 I love making homemade rolls for my family, and today I'm sharing my favorite recipe with you.
But before I give you the recipe, here are two important notes:
1.  I use a

Bosch Universal Stand Mixer

.  It's amazing and I highly recommend it.  I've had mine for more than 15 years with not a single problem.  If you are using a KitchenAid, be aware that they don't hold as much, so you will need to cut this recipe in half.
2.  I use only

SAF instant yeast

.  This is an active dry yeast, which means it is more potent and does not need to be proofed.  Again, it's amazing and I highly recommend it.  To learn a little more about it,

click here.

You'll never go back, I promise.

And now, on to the good stuff:  warm, chewy, golden brown, buttery homemade rolls.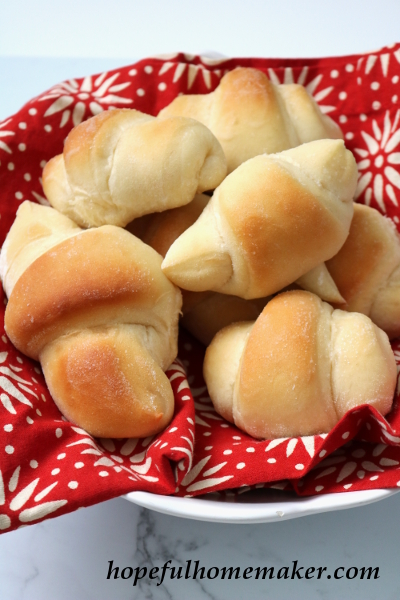 Hopeful Homemaker's Homemade Rolls

Ingredients:
5 cups very warm water
1 cup vegetable oil
4 large eggs
1 cup powdered milk
1/2 cup sugar
2 Tablespoons salt
4 Tablespoons SAF-Instant yeast
10-12 cups bread flour
melted butter for brushing on rolls
sea salt for sprinkling over buttered rolls
Instructions:
1. In a mixer, combine water, oil and eggs. ( *Note:  If you are using yeast which must be proofed, take one cup of the warm water and place in a bowl with the sugar and yeast for proofing.  This then will leave 4 cups to add to the mixer with the oil and eggs.)
2. Add 2 cups of the flour, the powdered milk, sugar and salt.
Mix together.
Add 4 more cups flour and the 4 Tb. yeast
3. Mix again.
Slowly add remaining flour, 1 cup at a time, until dough begins to pull away from the bowl.
Cover and let knead for 5-7 minutes.
4. Turn off mixer, remove dough hook, replace lid, and let rise for 10-15 minutes.
5. Spray work surface with non-stick spray and dump dough onto surface.
Knead by hand a few times, then cut dough into quarters.
Take one piece of dough and roll out into large rectangle.  Cut into triangles.
Roll up in crescent shape and place rolls on baking sheet lined with

parchment paper.

6. Repeat with remaining dough.
7. Let rolls rise for 10-15 minutes.  Preheat oven to 375.
8. Bake at 375 for 8-10 minutes or until rolls begin to turn golden brown on top.
Remove from oven and brush with butter, then sprinkle with sea salt.
EAT, EAT, EAT!
I've been making this roll recipe for more than twenty years and they are always delicious.  I hope you'll try them!
Happy Baking,
Jennifer