Birdie Blanket
A week or two ago, my parents got news that their 18th grandchild was born.  Pretty neat, especially when you consider that half of their children aren't parents yet.
My oldest is their first grandchild.  When he was born, my mom made him a flannel quilt.  He loved it to death and she made him another a few years later.  She's made one for every one of her grandchildren since then, and my son is not the only one to have received a replacement.
Last weekend she gave me the blanket she'd made for my baby.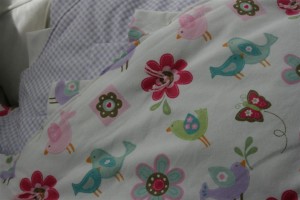 My Mom would say that her quilts aren't much, but I love them.  I also love this flannel.  Little flowers and birds and butterflies.  Perfect.  I also love the edge she always puts on them.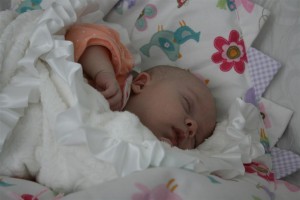 Look at this, a little baby girl wrapped up in blankets made by her Mom and Grandma.  What could be better?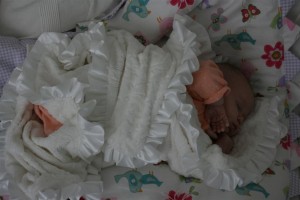 Thanks, Mom.  It's perfect.