Pumpkin Cookies with Brown Sugar Frosting
A friend of mine shared this cookie recipe with me several years ago (thanks, Marci!) and it's still my favorite.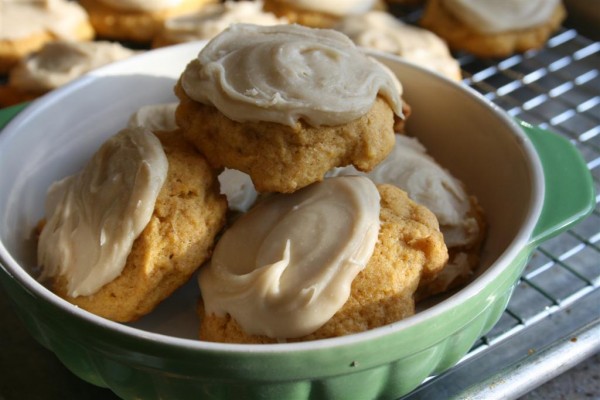 The cookies are always light and moist.  In fact, they're delicious without any frosting at all  but the brown sugar frosting provides a nice change from the traditional pumpkin cookie with chocolate chips in it.
For the cookies:
2 cups flour
1 1/2 tsp baking powder
1 tsp. ground cinnamon
1/4 tsp. baking soda
1/4 tsp. ground allspice
1 cup butter, softened
1 cup sugar
1 egg
1 cup canned pumpkin
*you can also add 1 cup chopped, toasted pecans to this recipe, but I generally skip them.
In a medium bowl, combine flour, baking powder, cinnamon, baking soda and allspice.  Set aside.
In a large mixing bowl beat butter with an electric mixer on medium speed for 30 seconds.  Add sugar and beat until combined.  Add egg and beat until incorporated.  Stir in pumpkin.  Add flour mixture, stirring with a wooden spoon.  Add nuts, if desired.
Drop dough by rounded tablespoons 2 inches apart on an ungreased cookie sheet.  Bake at 375 for 10-12 minutes (I usually bake for 10 minutes so they don't dry out at all) or until bottoms are lightly browned.  Transfer cookies to a wire rack and let cool.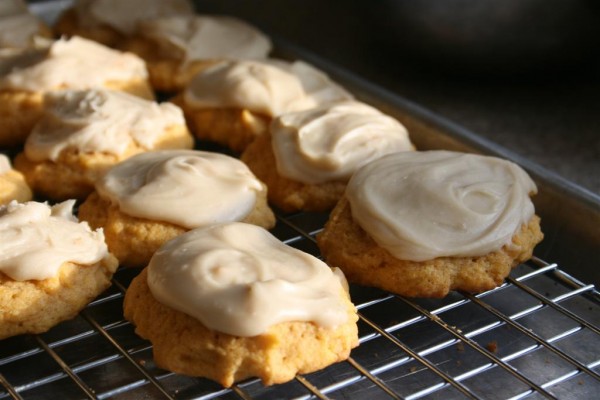 Now for the frosting!
Brown Sugar Frosting
6 Tb. butter
1/3 cup packed brown sugar
2 cups sifted powdered sugar
1 tsp. vanilla
2-3 tsp. hot water
In a medium saucepan, heat and stir butter and brown sugar until butter melts.  Remove from heat and stir in powdered sugar and vanilla.  Stir in enough hot water to make a smooth, spreadable frosting.  Frost cookies immediately.  If frosting becomes grainy and hard to spread, add a few more drops of hot water and stir until smooth.
Store in airtight container for up to 3 days.  Yield:  about 40 cookies.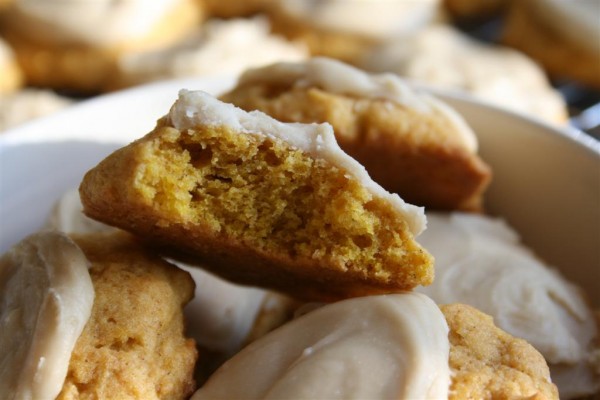 Enjoy!
And just because I'm curious…  what's YOUR favorite pumpkin recipe?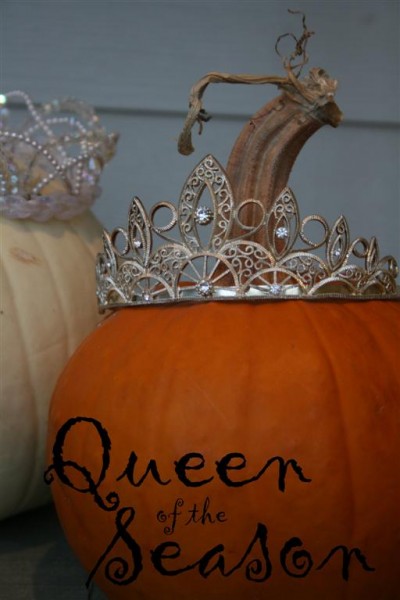 Hopeful Homemaker