Pumpkin Bread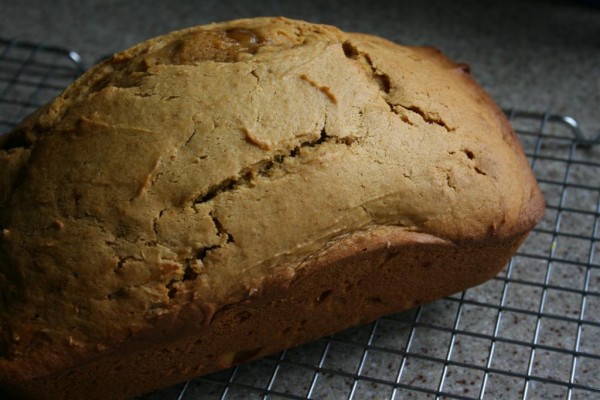 This pumpkin bread will be a nice after school snack for my children today.  Simple.  I love it.
Ingredients:
2 cups flour, divided
1 cup packed brown sugar
1 Tb. baking powder
1 tsp. cinnamon
1/4 tsp. salt
1/4 tsp. nutmeg
1/4 tsp. cloves
1/4 tsp. ginger
1 cup canned pumpkin
1/2 cup milk
2 eggs
1/3 cup shortening
2 drops cinnamon flavoring (the kind you would put in candy)
nuts, raisins, chocolate chips or anything you may want to mix in
In a large mixing bowl combine 1 cup flour, brown sugar, baking soda, baking powder and all spices.  Add pumpkin, milk, eggs and shortening.  Beat with an electric mixer on low speed until blended well.  Add 2 drops cinnamon flavoring.   Beat on medium or high speed for 1-2 minutes.  Add remaining cup flour and beat until blended.  Fold in nuts, chocolate chips, raisins or whatever you wish to mix in.
Spray bread pan with non-stick spray.  Pour batter into pan and bake at 350 for 60-65 minutes or until a toothpick inserted near the center comes out clean.  Cool in the pan on a wire rack for 10 minutes, then remove from pan and cool completely.  Makes one large loaf.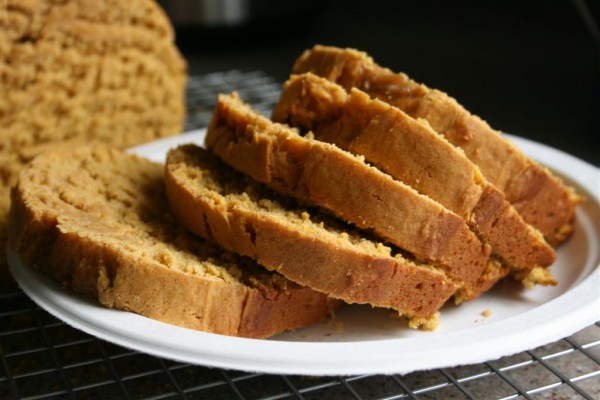 Enjoy!
Hopeful Homemaker