Pumpkin Ice Cream Cake
I whipped up this ice cream dessert for my son's birthday party on Saturday and it did not disappoint.  The pictures aren't great; it's difficult to photograph your food while also feeding a group of hungry ten year old boys!  By the time I got the camera out it was getting a bit drippy.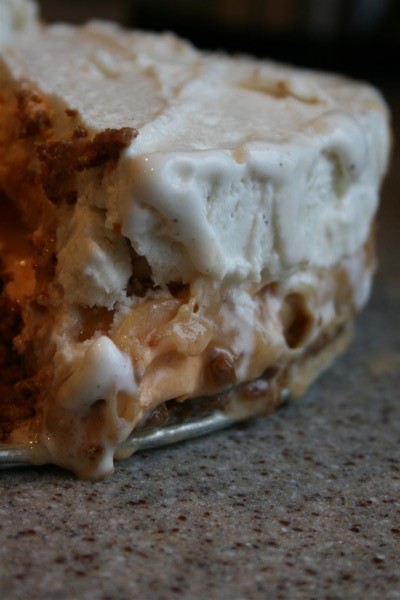 With a gingersnap crust and layers of pumpkin ice cream, caramel, and vanilla bean ice cream, everyone loved it.  It's a fun alternative to a traditional cake, and perfect for the season.
Ingredients:
1 1/2 cups crushed gingersnap cookies
2 Tb. sugar
1 tsp. ginger
6 Tb. melted butter
1.5 quarts pumpkin ice cream (I used Dreyer's)
1.5 quarts vanilla bean ice cream (Dreyer's again)
1/2 cup sweetened condensed milk
1/2 cup sugar
1/4 cup plus 3 Tb. Karo syrup
1/4 cup butter
1 tsp. vanilla
To make the crust, combine crushed crackers, 2 Tb. sugar, ginger and 6 Tb. melted butter in a small bowl and stir until combined.  Press onto bottom of cheesecake pan and bake at 350 for 10-12 minutes.  Remove from oven and cool completely.
When crust is cooled, scoop 1.5 quarts pumpkin ice cream over crust and spread evenly in the pan.  Put pan in freezer.
To make the caramel, combine sweetened condensed milk, 1/2 cup sugar and Karo syrup in small saucepan.  Cook until soft ball stage (about 5 minutes).  Remove from heat and add vanilla and 1/4 cup butter.  Stir until butter is melted.  Allow to cool.
Spread cooled caramel over pumpkin ice cream.  Spread 1.5 quarts vanilla bean ice cream over caramel and place cake in freezer to set for at least 2 hours.
To serve, remove sides of pan for easy slicing.  Enjoy!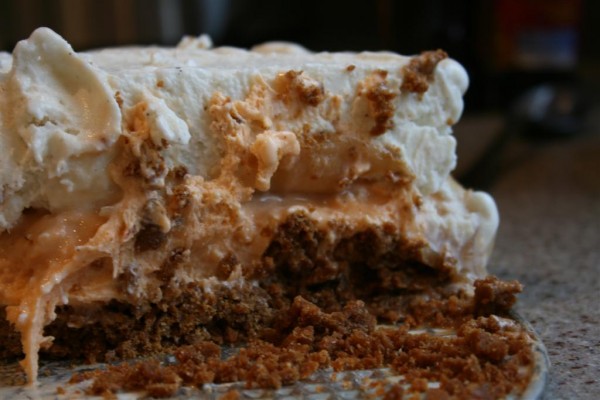 Have a great day!
Hopeful Homemaker