Raspberry Peach Pie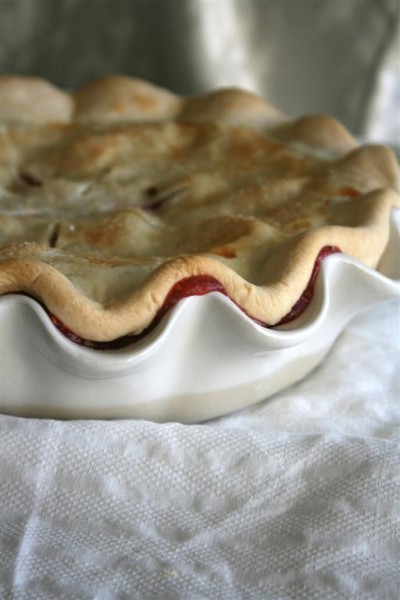 With raspberries fresh from the raspberry patch and peaches just off the tree at a local orchard, I couldn't resist making a raspberry peach pie.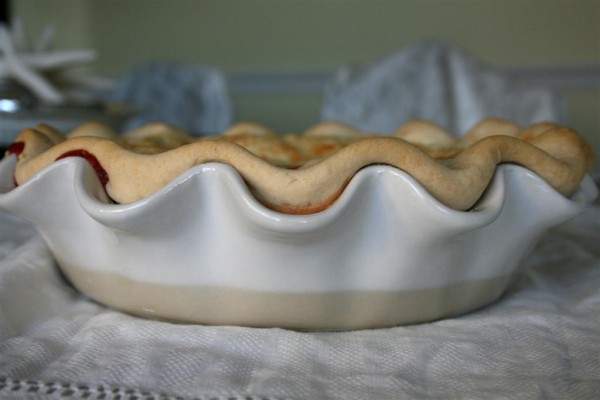 This summer I bought my first pie pan that isn't glass.  I'm in love with the lovely white and oatmeal color, not to mention the beautiful scallops around the edge (which is what sold me in the first place!)
I'm a fan of pies baked in glass pans, but I must also say that this Emile Henry pie pan is wonderful and that the crust baked in it perfectly.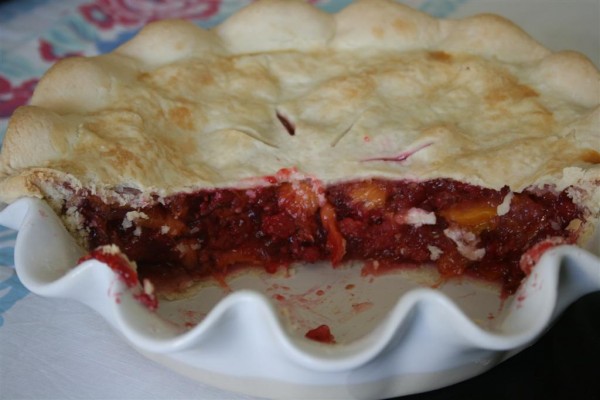 In addition to being delicious, this pie is also beautiful.  Of course, how can you mix the gorgeous colors of fresh raspberries and juicy peaches without being in love with it?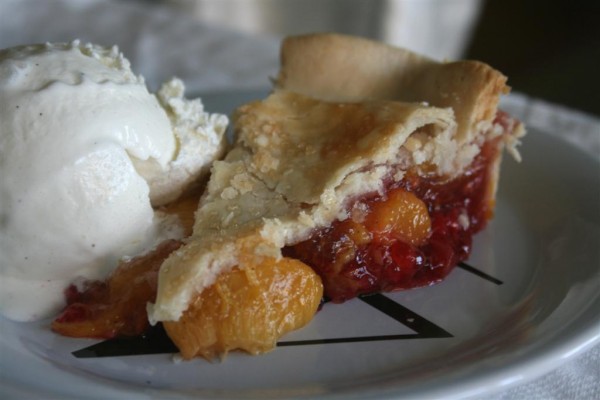 Here's the recipe:
2 pie crusts
6 cups total peeled sliced peaches and raspberries (I used roughly 3 cups of each)
1 cup sugar
1/3 cup tapioca (I use the Minute brand.  You can find it in the baking aisle, and I add this to almost every fruit pie I make.  It keeps the pie from being too runny.)
1 tsp. lemon juice
1 tsp. vanilla
1/2 tsp. ground cinnamon
1/4 tsp. ground nutmeg
coarse sugar
egg white
Roll out one pie crust and place in pie pan.  In a bowl, gently combine the fruit, tapioca, sugar, lemon juice, vanilla, cinnamon and nutmeg.  Gently spoon filling into pie pan.  Roll out the second pie crust for the top, cutting slits in the center.  Carefully place crust over top of pie.  Trim edges of crust, tuck under and crimp edges according to taste.
Brush pie with egg white and sprinkle with coarse sugar.
Bake at 350 for one hour.  Cool completely, then cut and serve. Add vanilla ice cream if desired.