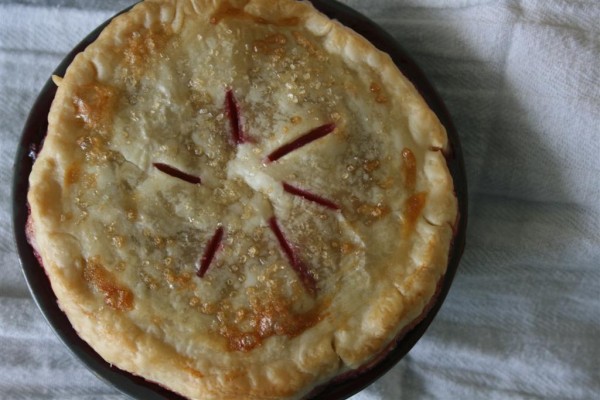 You may remember that I took my children to a pick-your-own raspberry patch this summer.  Well, how on earth can you bring home eight buckets of raspberries and NOT make a raspberry pie?  This was my first shot at one, and it did not disappoint!
Raspberry Pie
Ingredients:
2 pie crusts
5 cups raspberries
1 cup sugar
1 Tb. lemon juice
3 Tb. tapioca
1/4 tsp. cinnamon
1/8 tsp. salt
egg white
coarse sugar
Roll out pie crust and carefully fit in pan.  Gently stir together raspberries, sugar, lemon juice, tapioca, cinnamon and salt.  Spoon into pie crust.  Roll out second pie crust, cut slits in center and carefully place over pie.  Brush with egg whites and sprinkle with coarse sugar.
Bake at 425 for 15 minutes, then lower oven temperature to 375 degrees and bake another 25 minutes.  Cool and serve.
This pie was heavenly.  We all loved it.  Just look at that gorgeous color!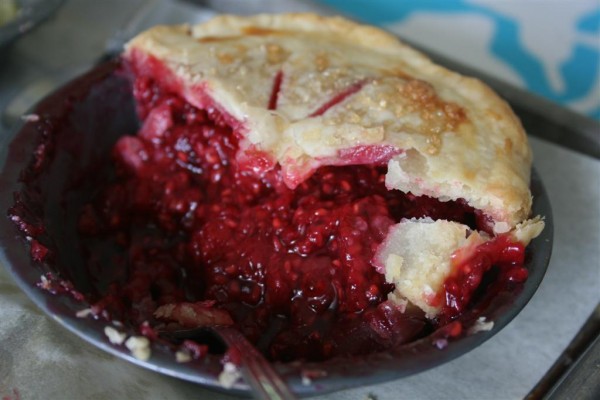 Jennifer