Pumpkin Cream Pie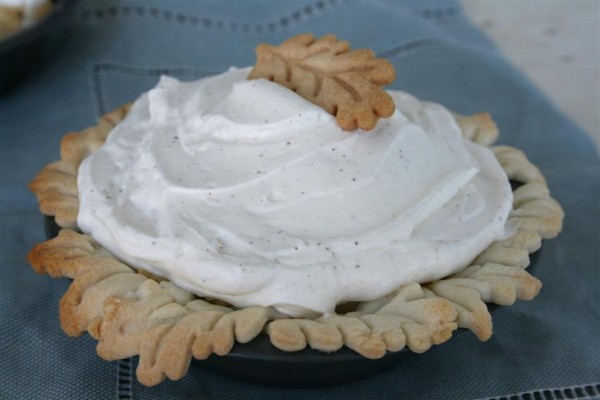 It's been too long since I made a pumpkin flavored recipe! It's time to add a few recipes to my Queen of the Season collection.
This recipe is a cream pie, with pumpkin in it.  The pumpkin flavor is more subtle than a traditional pumpkin pie due to the cream and is also lighter (but still very rich).
I took my banana cream pie recipe and altered it a bit to make this pie.  I was pleased with how much everyone liked it.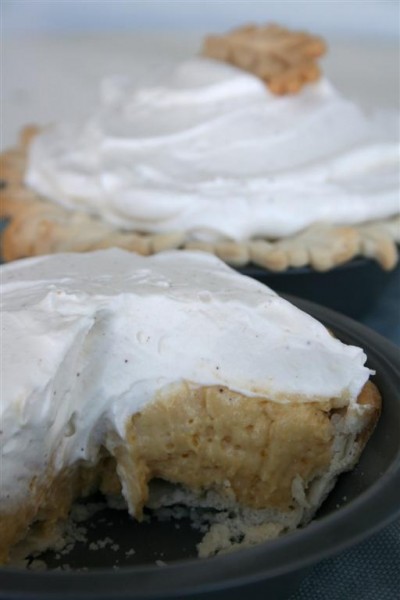 Pumpkin Cream Pie
Ingredients:
1 9 inch pie crust, prepared, baked and cooled
3/4 cup sugar
1/4 cup corn starch
1/2 tsp. salt
1 tsp. cinnamon
1/4 tsp. nutmeg
1 envelope unflavored gelatin
3 cups milk
4 egg yolks
1 cup pumpkin puree
2 Tb. butter
1 Tb. clear vanilla
2 1/2 cups cold whipping cream, separated
Combine dry ingredients in a medium-large saucepan with wire whisk.  Beat in milk, egg yolks and pumpkin.  Cook over medium heat, stirring constantly until thickened (about 15 minutes).  Remove from heat, stir in butter and vanilla.  Cover with plastic and chill.
Whip 1 cup cream and fold into custard.  Pour into pie crust.  Chill well.  Whip remaining cream and spread over pie before serving.  *I like to add 1/2 tsp. cinnamon to the whipping cream.   Enjoy!