Pumpkin Biscuits
The temperature has dropped this week, and right now I sit curled up in one of my favorite fall quilts.  That's a good thing, because it means I made it to the basement to unpack some Fall and Halloween decorations for my children.  The little ones have switched costumes at least fifty times in the last 24 hours and I look around at the disarray with a smile.  I'm so grateful they get to do this, and I'm grateful it will end in a few days.  Halloween is just around the corner.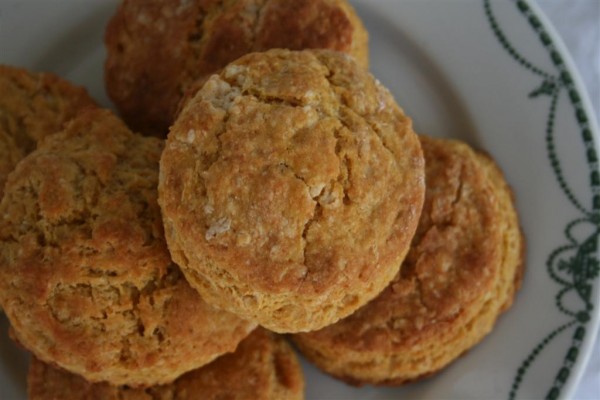 Several weeks ago I purchased

this publication

.   At the time I wondered a little at my decision, but now I'm thrilled to have it.  I've tried more than half a dozen recipes from it and they've all been delicious. It's full of bookmarks, a spill, and tattered corners.  One of the things I love about it is having a picture of every recipe included.  I highly recommend it.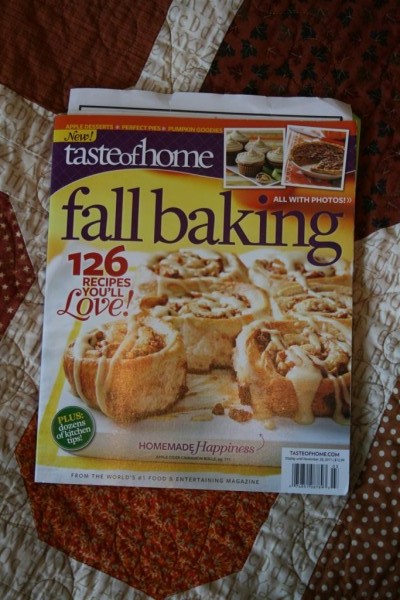 One of  the first recipes I tried was this recipe for pumpkin biscuits.  Our whole family enjoyed them and one son in particular begs everyone else for their biscuit while the rest of us enjoy dinner.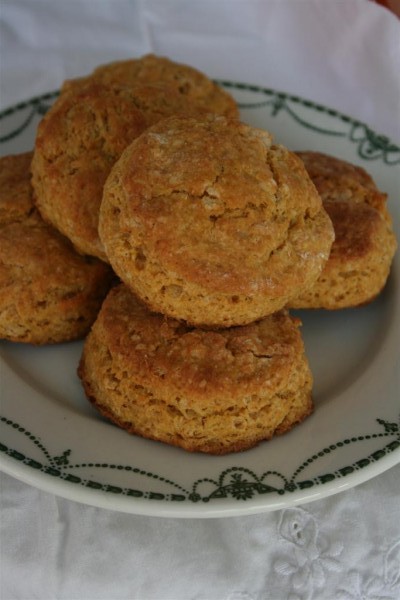 Pumpkin Biscuits
(recipe from Taste of Home Fall Baking publication)
Ingredients:
1- 3/4 cups flour
1/4 cup packed brown sugar
2- 1/2 teaspoons baking powder
1/2 teaspoon salt
1/4 teaspoon baking soda
1/2 cup cold butter
3/4 cup canned pumpkin puree
1/3 cup buttermilk
Preparation:
In a large bowl, combine flour, brown sugar, baking powder, baking soda and salt.  Cut in 1/2 cup water until mixture resembles coarse crumbs.  Combine pumpkin and buttermilk, stir into crumb mixture just until moistened.  *Note:  I've made these twice now and both times I had to add a couple of tablespoons more milk.
Turn onto lightly floured surface, knead 8-10 times.  Roll out to 1 inch thickness; cut with a 2 or 2-1/2 inch biscuit cutter.  Place 1 inch apart on a greased baking sheet (or just use parchment paper).
Bake at 425 for 18 minutes or until golden brown.  **Another note:  the recipe calls for 1-1/2 tsp. melted butter to be brushed over the biscuits, but I haven't added it.  It seems to me there's already plenty of butter in them.
According to the recipe, one batch makes 6 biscuits if cut with a 2 1/2 inch round cutter.  The first time we made them, we cut them into 1 1/2 inch circles for taste testing and it made two dozen.  Last night I used a 2 inch cutter and squeezed 10 biscuits out of a batch.  Next time I make them, I'll double it for my family.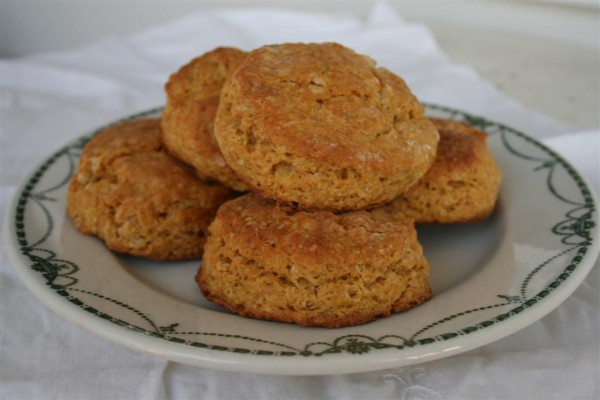 I hope you enjoy this pumpkin recipe.
Jennifer