Alive
I don't know that I've gone ten days without blogging since I started this blog, yet here I am.  I even missed a Sunday night report.
I feel like December entered and swallowed me whole.  It's still chewing.  I'm wondering which direction I'll be facing and how my heart will have fared when at last it spits me out somewhere in January.  The month has been an exercise in crossing things off my list… undone.  An exercise in letting go of all expectations.  Somewhere in the middle of it all my amaryllis bloomed.  Yay! A bright spot.  And now my paperwhites are teaching me with their delicate beauty.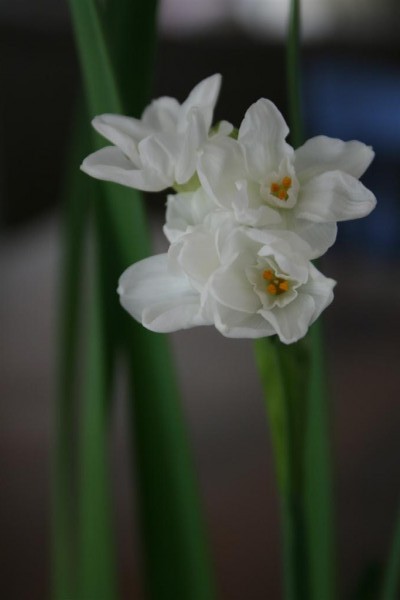 What to write about?  The plans I made for a new year?  The stress that's got my stomach tied in an iron knot?  The week spent with two toddlers down with severe croup, struggling for breath day and night for more than 6 days (AFTER Decadron shots and breathing treatments)?  The exhaustion of not sleeping?  The happiness of seeing extended family you rarely see, and having them with you for Christmas?  The stress of preparing for such a visit while nursing the sick children?  The emotional pendulum daily swinging back and forth between joy and tears of discouragement and frustration while knowing the swing is irrational and at least 50% related to exhaustion?  My gratitude for a few days of sunshine for Christmas (no snow here)?  The heaviness of the gray skies which have once again descended?  The sore throat that hit while washing dishes after Christmas dinner and how I escaped crying in front of all my relatives only by racing outside into the cold darkness?  The wonder I felt when my two brothers walked into my house, took out the dry tree, vacuumed my family room, smashed down the trash cans, emptied the kitchen trash, played with my little ones and generally restored a sense of order and calm to my house and heart in about 20 minutes?  (Thanks, guys.)  Wondering how to judge the year after the month we've just lived?  The embarrassment of being stretched so thin by all these things while knowing that others are suffering far more?  Fear?  Trying to kill that fear with increased faith?  The joy of a few hours of creativity?  The incredible humility of having God show you weakness after weakness?  The uncertain future which just became even less certain?
All these things lay jumbled together in the forefront of my mind, overlapping one another, clouding my judgment and generally making it difficult to focus on any one thing.  My mind is racing and my heart is racing with it.
We are SO blessed.  But this month has felt SO hard.
JOY.  I need to find joy.  I need to fight the battles God has given us to fight right now with JOY and not stress, with FAITH and not fear.  I need to learn how to live without the ball of stress in my stomach being so heavy that I cannot eat.  Christ came to offer LIFE.  Abundant life.  JOY.  Eternal joy.  It's time to rejoice.
So in spite of all my worries, I am going to seek joy in 2012.  Not sure exactly how, yet, but I'm working on it.  I'll keep you posted.  Until then, I hope your December has been much better and that you're planning something amazing for the new year.
Jennifer