Still Here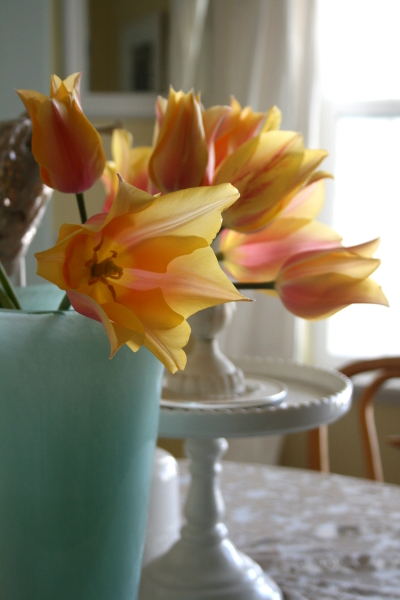 It's been almost two weeks since I last posted… an extended break I didn't plan.  I just set my timer for 15 minutes, long enough to briefly check in here and then get back to work. It's May now, something I can hardly believe yet at the same time it

must

be May.  No other time of year feels like this.
Life is crazy busy – frantic – and yet there have been so many little pleasures in the cracks.  Some I've done a good job of nourishing; others spring up on their own to briefly flood my heart.
I'm giddy about my flowers, all cut from my own yard.  It's been such a pleasure to share a vase here and there, to let my children pick at will, and to fill many containers in the house with them.  While I hope to get much better at gardening, and to learn to nurture a cutting garden that's in bloom non-stop from spring to fall, I'm happy to take spring's bounty as an achievement.
I've been thinking a lot about happiness and how so many different things make me happy, and how so many different things also rob me of happiness.  Sometimes it's harder to recognize joyful moments when you're running too fast and that's definitely the speed we're at right now.  I've decided to keep track of a joyful moment every day in May and hope it will help recharge me.
Today's joy:  half of my children brought a friend home from school and the entire group managed to get along well for several hours.  My kitchen is clean, even with everyone running in and out and I love that feeling.  My oldest son just did some work in the yard without being reminded and then decided to help a neighbor with his overgrown lawn.   All day long I've been reminding myself to focus on what is going

right

and my heart sang with happiness when I heard him tell me where he was going.  I still have a mountain of clean laundry to fold, several bathrooms to clean, and a long to-do list to work on, but

these three things going right

are enough.




My sewing machine is as neglected as my blog.  I was talking to my parents last weekend and described this time of year as my "sewing off-season."  There is so much to do elsewhere, and now yard work is on the list as well.  I do peek in every day or two at the tidy stacks and hope I'll have time soon.  I set some wildly important goals for the month, one of which is to thoroughly go through every room in the house before school is out so we can start the summer clean and clutter-free.  While I haven't made the progress I hoped to, I have had many days when I went to bed exhausted but happy with the feeling that I might just have ended the day a tiny bit ahead of where I started.
The timer has rung and I have an army of hungry children to care for.
And a gorgeous spring evening to enjoy.
I'll be back soon.  Promise.