Anchor Quilt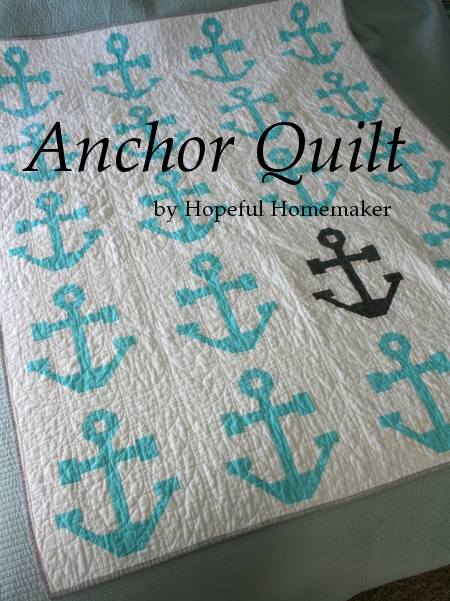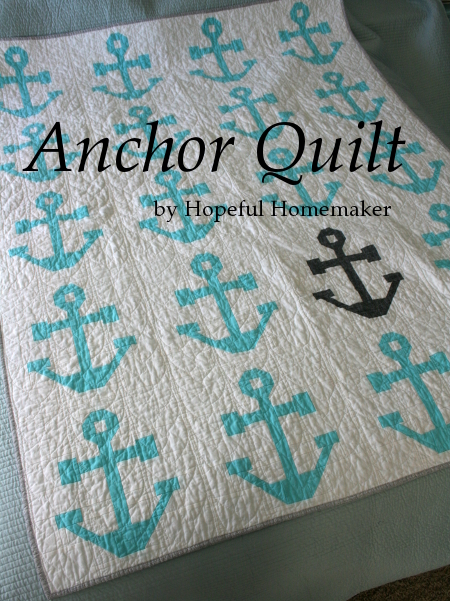 My anchor quilt is finished!  After

drawing the pattern

and piecing the

quilt top

over the summer, at last it is quilted and bound.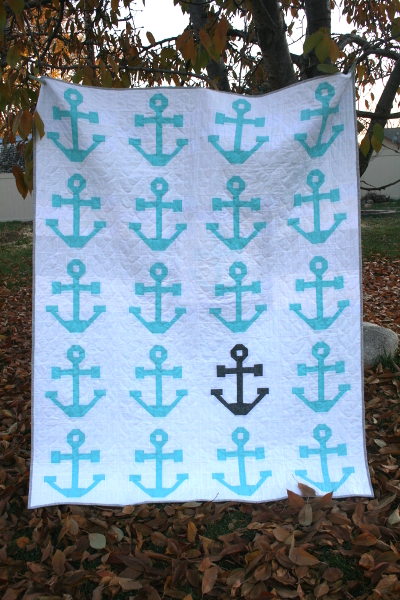 Even

the backing

has sat, waiting for a decision about how to quilt it.  I wanted to do something I've never done before, and even try something I haven't seen done.  I also wanted some sort of quilting that would help draw attention away from the many seam lines in the white background fabric.  Recently I saw an image of

a comforter available at Crate & Barrel

and decided right away that I had to try this "cable" style of quilting, as I thought it would suit the anchor theme nicely.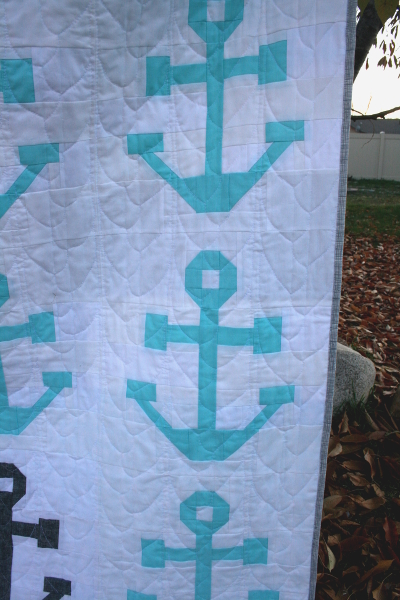 It took some sketching to figure out how to do it on my machine, but after free motion quilting my

On A Whim

,

Early Bird

and

Choreography

quilts this fall, I had more courage and went for it.  Each "cable" is made up of three lines of quilting that goes top to bottom, so it took some time to do but I'm very happy with it.  Far from perfect, but still perfect enough for me!
In fact, I was so excited to see how it would wash up that I immediately threw it in the wash to find out.  I love it.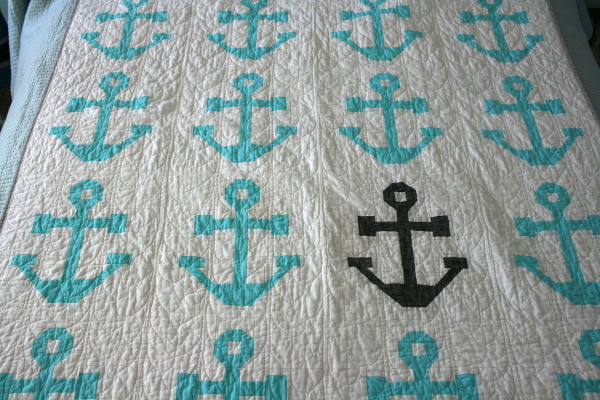 I love the way the anchors stand out and you hardly notice all the seams it took to make them.  The quilting is subtle but you can still see it.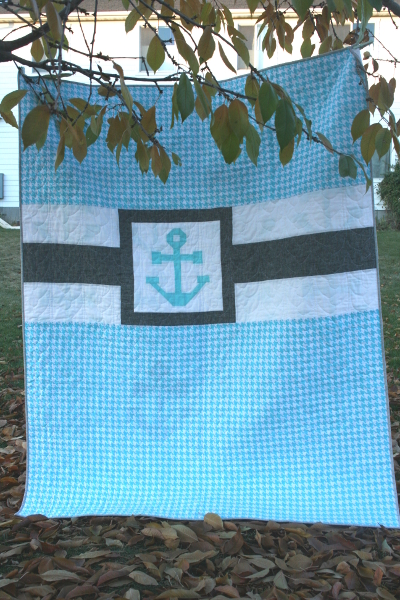 The quilt back also looks nice with the quilting, and I'm so glad I made one more anchor to use on the back.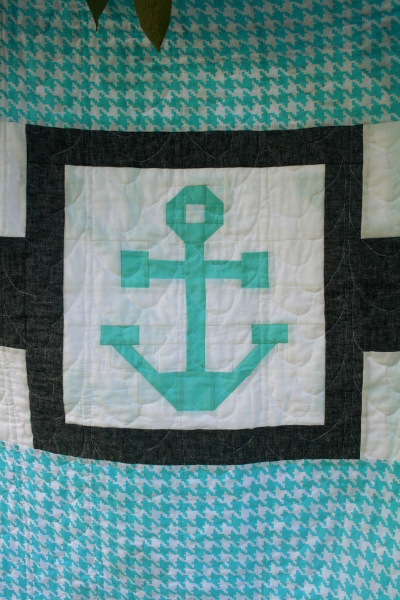 I decided to use gray for the binding and settled on this Heath print which I had on hand.  I think it is the perfect binding.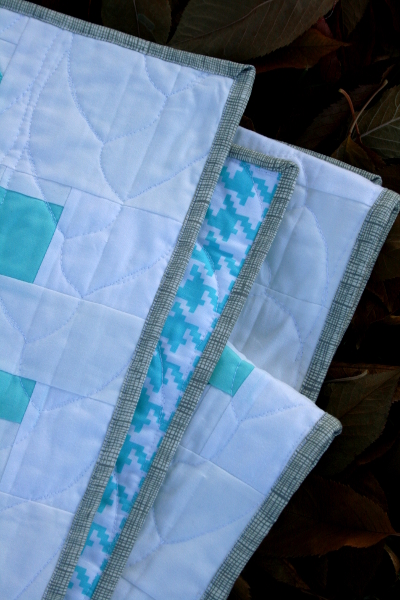 I love this quilt.  Really, really love it.  As I made it, I thought about all of the people/things that serve as anchors in my life and how grateful I am for them.  The black anchor is a reminder of the greatest anchor of all – my Savior.  This quilt is so ME – and I met a lot of personal goals in the making.  It is entirely my own design, something that once seemed WAY out of my reach.  I loved the process of bringing a fleeting idea to life and hope to do more of this in the future.  It also represents another goal I set for the year, which was to learn how to use free motion quilting on my quilts.  I know I will improve in this skill as well, but I have reached my goal and it makes me want to leap for joy.  This quilt will always be special.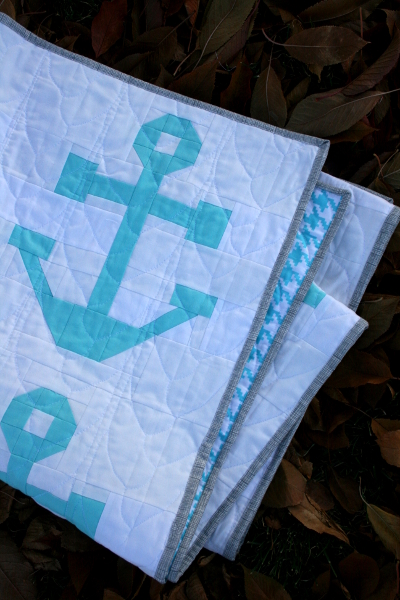 And it is finished.  I have a few projects that felt like they belonged to 2013, an integral part of my life story this year, and this was one of them.  I have one more in this category to finish.  I've been thinking over the past week or so about how grateful I am that I found quilting, for discovering a hobby that is so satisfying to me in a stage of life when I needed something so much.  I feel very blessed.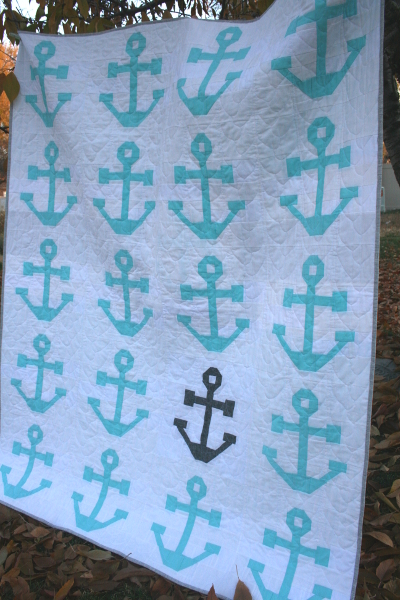 Stats:
Tutorial for the anchor quilt block is

found here

.  It is a 14 inch square block.  There is no sashing between my blocks or borders on the quilt.Measurements:  56 by 70 inches, made of 20 blocks set in 5 rows of 4 anchors each.
Fabric:  blue solid was from my stash; I have no clue regarding manufacturer.  Black arrow is Essex yarn died linen in black, houndstooth backing is from Summer Soiree by Paula Prass for Michael Miller.  Binding is Heath in gray by Alexander Henry Fabrics.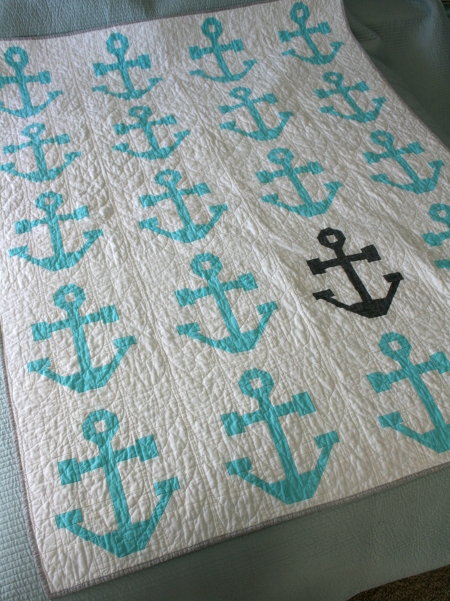 Thanks for visiting!
Jennifer