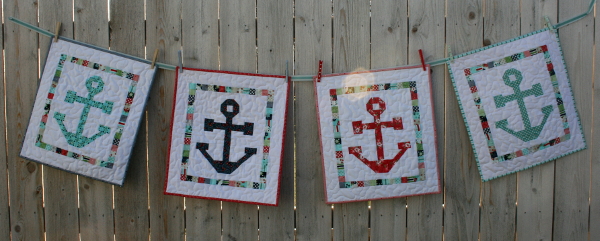 I think I've finally made peace with being home from

Quilt Bliss

.  What a fun weekend it was!  When Pamela asked me to help with some sewing in preparation for the retreat, I jumped at the opportunity.  Soon thereafter, a pile of DaySail by Bonnie & Camille was on my sewing table for cutting.
These anchor mini quilts were used as gifts for the teachers (Pamela's awesome idea!), and were a lot of fun to make.  I used my

Anchor Quilt block

and made four separate blocks.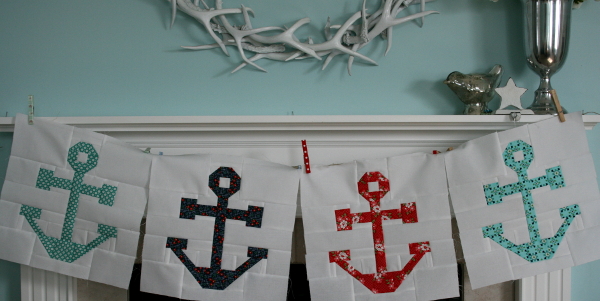 Instead of leaving them at 14.5 inches square, I trimmed the two sides so the block was 12.5 inches wide and 14.5 inches tall.  I then sewed 1.5 inch squares together to make strips which were used as borders.  A white border followed the scrappy squares.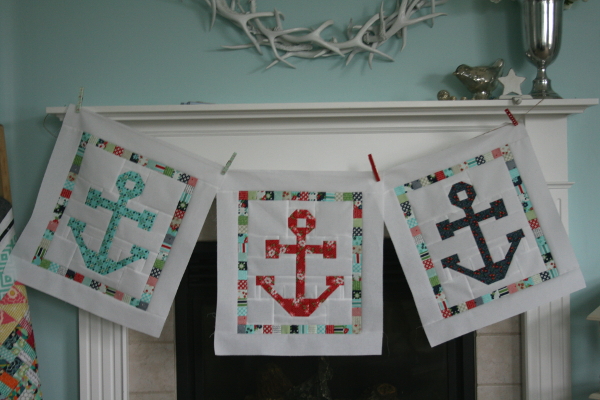 I love how they turned out!  In fact, I keep thinking I should make another one to hang with my other mini quilts, but I'm not sure which color/print is my favorite: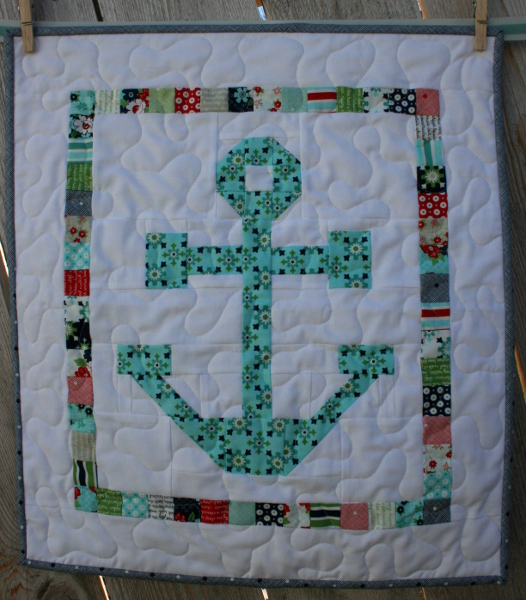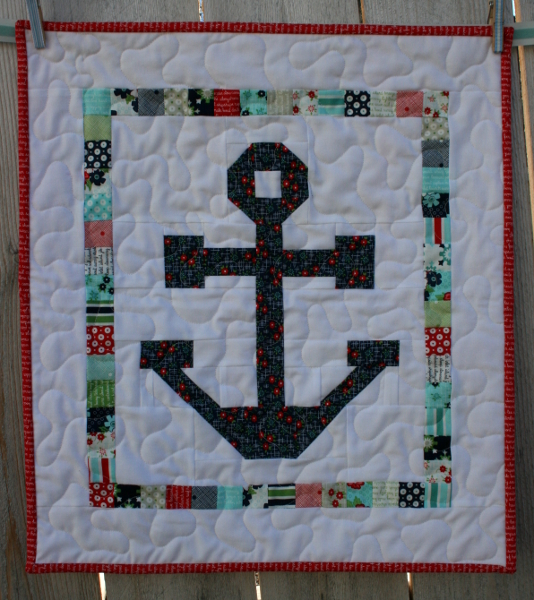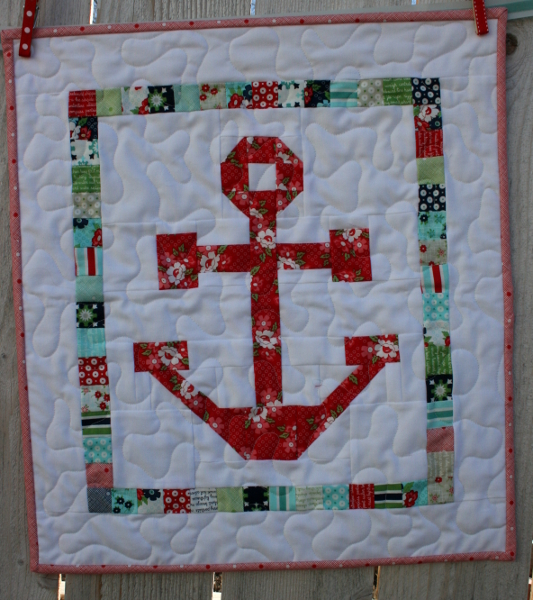 The red floral print above was one that surprised me.  I didn't anticipate it being in my top 3 favorites in the Daysail collection, but I really love it!  Which one is your favorite?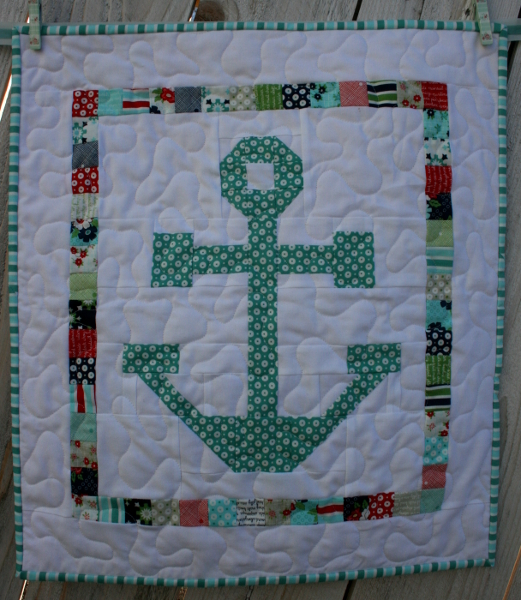 There are so many great blender prints in the Daysail collection, as well as several that make awesome bindings.  I really enjoyed putting these together and experimenting with different combinations.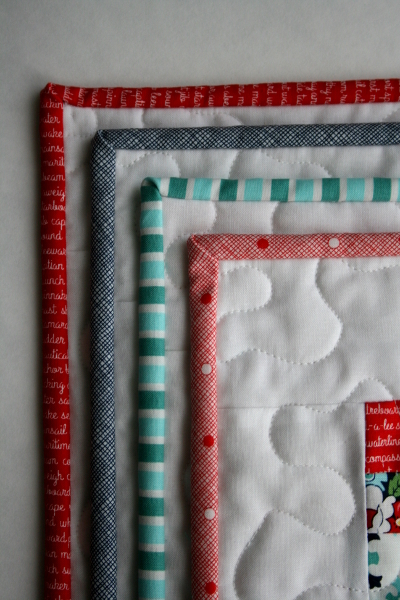 The stippling was done by

Ella Lung

, who did a beautiful job!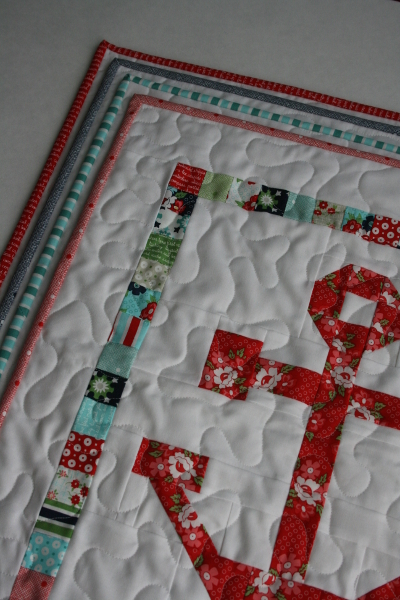 Much as I loved having them all hanging together, it was even better to see what Pamela did with them.  She had the fantastic idea of inviting all the

Quilt Bliss

attendees sign each quilt in the outer white border as a thank you for teaching.  I loved watching people sign their names.  I was also

just

brave (or dorky) enough to ask

Camille Roskelley

for a picture with her and the quilt she ended up with: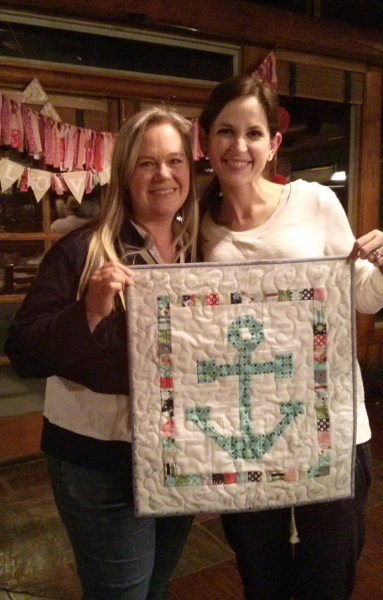 I really enjoyed making anchor blocks again.  I love my original

anchor quilt

, but it might be fun to make another version in some colorful nautical themed fabrics.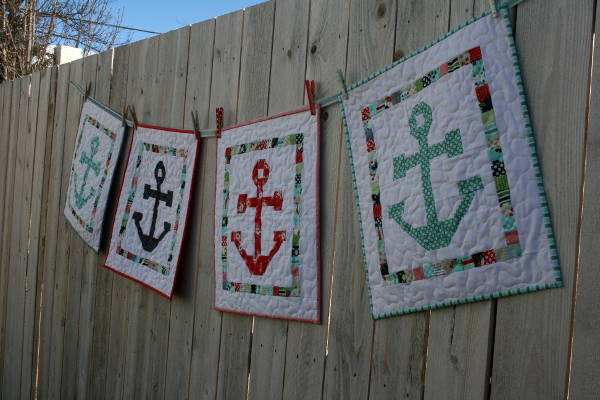 While finishing these mini quilts, a friend suggested one more use for them that I hadn't thought of.  I'm working on it now and am excited to share it soon!
Jennifer