Coconut Cream Pie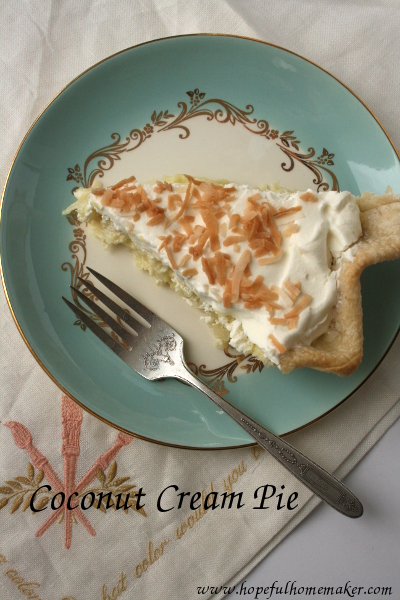 There's nothing better than a from-scratch cream pie!  My husband is a big fan of coconut, which motivated me to perfect this recipe.  This coconut cream pie is often on the dessert menu at holiday gatherings and I always look forward to making it.
Coconut Cream Pie
1- 9 inch pie crust, baked in pan and cooled completely
1 cup white sugar
1/2 cup flour
2-1/2 cups milk
2/3 cup heavy cream
6 egg yolks, beaten
2-1/4 cups flaked coconut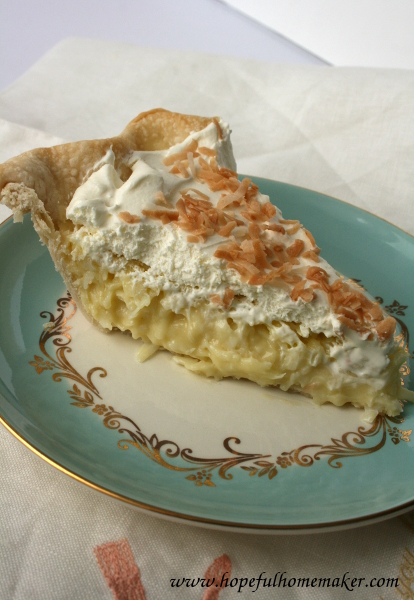 Preparation:
Combine sugar, flour, milk and cream in a heavy saucepan.  Cook over medium-high heat, stirring constantly, until thick and bubbly.  Continue to boil for one more minute, then remove from heat.
In a medium bowl, beat egg yolks.  Using a 1/4 cup measure, gradually stir small amounts of hot cream mixture into the egg yolks, beating as you pour the cream mixture in.   I slowly pour 1/4 cup at a time while I mix.  Continue this until you have mixed 1/4 of the total amount of cream mixture into the egg yolks.  Pour the yolk mixture back into the remaining hot mixture and return to heat, stirring constantly.  Cook for 2 minutes.  Remove from heat and stir in coconut.  Pour into baked pie shell.
Chill until ready to serve.  Before serving, cover pie with whipped cream and toasted coconut.  Slice and enjoy!
I often serve this coconut cream pie at holiday gatherings with these other favorites:
Chocolate Pecan Tart
Dutch Apple Pie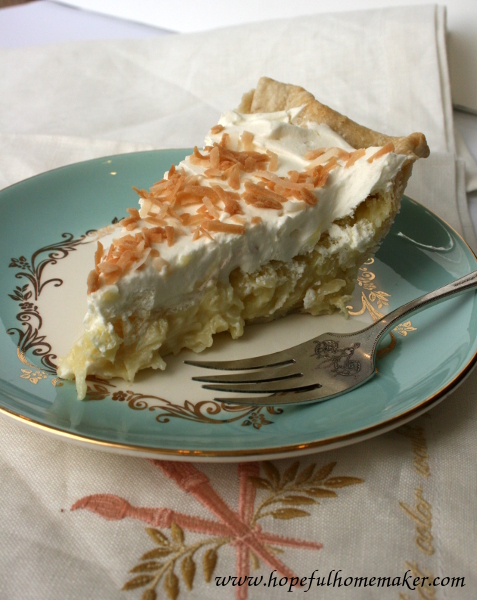 I put together a list of my favorite tools for making pies.  You can find it here.  I hope you love this recipe!
Happy baking!
Jennifer