Reminisce: Scrappy Hunter's Star Quilt Top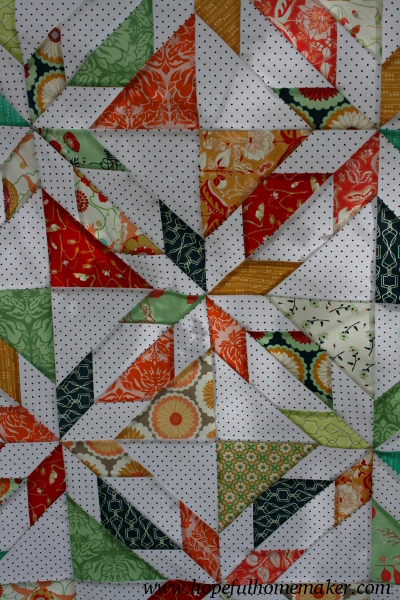 Phew!  It seems like I haven't finished much this year in the quilting category but I have a finished quilt top!  This one makes me happy and I hope you'll indulge a bit of rambling as I share the reasons why.  Back in 2011 I finished a traditional

Hunter's Star quilt

, red and white, which has been snuggled in, spilled on, stained and loved and then used some more.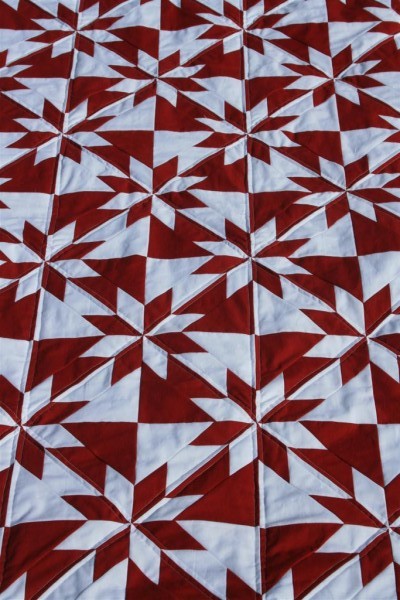 I love this quilt, largely for it's bold design but also because we've loved it so much.  Interestingly, I also get new comments on that blog post all the time, and as I was pondering that a few months ago I suddenly saw the design with new eyes.  I pictured a scrappy, colorful version, larger than my original quilt and with a small print instead of a solid for the contrasting background.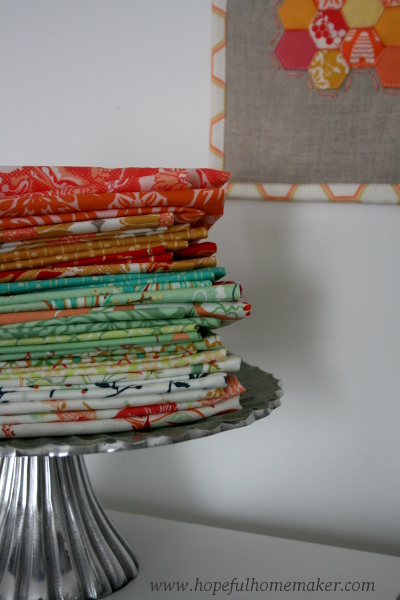 Bonnie Christine's

first fabric collection, Reminisce, was the perfect fit.  I love the fabrics in this line.  I sketched, calculated and began to cut, but other pressures with the holiday season came along and I set it aside.  I was pulling it out to start sewing in February when I had the opportunity to participate in the

Sweet as Honey Blog Tour

for Bonnie's new Sweet as Honey collection.   My first idea for the blog tour was a Hunter's Star pillow,  which I made by adjusting my measurements yet again and using a natural linen with the fabric she sent me.  I especially loved how the hand quilting turned out: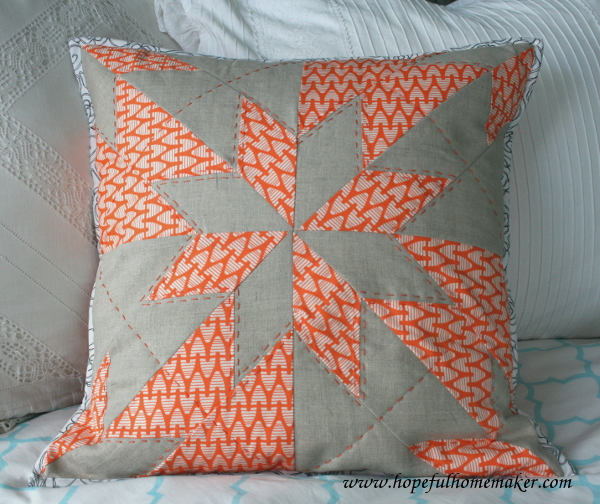 As you can

read in my post,

looking at those little beehives generated another idea with Bonnie's fabric which came to life in my Hexagon Beehive Mini Quilt: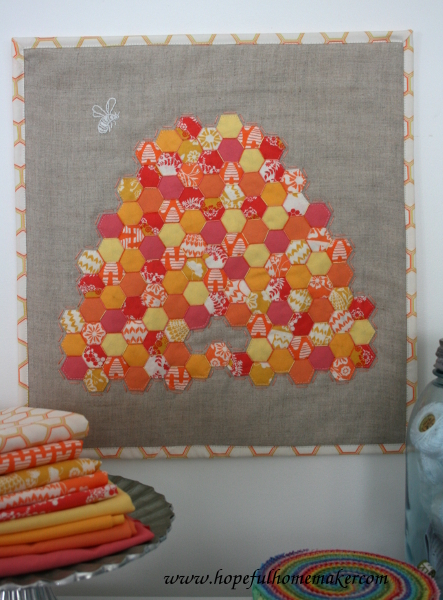 When the blog tour was over, I returned to my idea of a scrappy Hunter's star quilt and got to work.  Here is my finished quilt top:


**edited to add:  Because this quilt top uses 10 inch sqaures and is perfect for a layer cake, I decided to post a tutorial.

You can find it here.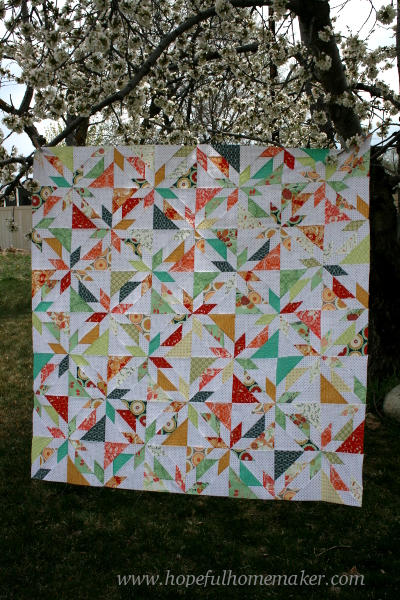 The eight pointed star pattern doesn't emerge as readily in this version, but still I love it.  I love the tiny black polka dots, love the colors and patterns, loved hanging it from my cherry tree that's suddenly covered in blossoms.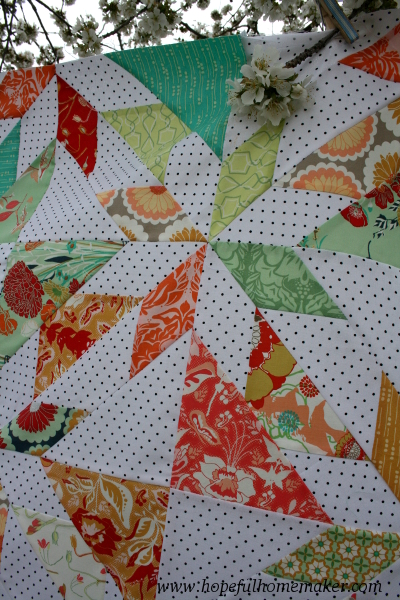 This quilt top also reminds me of a beautiful principle taught by Twyla Tharp in her book, The Creative Habit. I read it a few years ago and one of the parts I loved most was the chapter about scratching for ideas.  What stuck with me was her discussion of big and small ideas.  She writes about big ideas as things that often come to us when we're wanting to catch people's attention, make lots of money, or make a name for ourselves.  They are often difficult to execute and can become all-consuming.  On the other hand, small ideas may be less significant but are often things that keep generating more ideas.  They feed creativity.  Sometimes the small ideas end up being best.   I guess the biggest reason this quilt top makes me happy is because for me, it's a celebration of small ideas.  I get ideas all the time and some are better than others.  Some of them take shape and others seem to fight me.  Some of  them I don't have time for while others send me down an unexpected path.  This little idea of re-thinking my picture of a hunter's star quilt block has been a small idea that generated more ideas, more opportunities, and especially more joy in creating.  I'm sure someone, somewhere, has already done this with this block, but I've never seen it.  I certainly didn't create the hunter's star quilt block, but I've loved following the trail of my own vision, bringing to life something I have only seen in my mind's eye.  This is something we quilters do all the time, interpreting patterns with our own colors, variations and twists.  It's one of the things I love most about the quilting community – watching how we all inspire each other and are in turn inspired, with more creative outcomes than we can count.  Little ideas generate beautiful things, and the more we do it the easier the process becomes.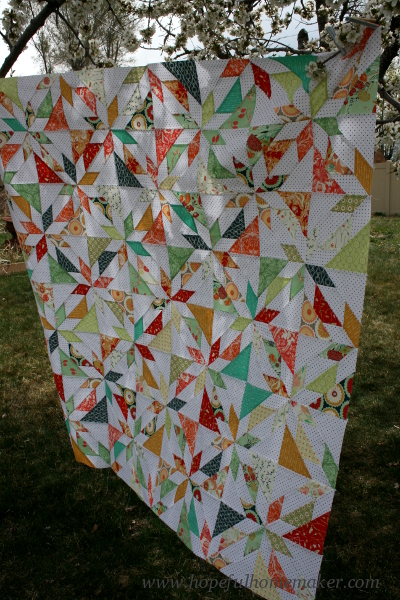 When I look at this quilt top, I see a physical reminder of the journey of creativity that comes through small ideas.  That journey brings me joy and is an experience I hope will always be part of my life in some way or another.
I hope it's part of yours, too.
Thanks for visiting!
Jennifer

Linking to Freshly Pieced!