Bucket of Awesome
In order to accomplish my goals in 2017 and be who I want to be, I realized that I need to re-write part of my story.  By re-write, I mean that I am the storyteller of my life.  And like every truly good book that we read, parts of our personal stories will need revision in order to capture what is essential for the rest of the story to progress and unfold.
Sometimes we get stuck in the details of these stories and forget their role in propelling us forward.   We might make the mistake of letting someone else tell the story and allow their words to make us merely a supporting actor or even a victim.  When our voice is strained or tired, or the plot seems messy, we might be tempted to conclude that it's unimportant and quit talking.  That may be part of the journey but it's not the main idea.  The truth is that each of us lives an amazing, individual, never-to-be-duplicated life full of highs and lows, and it is absolutely worth telling.  Worth telling it well.  When we craft a dead-end version, we need to go back, re-examine, and revise it so our story, the one in which we are both the voice and the hero, can lift and teach and triumph.
I believe that with all my heart.  I will also be the first to admit

I've been stuck in a dead-end chapter of my story

, and it needed to be re-written desperately.
With this goal in my mind, imagine my delight when

Kathryn Thompson

, author of

Drops of Awesome

, sent me an email about her newest book,

Buckets of Awesome

.  Let me tell you, it is awesome!  I've been a fan of Kathryn's message for a long time.  I've posted about it

here

and

here

.  But I really love what she's done with this book.





Bucket of Awesome

is a journaling tool filled with specific prompts to wander through your life history and write about it in positive ways.  Some parts may be easy; others hard.  You can skip the prompts that don't trigger anything for you and focus on the ones that do.  Her message is this:  We are writing our life story whether we realize it or not.  We can write it in ways that recognize and honor the good or we can dwell on the negative.  The option we choose is powerful and has long lasting effects on us and others.  So why not tell the story that is awesome?!
Robert Atkinson wrote, "There is a power in storytelling that can transform our lives.  Traditional stories, myths, and fairy tales hold this power.  The stories we tell of our own lives carry this transforming power, too.  In the process of telling our life stories, we discover that we are more sacred beings than we are human beings, that the most powerful life story expresses the struggle of [our] soul."

(quoted in Dare Dream Do by Whitney Clayton, p. 16)

I love that Kathryn has created a tool to assist us in transforming our own lives by examining the stories we've collected about ourselves.  In my reading of the book, I read through all of it and then went back and lingered in the section about Resilience and Struggle.  Why?  Because the last two years of my life have been all about challenges.  I know that in the struggle of those years I have experienced some beautiful things but I've often chosen the story about how hard it was.

If I want to craft a narrative that predicts a brighter future, I need to do some re-writing.

Not a re-write that pretends the hard times didn't happen, or that depicts them as something they weren't.  Revised in a way that includes the fact that I haven't quit, that I'm still standing, that I've learned some important things, and that I can do hard things and still find happiness.  So that's where I'm journaling right now.  I need the most recent section of my life story to be powerful enough to predict a brighter future.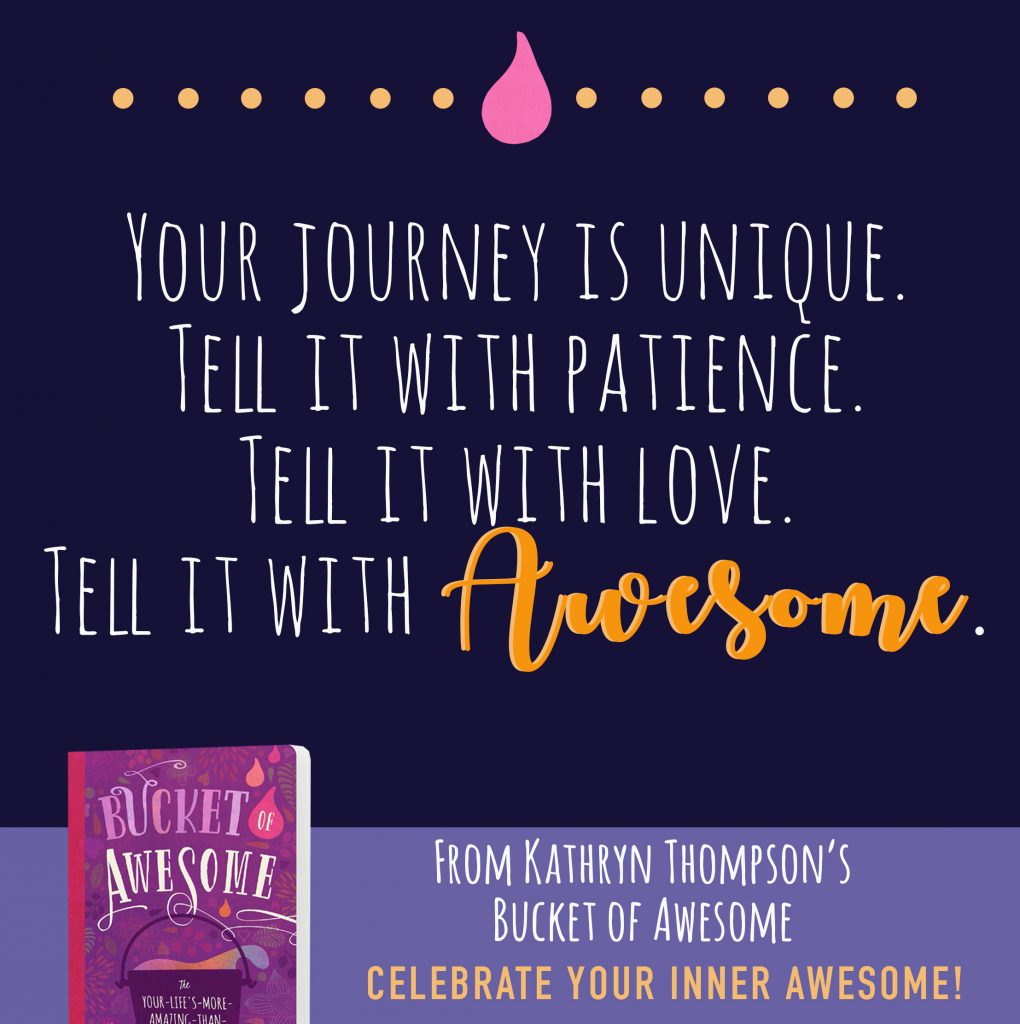 One of the sweetest blessings of challenging years is connecting with others in their challenges.  I listen differently to them now, and feel more deeply what they're going through.  These friends amaze me as they fight through their trials.  I love their stories.  They give me courage.
Kathryn writes, "Never stop telling your story, and always be conscious of how you tell it.  Ask yourself, 'What stories can I tell that will be the most helpful and productive in my future life?  What backstory do I want my future superhero self to have?'  Write that.  Focus on that…. Your life will be beautiful.  Choose to see it for what it truly is."

(Bucket of Awesome, p.167)

What can you do to find your voice and use it?  What story can you share that will lift someone else?  What story needs revision so it no longer drags you down?  What dream is your current story propelling you towards?  I highly recommend using

Bucket of Awesome

to get yourself started.  You matter, and so do your stories.
Jennifer