Ireland Flag Mini Quilt :: St. Patrick's Day Placemat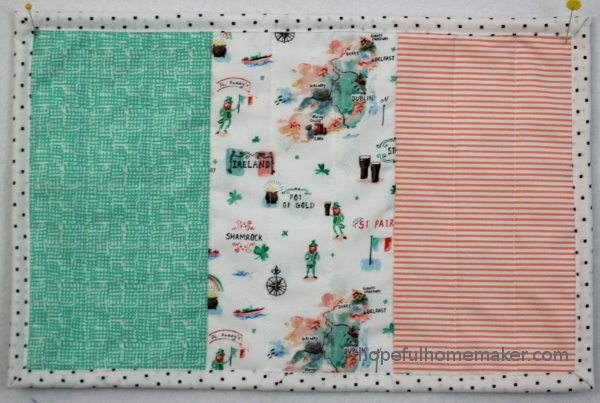 With St. Patrick's day just around the corner, it's fun to think of simple ways to celebrate.  Last year I made some of these cute little mini quilts.  And since many St. Patty's traditions are centered around a meal, they also make great placemats!  I had some of this fun Luck of the Irish fabric by Dear Stella, and it inspired me to make little Irish flags!
The Irish themed print made these placemats really cute, but you could easily substitute another low volume print, or plain white for the center strip.  For that matter, these would be really cute with all solid fabrics.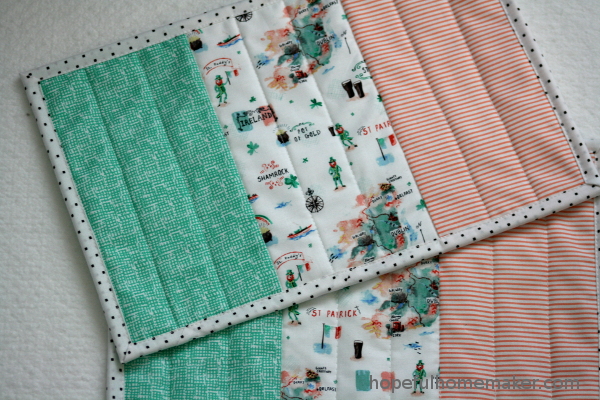 I combined the Ireland print with a green and orange fabric, also from Dear Stella, and cut one piece of each fabric, making all of them the same size.  For a placemat, I would cut each piece at least 12 inches tall and 6 inches wide.  Then I sewed them together to mimic the color placement of the Irish flag, and in two seams it was ready for quilting!  Simple straight line quilting every couple of inches made this a very fast but festive project.
I chose a simple binding for mine; a black swiss dot on white, and I opted for machine binding to save time.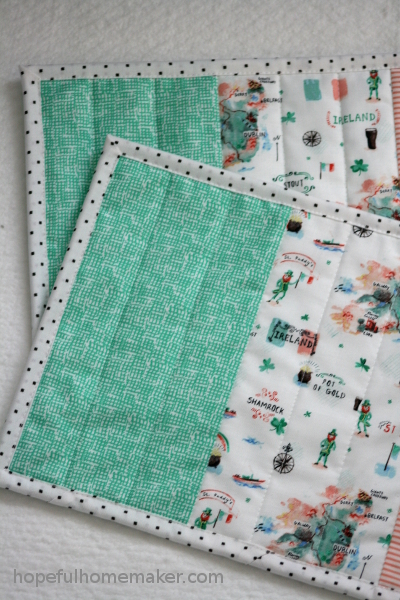 I have gifted my creations to a couple of friends (both readheads) who love Ireland and teach Irish dance.  It was fun to surprise them with a small gift that celebrates a passion of theirs.  I'm tempted to whip up a few more just for fun before St. Patrick's Day.
Happy sewing!
Jennifer