Ice Cream Soda Quilt Blocks 1-10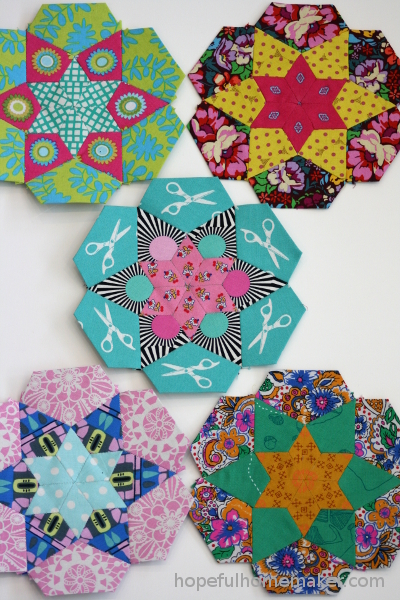 I shared my first ever English Paper Piecing (EPP) blocks earlier this year, and now there are ten of them.  The block, designed by

Jodi of Tales of Cloth

, is called Ice Cream Soda and it's been a great learner project for me.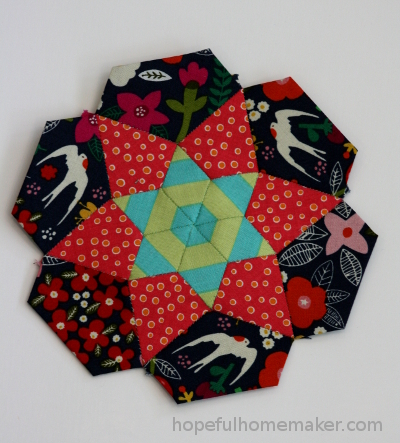 I continue to use this project to practice fussy-cutting, both by showcasing certain images and also by using the fabric to create repeat designs as the sections are sewn together.  This is not a natural thing for me (it makes me cringe a little that fabric is wasted) but I do feel that with practice I am getting better at seeing new ways to use prints.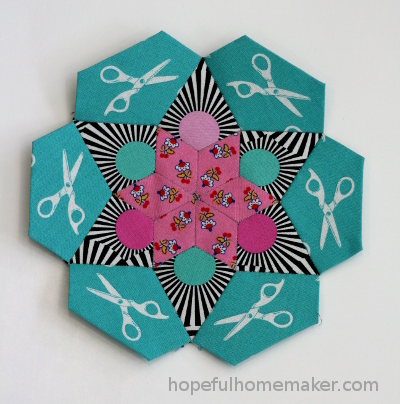 I am also trying to pull out favorite prints and include them.  I did this with a particular print that is out of print and precious to me.  I was so proud of myself for cutting into it and now I can't find those block pieces anywhere!  I remember doing it and have searched high and low but cannot find them.  They were with the rest of the blocks I cut out at the same time and how one of them went missing is beyond me.  I really hope it turns up somewhere!  Such a bummer.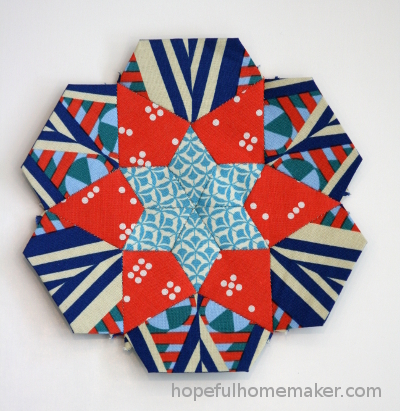 When I last posted about this project

I had tried two different methods of sewing the pieces together.  I liked the way the flat back stitched pieces looked (because I couldn't see any stitches) but I just couldn't seem to hold them together firmly enough and my points were off.  It was also slower.  So I have gone back to the method of holding right sides together and carefully stitching along the edges.  The stitches are more visible but I am a little quicker.  On this project I believe the title "slowest sewist" is appropriate.  The schedule for the stitch along says I should have most of my blocks done by now, but I just finished the first month's blocks.  Lots of slow catching up lies ahead, and that's ok.  I am making these blocks to improve my skills in preparation for making a La Passacaglia quilt.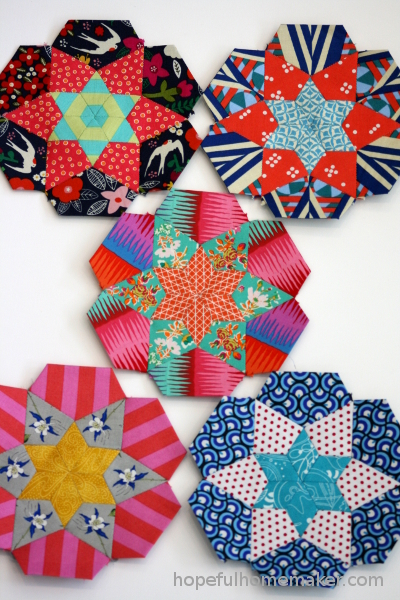 When I put the blocks together like this I feel excited, like maybe I"ll actually have an ice cream soda quilt top that I like when I'm caught up on all this stitching!  At this point I have no plan regarding color other than to use lots of it.  I figure I have plenty of time and blocks to go and I'll be able to adjust as necessary along the way.