Ice Cream Soda Quilt – a beginning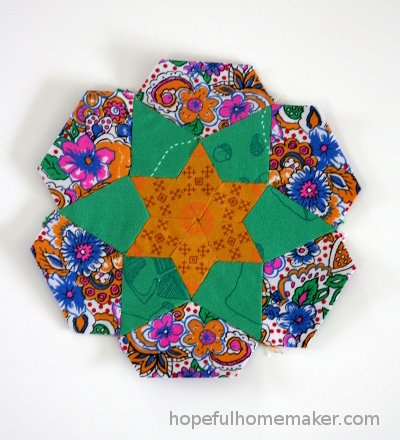 Life is a funny thing – it brings such unexpected twists and turns.  It's brought a lot of that our direction lately, and these blocks are the sum total of my sewing for most of May and June.
I haven't done much English paper piecing; my

tiny hexagon beehive

was my first try a few years ago, and a few months ago I made

my first block

for this ice cream soda quilt.  My subscription for this project comes with paper pieces to make eight blocks each month.  I now have five sets of blocks.
I am very slow at this.  I feel like I'm pretty fast at hand applique but epp has been slow going for me.  I learned about something called flat back stitching, a method that keeps all the stitches on the back of the block so you don't see them, and I've been intrigued by the idea.  I tried it on these two blocks.  The block above was my first try, and my biggest challenge was learning how to hold the blocks and keep them properly lined up.  I feel like I messed up a lot of points in that block, which could mean that I don't know what I'm doing with this technique, or it could also be a result of stress.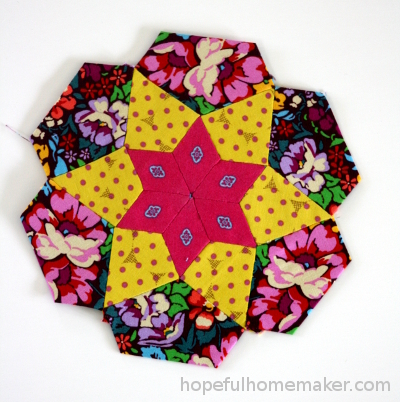 I decided to try it again and see if I get the hang of it, and this second block turned out a little bit better.   Once again, how to hold the pieces together was my biggest challenge, but I made fewer mistakes.  I will probably try it a few more times to see if I get the hang of it.  If not, I'll go back to stitching them the way I learned, by putting right sides together and stitching along the edge.  I'm finished with three of the forty blocks I should have done, so I do need to get faster.
The interesting thing about being so slow is that as I look at these blocks I think of all the places they went with me:  the block with green in it waited in doctor's offices while my daughter recovered from a automobile accident related injury.  I will always think of those weeks when I see it.  The block with a pink center has accompanied me while camping and watching my kids at the pool and tennis lessons.  It reminds me of summer.  The block with columbines in it reminds me of being with my son at his State science fair competition.  Lots of memories get stitched in with my hand sewing.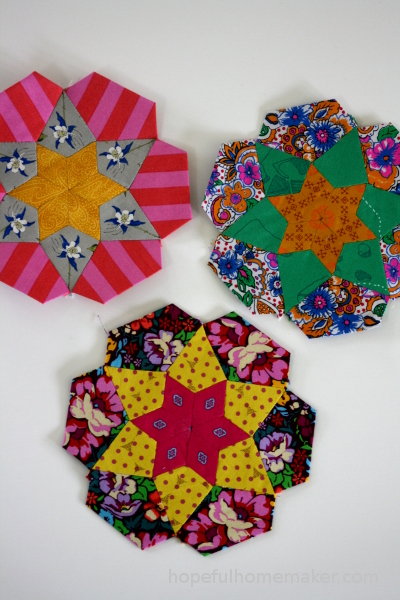 My biggest goal for this project is to practice more fussy cutting, and to create blocks with good contrast. I hope to improve my skills along the way.  Do you like English paper piecing?  What methods/tips have you found most helpful?  I'd love to hear!
Jennifer