Trinkets from the Beach: A Trinket blocks update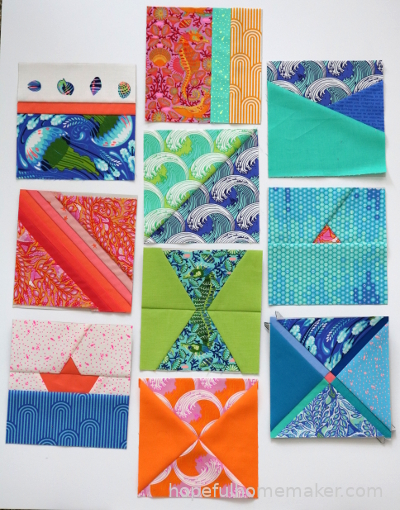 I mentioned

here

that I'm participating in the Alison Glass Trinket Sew-along and I'm making not one, but two Trinket quilts.  One of them is this enlarged version made using Tula Pink's Zuma fabric colletion.  I'm calling it my Trinkets from the Beach quilt and today I'm sharing a Trinket blocks update.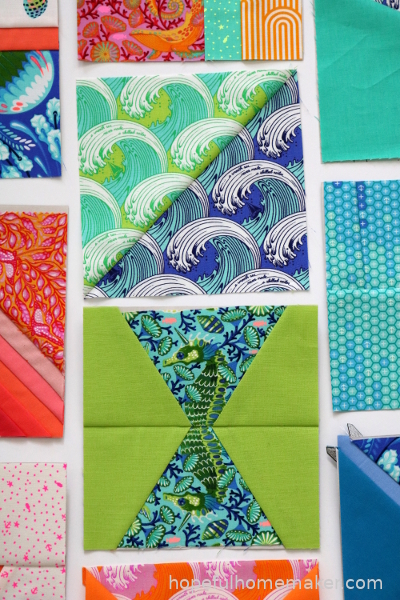 A big goal for me with this project is to improve my skills – and my eye – for fussy cutting.  It amazes me to see the work that others do when they fussy cut fabric in ways I hadn't considered.  Then there is the skill of doing it so the seams line up just right.  I love it, and it scares me, so it was time to try it.  In the two blocks above, I was working on it.  The pattern matching with the waves isn't perfect because I'm working with a layer cake and didn't have a perfect repeat of the fabric, but it's close enough for your eye to understand what I was doing.  Cutting the seahorses so they would mirror each other was another fun experiment.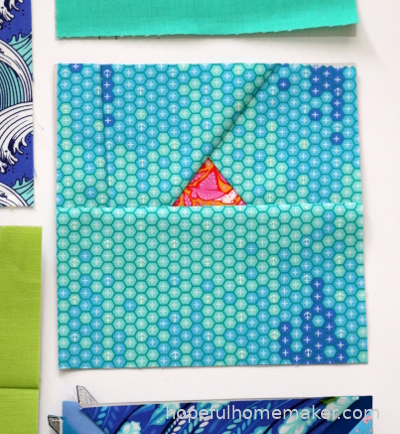 I fussy cut the tiny stingray in the block above because it captures a memory.  When I look at it I see the tiny stingrays (about the size of a nickel or a quarter) that we found one summer all over the beach.  I see them resting in my daughter's six year old hand, and it excites me to know I have that memory sewn into a quilt block.  Every block I'm making represents a memory or a feeling or something I love about the beach.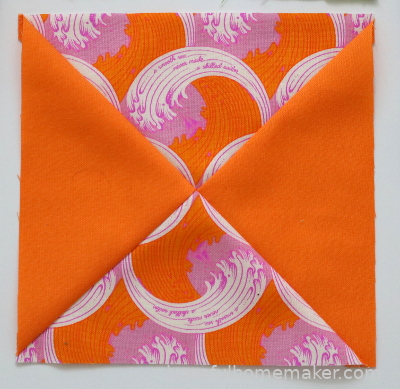 The orange block above reminds me of what it feels like to get hit hard by a wave you didn't see coming – or at least one that was a lot more powerful than you expected.   Sometimes it was a little scary, but I learned.  My children have learned these things as well.  They have learned respect for the ocean, and also that they're stronger than they sometimes think they are.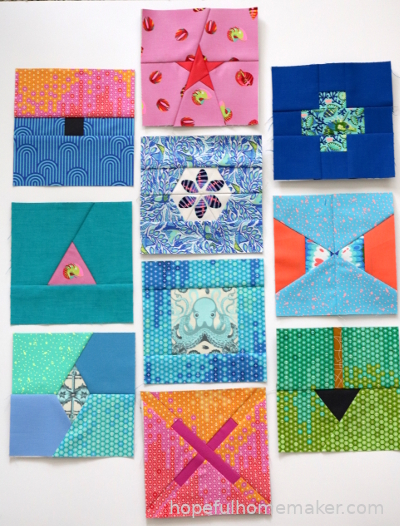 The two blocks below are favorites from the second two weeks of the Trinket sew-along.  The top one was another attempt at fussy cutting a shell to use in the hexagon.  I learned more from that block than I have from any other so far about fussy cutting and foundation paper piecing.  I also made it to resemble a sand dollar (although a pentagon would be more accurate).  The block below it is one of my favorite memories ever from our early morning discovery walks along the beach.  My daughter Marian discovered a tiny, perfectly formed, magical octopus.  Sadly, it was dead, but it was perfect in every other way, it's body less than two inches long.  We were speechless as we marveled at it.  That octopus block has been in my head since before I started this quilt.  I think it's my favorite.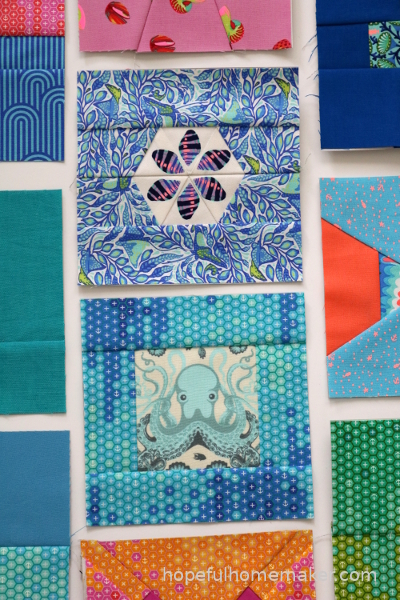 I have become increasingly preoccupied with learning, or at least trying, to tell stories with my quilting.  Much of life is stitched into my quilts – something I believe happens to all of us.  I can look at certain quilts I've made and I'm transported to the things I was experiencing or wrestling with at that time.  Lately I want my stories to stay

with

the quilts somehow.  I don't want the quilt to live it's life as a quilt independent of the story it has inside me.  These Trinket quilts are my first experience with making each block to represent a specific story/memory/feeling.  The thoughtfulness while sewing is not new to me, but trying to translate the thoughts into quilt blocks is.  If you follow me on Instagram (@hopefulhomemaker) you can read each memory as I share my blocks.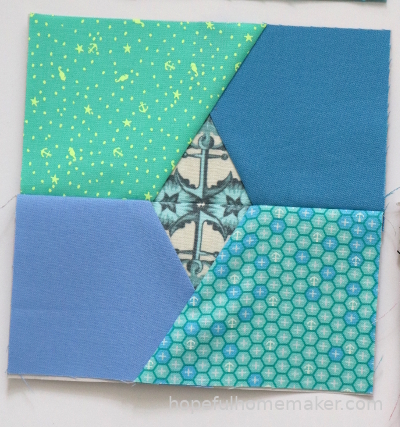 Sewing anchors me in good ways.  This is a fun quilt to be making!
Question for you, though… How would you keep the story with the quilt?  Have you ever done this?
-Jennifer