Arise Quilt – 2nd Pattern in Resolute Collection
Meet the

Arise Quilt

!  Arise is the second pattern in my Resolute Collection of quilt patterns, following the

Awake Quilt

.  I'm so excited to officially introduce you to this design.  I am a thinker – inclined to think about things for too long instead of diving in.  It's hard, sometimes, to believe that simply doing small things consistently will yield

enough

.  For the last 18 months I've built my personal goals on the premise that diligence in lots of small things will build the life I want to live.  I'm beginning to find great satisfaction in the systems and routines I'm building.  These thoughts led me to design the Arise quilt.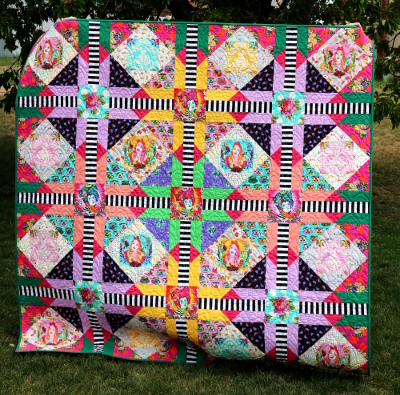 Arise

means "to ascent, mount up, or move to a higher place; to emerge from below the horizon; begin to act; to exert power; to move from a state of inaction."  It describes my goals well.  Thus, in designing the Arise quilt, I used simple quilt blocks, made again and again, as the foundation of the quilt.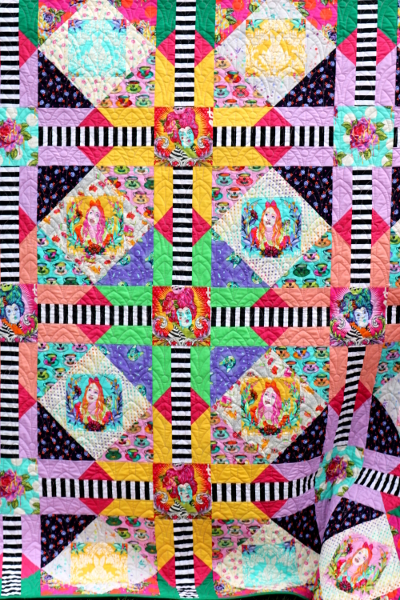 This quilt uses square in a square blocks, otherwise known as economy blocks.  But it comes alive through deliberate fabric and color placement.    And fussy cutting!  Arise offers lots of places to fussy cut those treasured fabrics you've been saving.  The sashing serves as the hero of the quilt, creating a secondary block design that keeps the eye.  In this quilt, every piece of fabric is small but mighty, and has an important role in the design composition.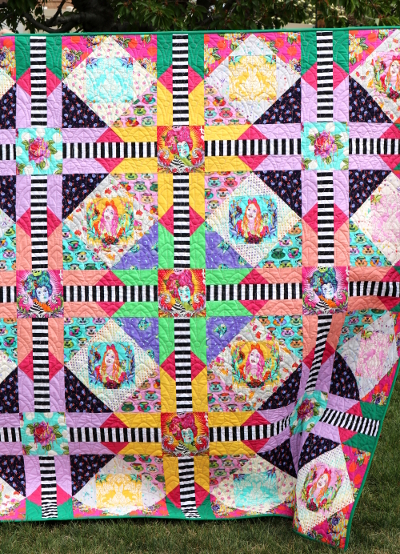 In this version of the quilt I used Tula Pink's Curiouser and Curiouser fabrics, plus her black and white stripe, combined with solids from my personal stash.  I love the fabulous pink painted rose next to rich, dark green.  I intended to bind the quilt in the black and white stripe, but went with green instead because I wanted more of it!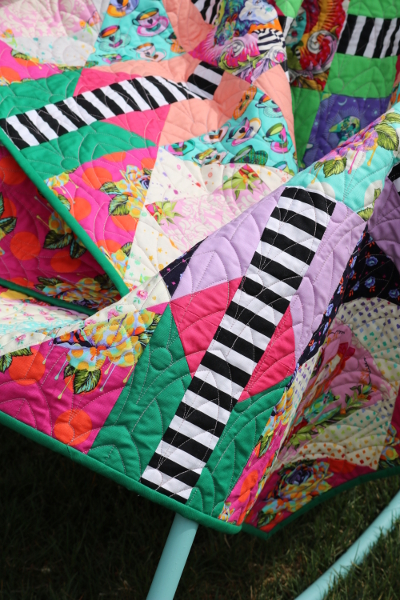 The quilting is a design called Chancel, a design fitting for a tea party with the queen of hearts.  Once again, Melissa at

Sew Shabby Quilting

did a great job!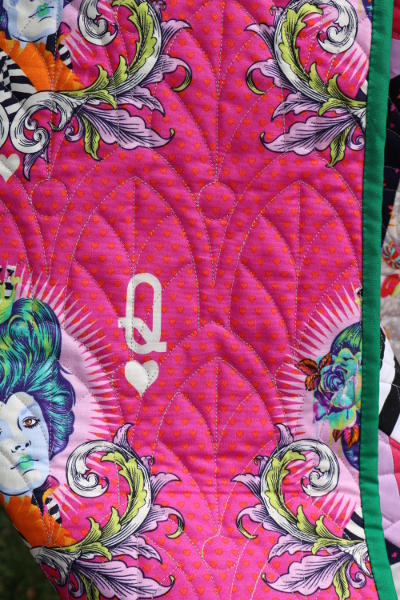 The Arise Quilt finishes at approximately 66″ square, and is

available in my Etsy shop

.  While my girls enjoy snuggling under this beauty, I'm looking forward to the next design.  The Stand Quilt is coming soon!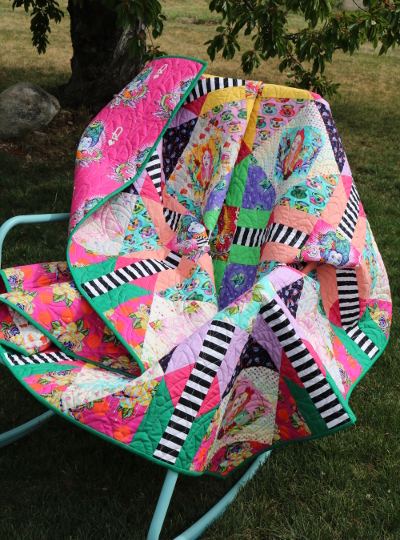 I'm so grateful God led me to quilting.  Happy sewing to you!
Jennifer