Grateful Melody Quilt
My Grateful Melody Quilt is complete and I'm so happy with it.  I made the

quilt top

as part of a

Lucy Engles sew along

during the pandemic.  As I shared previously, I love the happy colors and that each block is a token of something I'm grateful for and wanted to remember.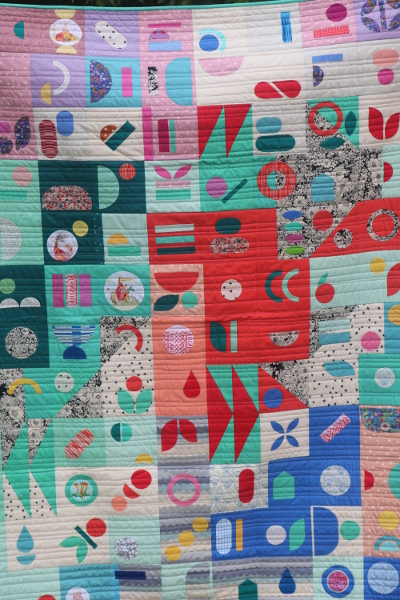 This quilt is also the first I've quilted on my Gammill longarm, so it feels like a big deal.  I struggled with the tension when we first set it up, so straight lines were helpful with working out those kinks.  My lines are organic and often wonky but I'm happy with them.  It was a great learning experience and I'm relieved I didn't ruin the quilt!  I hope to get much more practice and eventually have the skill to quilt all my own quilts and feel proud of my work.  For now, however, my Grateful Melody quilt is a good first step.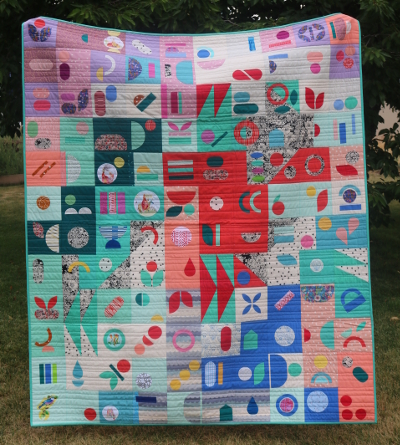 I've been thinking about applique lately.  I'd like to go my own unique direction with it.  Unfortunately, I have no idea what direction that would be!  So for now I'm stitching daily on one applique project or another, and sketching ideas on the side.  I love the portable nature of applique, and the unlimited shapes to be stitched.  It's a great technique.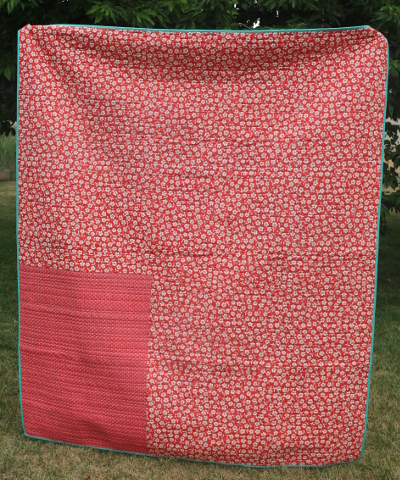 I pulled a happy red and white floral from my stash for the backing.  Since I was short on yardage by a bit, I filled in one corner with another scrap.  I am enjoying using more scraps, and I always like a backing that has a bit of character.  A simple aqua binding finishes everything off.  In sum, this project was fun at every step (except the picking out quilting lines part) and I'd love to make this one again someday.  There is SO much potential with this pattern!
-Jennifer