Dream Catcher Quilt
I summoned the courage to quilt my Dream Catcher Quilt top. Honestly, that's usually the reason why it takes me so long to quilt them. I need a deadline, or a whole lot of courage to quilt them. In this case, it took courage. I felt intimidated by the size and the wide range of colors, but once I settled on a simple approach, it worked out.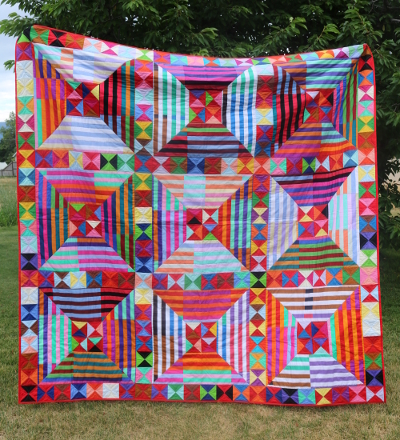 I chose with a simple orange peel quilting design for the hourglass blocks, and in the stripes I did some straight line quilting that followed the print. The Kaffe stripe in this quilt has got to be one of the best stripes ever designed! I wish it was still in print.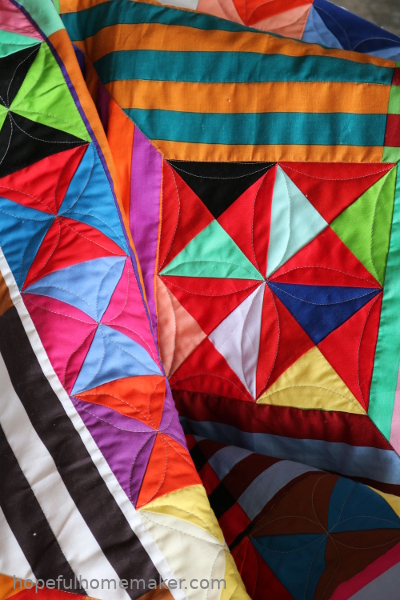 I shared the story of making this one in my post about the quilt top. Finding the stripes was a fun challenge that I tackled with a friend. Along the way we collected solids, tweaked the pattern instructions to our satisfaction, and had a great time sewing together. It's fascinating how such a simple design, with the right print, becomes incredible. I feel like this Dream Catcher Quilt is a great example of that. The stripe makes the quilt! While it's a long out of print fabric, it could be interesting to piece stripes and make something similar.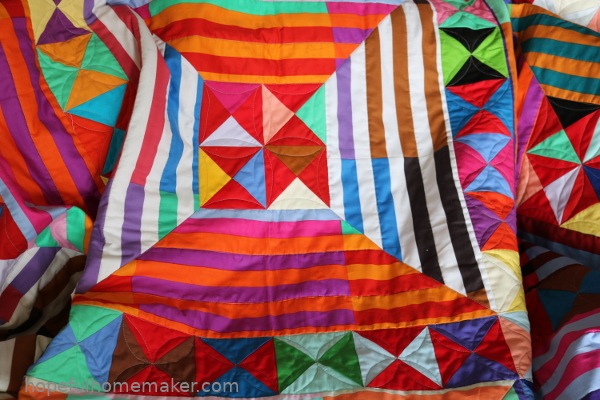 I'm thrilled to have this one in rotation around the house. Like I admitted at the outset of this post, I have a backlog of quilt tops. I'm trying to catch up, but progress is slow. But nothing motivates like success, right? I'm excited to finish another.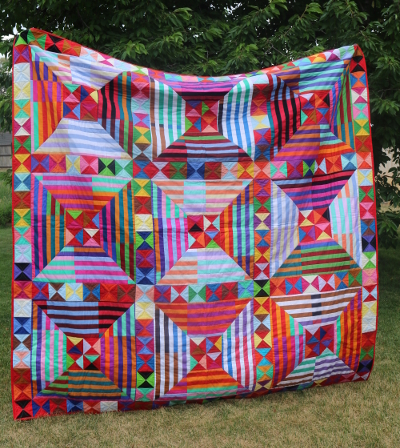 I hope your summer is as happy and colorful as this quilt! It's hard to believe that August is already here. I'm counting on more sewing time this fall – we'll see what happens!
Happy sewing to you!
Jennifer