Bow Quilt Blocks Finished
Do you ever feel like you're constantly working on things but somehow nothing gets done?  That's me so far in January.  I mean, how on earth is it January 24th?  And how has it been so full and so busy, and I have so little to show for it?  I'm not just talking about sewing here.  Seriously, though, life does seem to be "more" lately.  More of just about everything.  So last night, to give myself a progress point I could SEE, I didn't go to bed until I'd stitched the last applique stitches in my bow quilt blocks.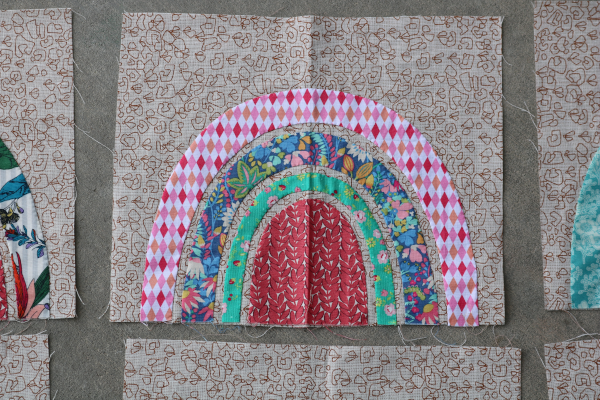 I

shared my first set of blocks

back in September, and sometime later I prepped all the rest.  Since then, this has been the project I stitch on in the car and occasionally in the evenings.  I mentioned in that post that I cut WAY too many pieces, probably enough to make a second quilt.  Well, that will not be happening.  While the

Bow Quilt by Carolyn Friedlander

is a fun project, I have a long list of other applique patterns I'm dreaming of making.  I'm ready for a more challenging applique project.  Or ten.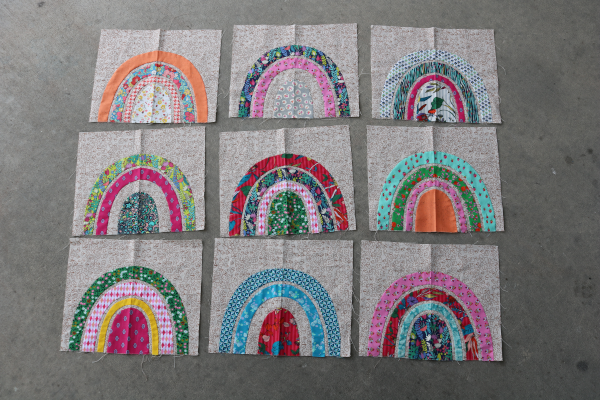 I will say, however, that Carolyn Friedlander's patterns really helped me fall in love with applique.  This pattern in particular is beginner friendly and fun to make.  I'm curious now to try new methods of applique and see how they compare to what I've already done.  
Anyway, back to the rainbows you see here.  I loved mixing and matching fabrics at whim, then stitching them down.  My favorite blocks are definitely the ones that have 4 fabrics in them, although they also take the longest to stitch.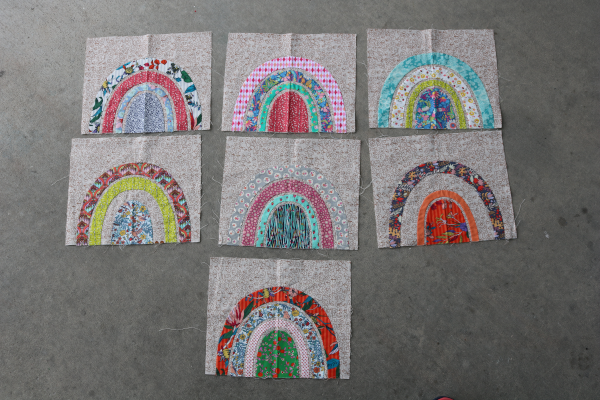 So, with my bow quilt blocks finished it's time to sew the quilt top together.  I might change the layout a little bit, but still plan to keep it simple.  And when I do, it will feel SO good to have a quilt top finished!  It's been a while.  I'm excited to turn on my sewing machine again.  After all, more sewing contributes to a happier, calmer Mom around here, especially after long periods of putting it all away.  Fingers crossed this is a quilt top tomorrow!