Half Rectangle Triangle Tutorial
In coming weeks I will share projects involving Half Rectangle Triangles, so I want to share my simple method for sewing and trimming them.  The half rectangle triangle (HRT) is a fun quilt block to make, but it does need to be trimmed correctly.  My first HRT project was my

20 in 20 quilt

, which is a favorite of mine. I enjoy using them in quilts and I believe it's a valuable block to have in your skill set.  There are plenty of tutorials and videos available online for this versatile and fun quilt block.  Since my

Serve quilt pattern

is full of half rectangle triangles (or HRTs), I decided to make my own half rectangle triangle tutorial.
*Note:  The blocks demonstrated in this video finish at 3″ x 6″, so they are trimmed to 3.5″ x 6.5″.

To begin, you will need (2) 4.5″ x 8″ rectangles.

This is the size I start with for the 3″ x 6″ HRT block.
The first video demonstrates cutting and sewing the half rectangle triangle block:
The second video shows you how to accurately trim your HRT blocks without a special ruler, using a simple trick with tape on a ruler you already have:
And there you have it!  My method for making a custom ruler for trimming your HRT blocks.  I actually own a few different "special" half rectangle triangle rulers, but I prefer this method.  It's faster and simpler and works for both A and B HRT blocks.  Plus, I could have saved a lot of money!
I'm going to supplement the half rectangle triangle tutorial video above with a few photographs, which I hope will make it easier for you to make your own HRT blocks.  Here goes:
I refer to half rectangle triangles as HRT A and HRT B, depending on which direction the diagonal line follows.  We will make them standing on their short side, portrait style.  The half rectangle triangles with the angle running from bottom right to top left are HRT A. Triangles with diagonal line from bottom left to top right are HRT B.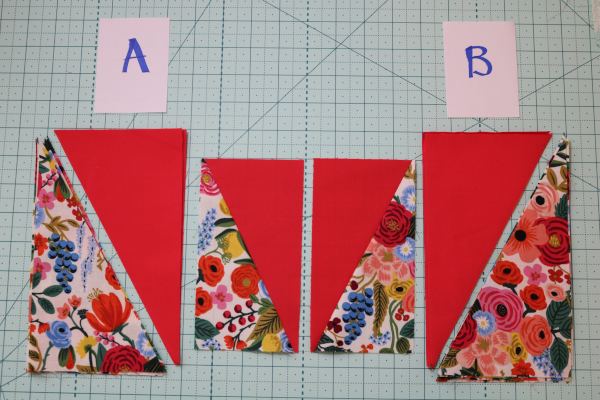 Flip the triangle on the right, with right side down, on top of the left triangle.  If desired, you may pin before sewing because you are sewing on the bias.  Sew together along the diagonal.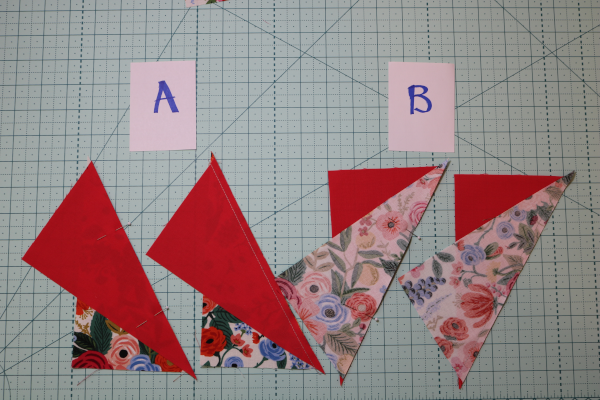 Carefully press the seams closed, then gently open and press again.  Your untrimmed half rectangle triangles are sewn together and ready for trimming!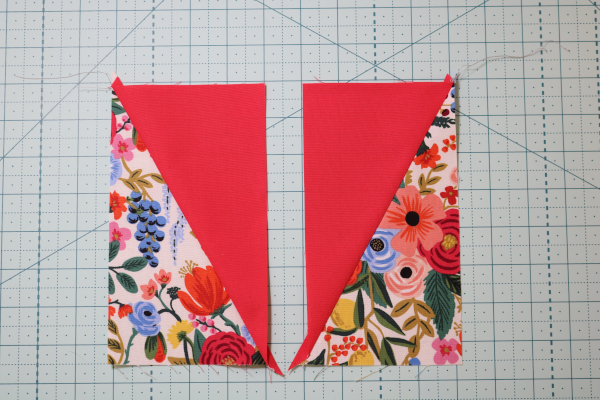 The trick with HRT blocks is in the trimming.  Because the diagonal is not a 45 degree angle, simply squaring the block won't work.  I marked the 1/4″ seam allowance spot on these blocks below, and you can see they are NOT on the seam.  Therefore, we have to trim differently.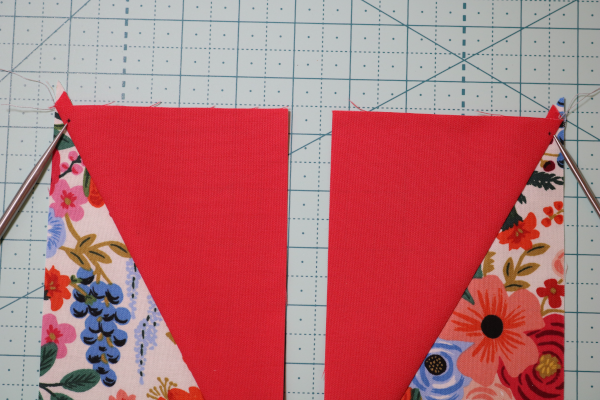 Now, to trim, we will first make a "custom" trimming window on an acrylic ruler.  For this size block, take washi tape and tape a 6.5″ x 3.5″ window on your ruler.  For right handed cutting use the top right side of the ruler, and for left handed cutting, use the top left.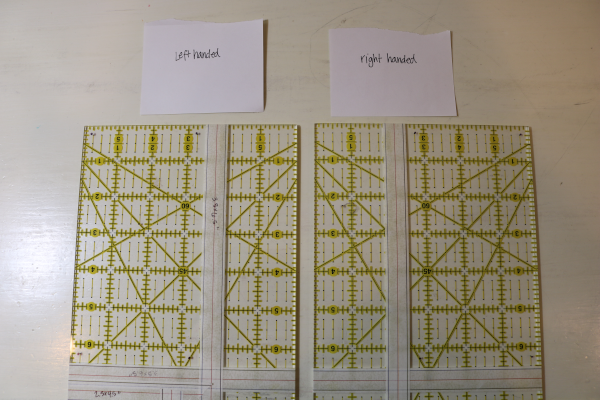 Here is my ruler all taped for right handed quilting: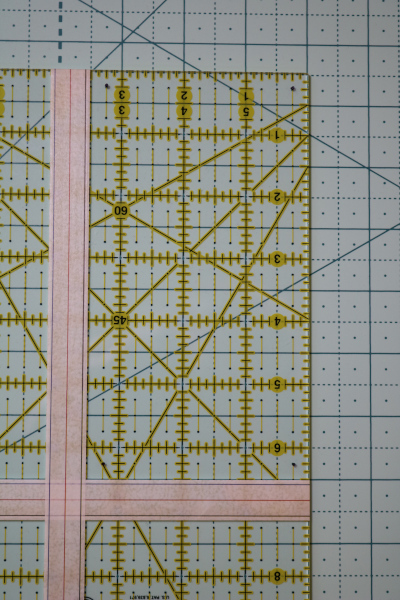 Using a sharpie, mark the 1/4″ seam allowance spot with a dot in each corner of your taped window.  You will use these dots to align your seams for trimming.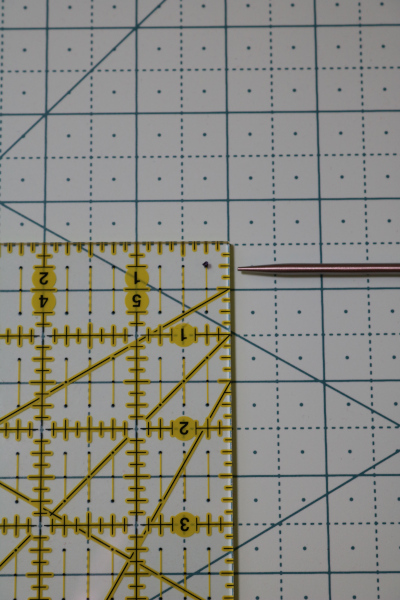 Next, trim your HRT A block by placing the window over the block.  Check 4 spots, namely that the fabric on the bottom and left sides is covered by the washi tape.  This ensures fabric for trimming the last two sides.  Next, align the dots you drew along the seam, as you see the pointers indicating in the photo below.  Finally, trim the right and top sides.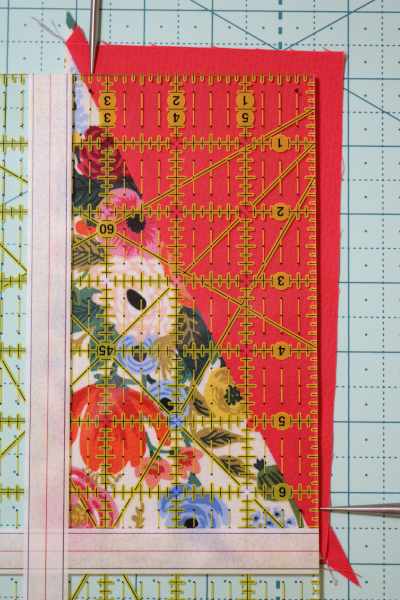 Flip the block around.  This time, make sure the left and bottom cut lines run along the tape.  Again, align the dots on the seam (which should be easy) and trim again.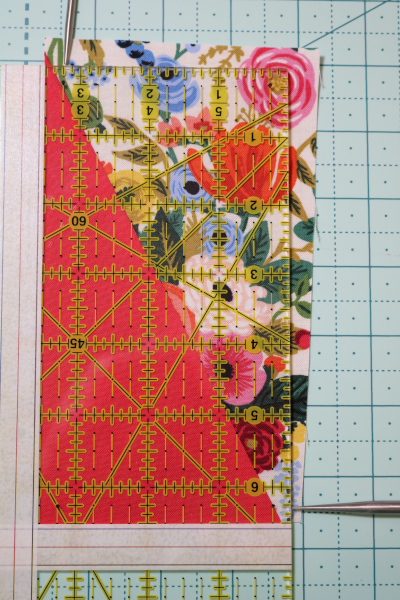 To trim a HRT B block, repeat the same process, but use the opposite two dots to align with the diagonal seam.  Again, be certain there is excess fabric on the left and bottom sides.  Trim.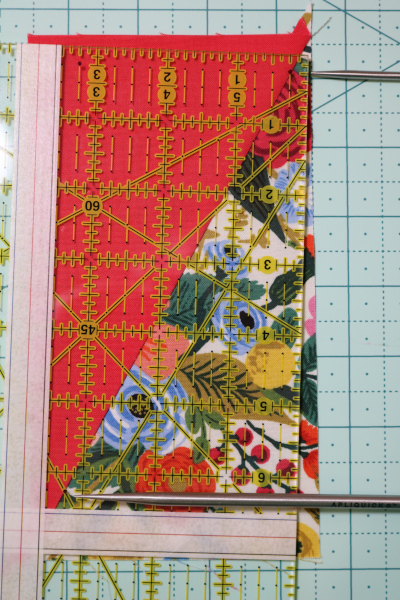 Flip the block around and repeat the alignment, then trim the last two sides.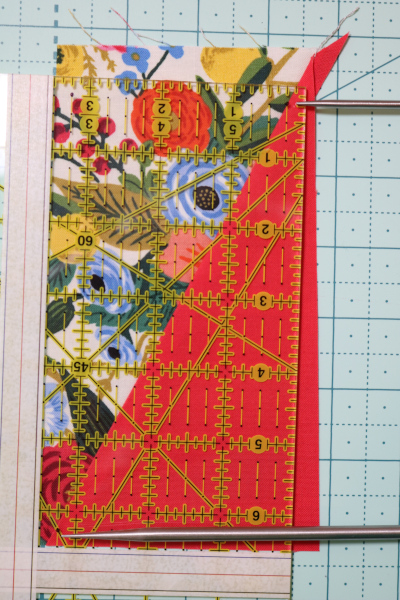 You now have two perfectly trimmed half rectangle triangles, one A and one B.  The seam at the corners are 1/8″ away from the corner of the block, ensuring that when sewn into a quilt with a 1/4″ seam allowance, the seam will be in the right place.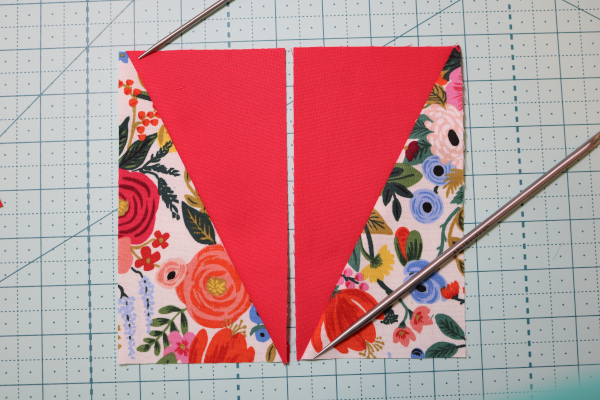 So many great quilt designs include HRT blocks, and they're also fun to design with.  I hope you find this half rectangle triangle tutorial helpful, and that you will enjoy sewing them!