This breakfast casserole recipe comes from my mother-in-law, who often prepares it for her family.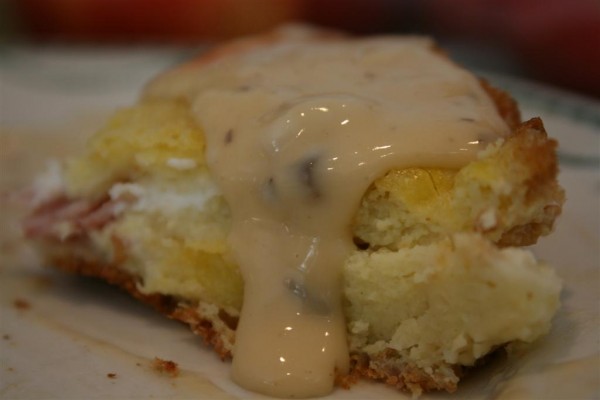 I prepared it recently for Sunday brunch (during General Conference) and it was a hit.  It's a dish you prepare the night before and it only takes minutes to assemble.
Ingredients for casserole:
12 slices bread
1 1/2 cups grated cheddar cheese
2 cups finely chopped ham
12 eggs
3 cups milk
salt and pepper to taste
Spray a 9 x 13 inch pan with non stick spray.  Lightly butter one side of six bread slices.  Lay in bottom of pan, buttered side up.  Sprinkle ham and cheese over bread.  Butter remaining bread slices and cover ham and cheese, laying bread with buttered side down.   With a knife, cut each slice of bread on both diagonal lines, making 24 small triangles (see picture below).
In a bowl, beat eggs, and milk, salt and pepper.  Pour over bread.  Cover and refrigerate overnight.
Bake for 1 hour at 300 degrees.
Now for the sauce.  Just before taking the casseroles out of the oven, make the sauce.
Sauce ingredients:
1 can cream of mushroom soup
1 cup grated cheddar cheese
1/2 cup milk
Combine all three ingredients in saucepan and warm over medium-low heat, stirring constantly until cheese melts.
Serve over hot casserole.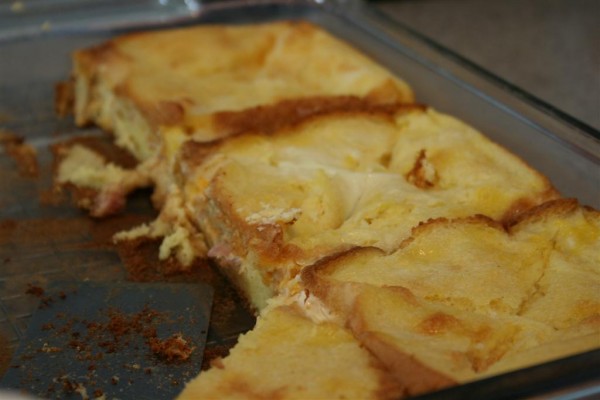 As you can see, this went fast.  I only managed to take a picture of the last half of the second pan!
I really liked having the bread cut before baking.  This made it easy for guests, including children, to serve themselves.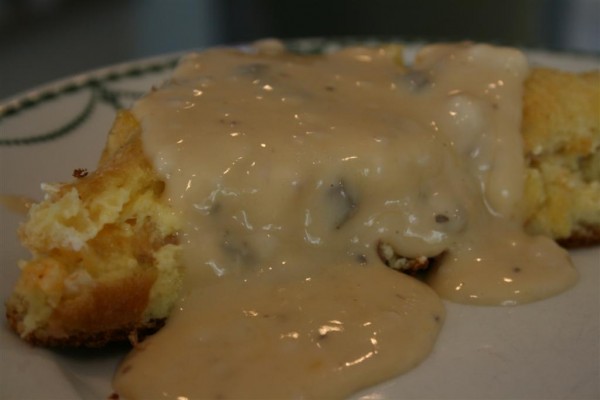 Enjoy!
Hopeful Homemaker