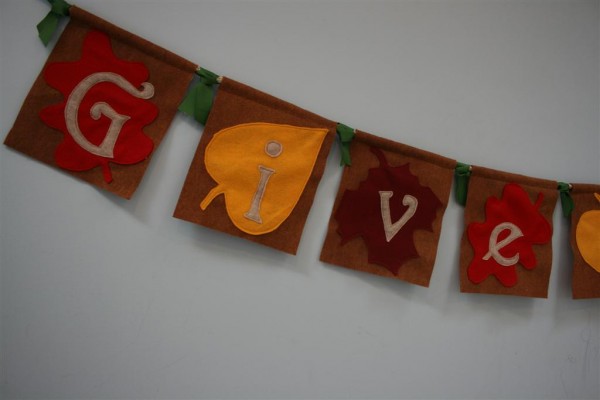 Thanksgiving is one of my favorite holidays.  It is so rich in meaning and history, and comes at a time of year when abundant harvests are still fresh in memory, if not all around us.  I also believe that gratitude is one of the most powerful emotions we can feel; that it transforms us as people and it also transforms our memory.  Lack of gratitude is an open door to unlimited challenges; gratitude is an open door to potential and excellence.
I realize that to some Thanksgiving is simply a meal, or a meal on a single day with people we love, and that's totally fine.  To me it's more of a season, like Christmas.

Last year I wrote

about wanting to carry the Thanksgiving spirit forward into my Christmas observance and my heart still pauses on those thoughts.
Because it's a special holiday to me,  my list of things to do for Thanksgiving is rather lengthy.  I love hosting Thanksgiving dinner at my house (it's a lot of work but in some ways easier than taking my large group elsewhere).  It occurred to me this week that if I shortened my Thanksgiving "to do" list I might get more accomplished on my Christmas list, but I'm not sure I want to.  The two holidays pair so well together.
Among my Thanksgiving projects to complete this year was this banner.  A friend and I got together and started them last year.  She finished hers; I finished mine last week.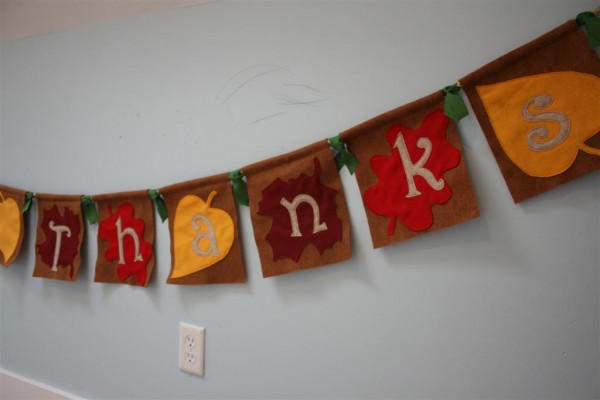 It's made of felt, with a leaf and letter sewn onto a felt background.  I hung it on sturdy rope and added a green ribbon between each letter to keep them properly spaced.  The inspiration came from a small picture of a similar banner in a Pottery Barn kids catalog several years ago.  (Why do they never sell the one thing I fall in love with?)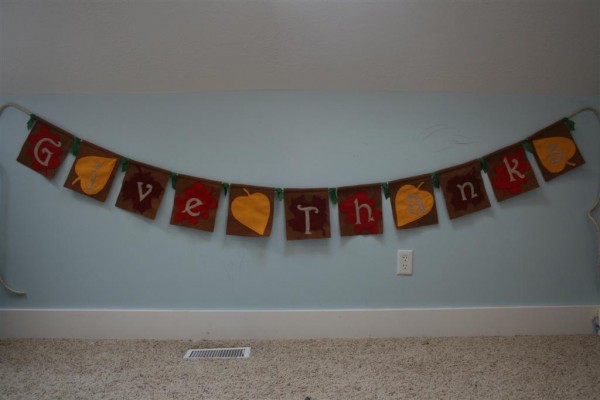 When we started them last year I cut enough fabric for two banners, so

I'd like to give one away!


To enter, just leave a comment telling me where you are on the Thanksgiving spectrum:  is it a holiday you really get into, or do you let it take just a day or two?


The giveaway will end at midnight on Friday November 11, 2011.

I'll announce the winner on Saturday.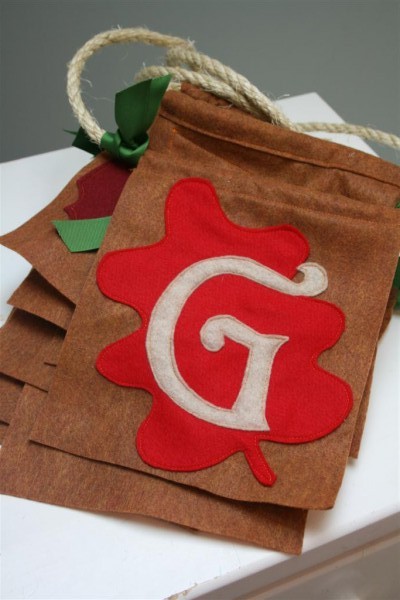 On a similar note, I'm also offering a giveaway this week over on the blog I participate in with my sisters.  It's called

Sisterview

, and we have some fun things planned for the next few weeks.  I just finished making my first velvet pumpkins, and I'm giving some away.  If you'd like to enter,

head over here

to leave a comment.
And check back here at Hopeful Homemaker in the next day or two for a second velvet pumpkin giveaway.
Good luck!
Jennifer