Verna and Kate Spain
Earlier today I posted pictures of the

quilt top

I'm putting together.  It's made with Kate Spain's new collection for Moda, titled

Verna

.
Well, about an hour later, Kate left a comment on the post, which was so kind of her, and although I have absolutely

no

idea how she found her way to my post, I

do

know that her comment led me directly to

her website

.
And I think I can say that I now have a new favorite designer to watch.
Let me back up.  A few weeks ago a new Crate & Barrel catalog came in the mail, and I devoured all the pictures, as usual.  One in particular was torn out of the catalog and kept for 2 reasons:  1.  I want these!  2.  Inspiration.
Did you see these too?  And do you like them like I do?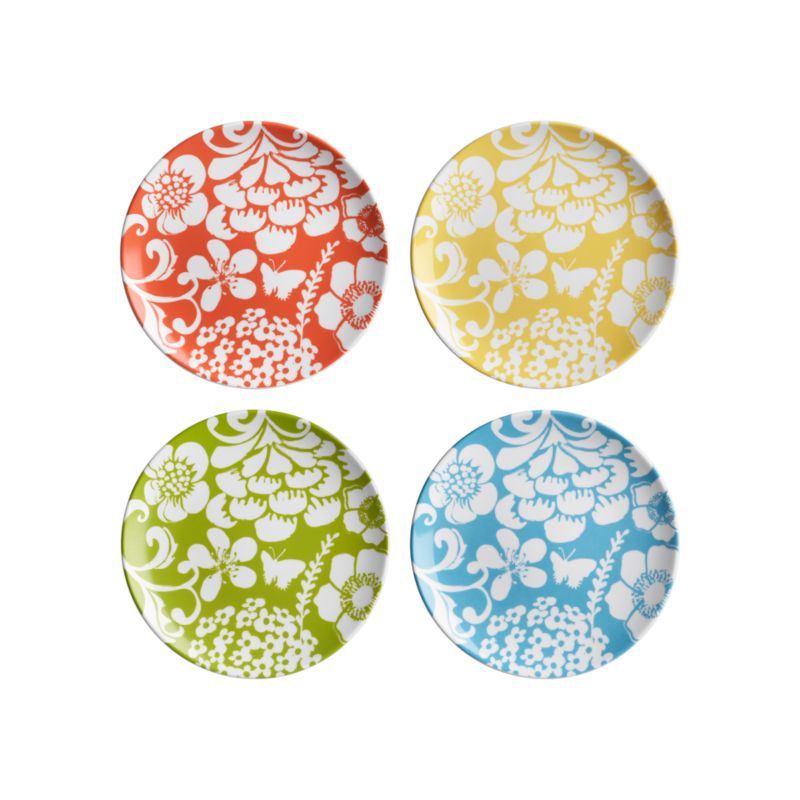 I mean, I'd like several in each color, but if I had to choose, I'd take the aqua ones.  They're beautiful and affordable.  You can

buy them

individually or in sets of four.   Hello!  Can they get any cuter?
Back to Kate Spain.  You see, not only is she responsible for the gorgeous quilting fabric that I'm currently in love with, but imagine my delight when I read a few posts on her blog and discovered that SHE is the designer of those lovely Loire plates, the very plates I tore out of the catalog,  from Crate & Barrel!  She also designed

these awesome melamine plates

.
Wow!  I was so excited to discover that two different products which I'm so drawn to are designed by the same person.  Cute stuff!
Well, it gets even better than that.  She's currently giving away one layer cake from the Verna collection, and some totally cute gift bags and takeout boxes for a second winner.  So hurry on

over here

and get in on the fun.  You have until March 20th to enter.
And thank you, thank you Kate for sharing your awesome designs!  I love them.
Hopeful Homemaker