15 Days of Happiness :: Pull Some Weeds


My peonies are bulging with promise and covered with more soon-to-be blooms than I had hoped for.  I planted several more of them last year, but the craziness of injuries in our home cost me precious hours in the yard, and the new flowerbeds we worked on last spring were taken over by weeds quickly.  In some spots the weeds were as tall as my peonies and it's been driving me crazy to think that they'll bloom and I won't even be able to enjoy their beauty because they're obscured by all the weeds.
Today I spent time in the yard pulling weeds.  As I worked I thought about how happiness is often work, or at least that work is what most often brings happiness.  I watch my children grow and struggle with the concept that happiness is non-stop pleasure and fun.  It's a concept that dominates much of our society, but I'm a firm believer that pleasure and happiness aren't the same thing.  I've seen people bored to death with pleasure because they've made a job of it and what they desperately need is work to do.  Work brings happiness.
My work in the yard didn't rid me of every weed, but I focused my efforts on clearing the space around the beauty I want to enjoy.  I'll spend all summer working away at the weeds and that's ok.  What I accomplished brought a smile to my face and satisfaction to my heart.  I'm ready for the show of massive blooms that my peonies are about to provide.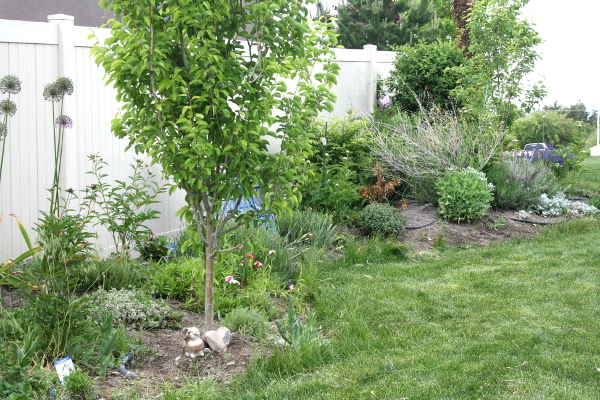 As I pondered this post, I'm aware that not everyone has literal weeds on their property.  It occurred to me that we all have weeds.  Some of them grow in the flowerbeds, or between the cracks in our sidewalks.  Other weeds grow in our habits and our relationships.  So pull some weeds today.  Perhaps you can pull the weed of cynicism and sarcasm in a relationship with your spouse or teenager.  Perhaps you can pull the weed of jealousy by sincerely complimenting someone.  Weeds obscure the beauty of our relationships with others if allowed to grow and multiply.   It's a project to get rid of them, to change our habits, but it can be done one weed at a time, one kind word at a time, one sincere gesture at a time.   Eventually we get them out by the root, but weeding is a never-ending task both in life and in gardening.   It's part of mortality.
I'm reminded of the quote from Benjamin Franklin which says, "I was surprised to find myself so much fuller of Faults than I had imagined, but I had the Satisfaction of seeing them diminish."
So grab your trowel (and your timer if you feel too busy).  Go outside.  Soak up some sunshine and get your hands in the dirt.  While you do it, examine your heart and see if there isn't a thistle you can uproot somewhere else.  Think small and simple; don't expect too much.  Just do

something.

*This post is part of a short series on happiness.  You can

find a complete list of all posts in the series here

.  For the

previous post, click here

.  For the

next post, click here.