Hunter's Star Quilt Pattern
While writing my

Hunter's Star quilt pattern

, I cut fabric for a second version in blue and green.  This quilt top is all solids and I chose colors that play off each other to really grab the eye.  The blue is the same color I used in my

Lucky Lone Star quilt,

and the green is somewhere between a lime and a chartreuse.  I quilted this version with straight lines, following the seams in a ditch-stitch method.  It turns out that the Hunter's Star quilt pattern is my favorite for gift-giving right now; I may make a third if time allows.  No special rulers or templates, no fabric waste.  My kind of quilt.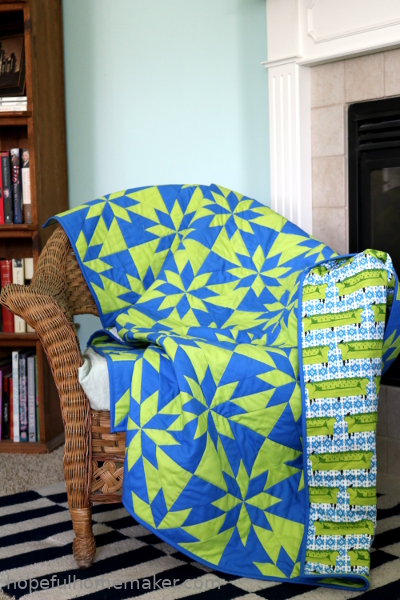 Since this is version two, and because I shared

my random high school physics story along with version one,

it seems only fitting to share my other random science class story now.
It was my sophomore year of college and I was knocking out the last of my GE requirements, one of which was Physical Science.  I looked forward to seeing the cute boy I often sat next to, but everything else I could do without.  Especially the monotone voice of the professor.
And then there was one day – just one, mind you – when he was a little more interesting than usual.  He actually brought an object lesson to demonstrate his principle and talked with a little more animation.  His lecture topic:  centripetal and centrifugal forces.  His object lesson:  a large bucket of water.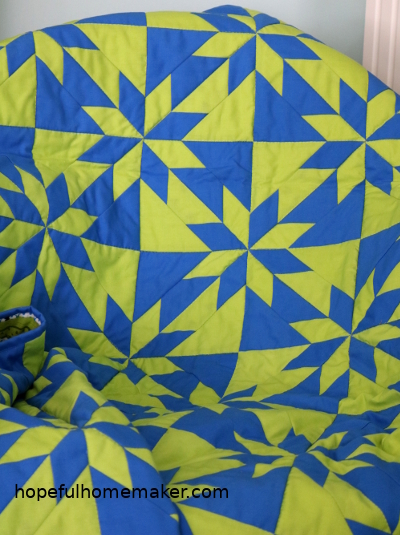 Surprise, surprise.  He began the age-old demonstration of swinging the bucket in a large circle to demonstrate how it stayed in the bucket without spilling.  Of course it worked… until he slowed to a stop.  Suddenly a ball of water shot out of the bucket and straight into my face.  I still remember the slow-motion feeling of watching a ball of water move through the air toward me, the blurry face of the professor on the other side of the strange shape.  Me, my notes, my desk, my bag – all wet.  The students to my right and left got a drop or two on them; those above and below me felt nothing.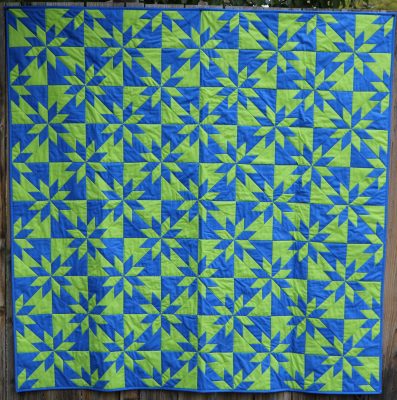 He paused for a fraction of a second to blink and observe what he'd done, then continued his lecture without a word to me or even a change of expression on his face.  I couldn't decide what was funnier; the water or his total disregard for his mistake.
So there you have it, my most memorable experience from my university science classes.
Moral of the story:  never sit in front of the professor if he shows up to class with a bucket of water.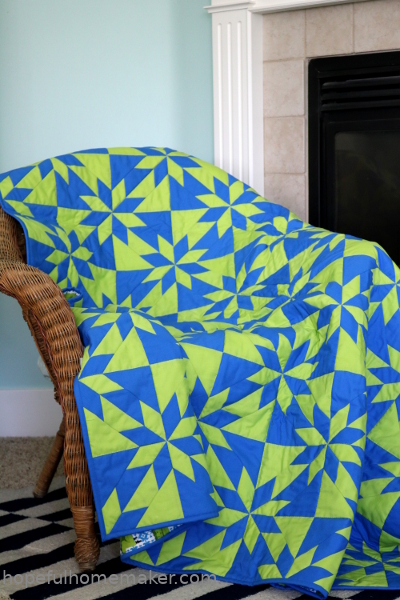 Moral of the photos:  make more Hunter's Star quilts.
The

Hunter's Star quilt pattern

is available in my

Etsy shop

.   Buy yours today!
-Jennifer