Treehouse Stitching Sampler
This little mini quilt was a delight to make.  When

Treehouse Textiles offered a free pattern,

I jumped in, so here is my Treehouse stitching sampler!  The pattern is a great mix of improv and pattern, giving the maker lots of opportunity to make an original piece.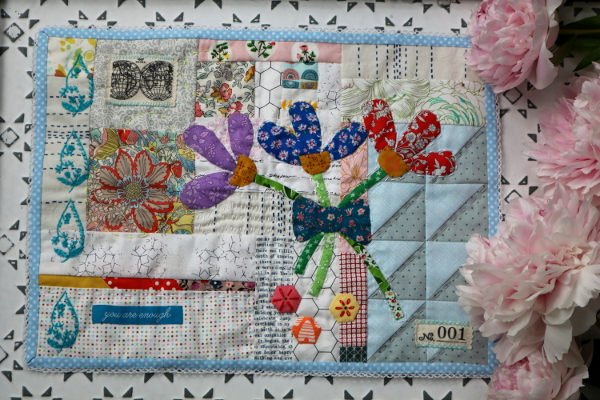 First off, I chose low volume scraps, a few pre-made half square triangles, and one favorite square of Liberty tana lawn to create the background.  Next I selected a few Liberty prints for the flowers and started on the bouquet.  I particularly liked making those cute flowers, using some favorite green scraps for stems.  Every piece in this project holds memories of other projects I've worked on.  That's the joy of sewing with scraps.  You get all these happy memories in a new project!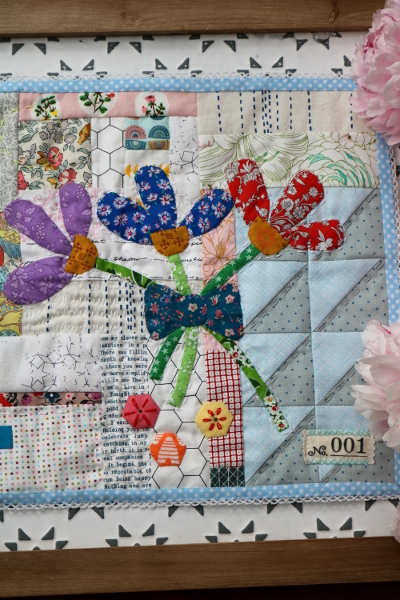 This Treehouse stitching sampler also represents some firsts for me.  I had never embroidered on a piece of fabric for English paper piecing before, but those hexagons were begging for flowers on them.  The tiny beehive is a remnant of my

Beehive mini quilt

from years ago.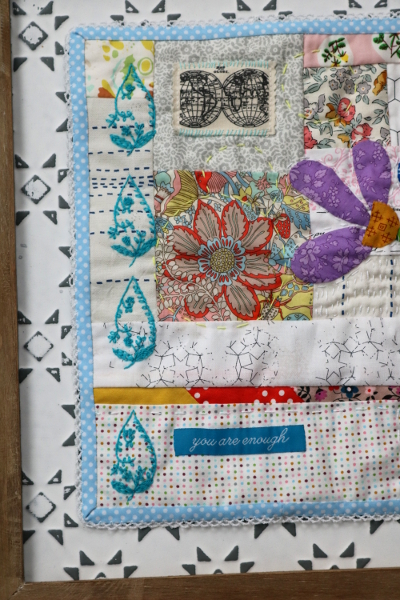 I also added some patches to this mini quilt.  "You are enough" was a gift from my sister.  The skinny strip above is a scrap from a lone star block.  I also used a pattern from my favorite embroidery artist, Yumiko Higuchi, along the side of the quilt.  I loved the motif of a teardrop made of flowers.  (It reminded me of my

Through Tears She Saw More Clearly

quilt.)  For the quilting, I chose big stitch style hand quilting with Perle cotton, size 8.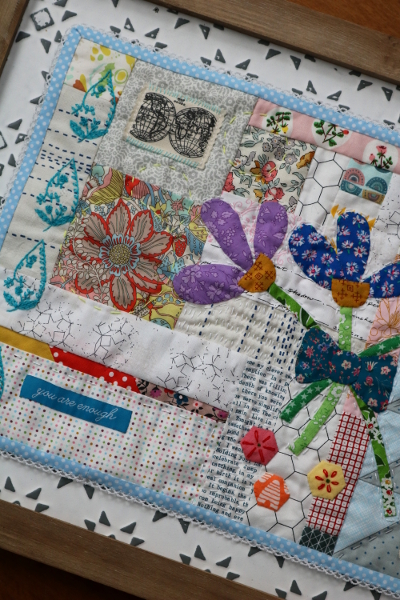 Finally, I finished the little beauty with a pre-made bias tape with a crochet edge to it.  I bought it years ago in a quilt shop but never used it.  I'm happy it's found its home.  This turned into a wonderful little mixed media kind of project for me, and I loved every minute of making it.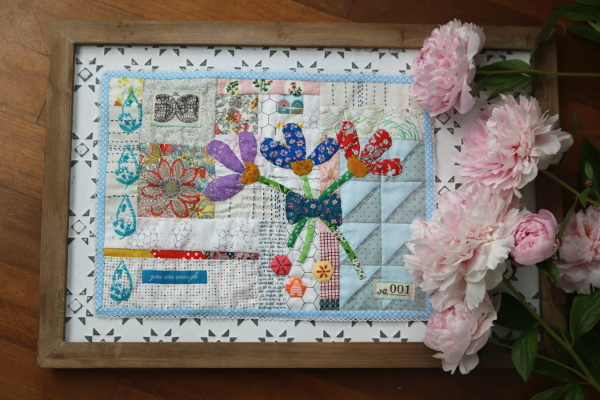 Of course I couldn't resist adding fresh peonies to a few photos of this sweet little quilt.  I think I need to do more sewing like this.  Just looking at it makes my fingers itch to go dig through scraps and come up with a plan!  
I hope you're sewing something fun today!