Arise Quilt Take Two
After sharing my

Heather Ross Awake Quilt

last week, it's time for my

Arise Quilt

, take two.  This version was actually the first one I made, using fabrics from several different designers.  I really love this quilt and have been snuggling with it all week.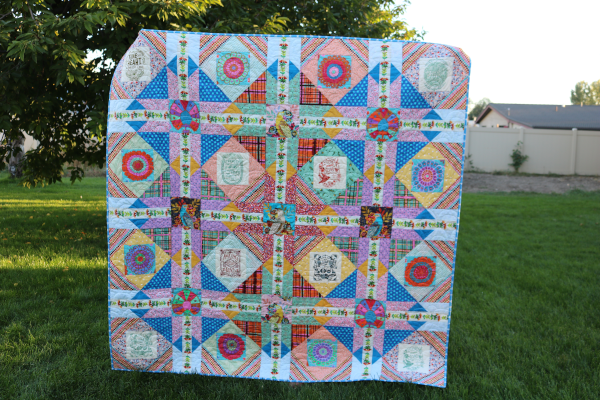 This version uses color differently than my

Tula Pink Curiouser and Curiouser Arise Quilt

, such as lighter, less dramatic fabrics at the edge and a fussy cut sashing strip.  It was a joy to make.  This pattern is a fussy-cutting dream and I took every opportunity to do it.  First up was the birds, designed by Kathy Doughty, which I bought just because I love them.  And the colors.  In fact, several fabrics in this quilt were designed by Kathy, including the fun plaid.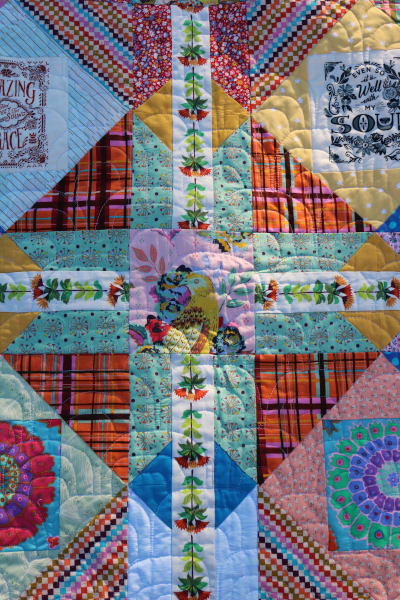 I also fussy cut some hymns, artwork I have long admired from Fancy That Design House. And that tiny checkered fabric was begging to be used in some clever way.  It creates subtle movement around the perimeter of the quilt and is one of those things that looks better as you get closer.  I like having that in a quilt.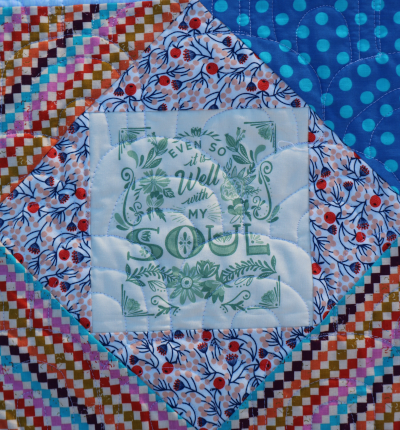 The gorgeous floral design in the sashing was is also a Kathy Doughty fabric.  When I first bought it, I pictured something like this with it.  Arise gave me the perfect opportunity.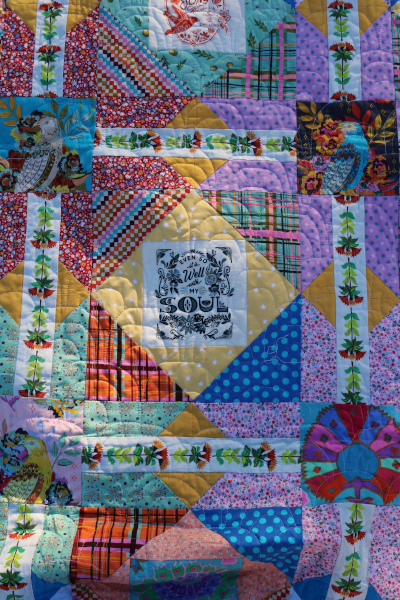 Of course there is some Kaffe, both florals and dots.  And more birds in different colors.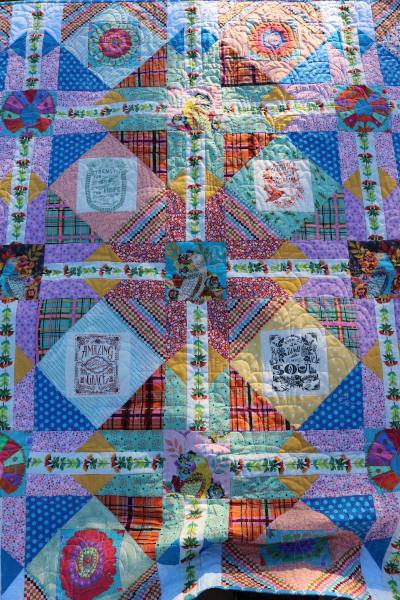 There are fabrics in this quilt from at least 10 different designers, and they all work together beautifully.   It's my favorite kind of sewing.  It hit me today that when I sew from a collection, it feels like putting a puzzle together.  Where does each fabric fit?  But when I sew using any fabric in my studio, just because it feels like the right one?  That's like painting.  It's more exhilarating to me.  More risky, too, perhaps.  But infinitely more fun.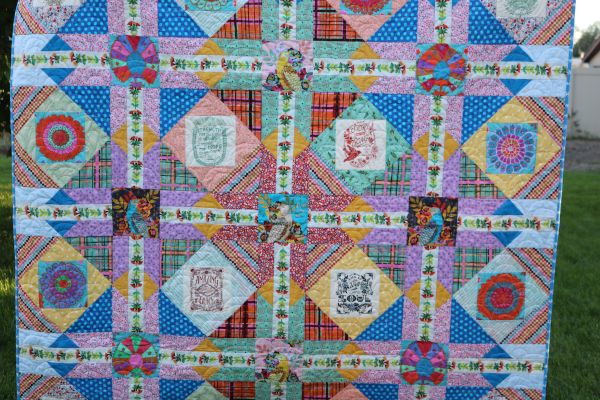 I keep working at my longarm quilting skills, always worried I'm about to ruin a quilt.  Somehow they all end up being quilts that are at least useful.  For this Awake Quilt take two, I quilted a wonky rainbow pattern all over it.  It was fun.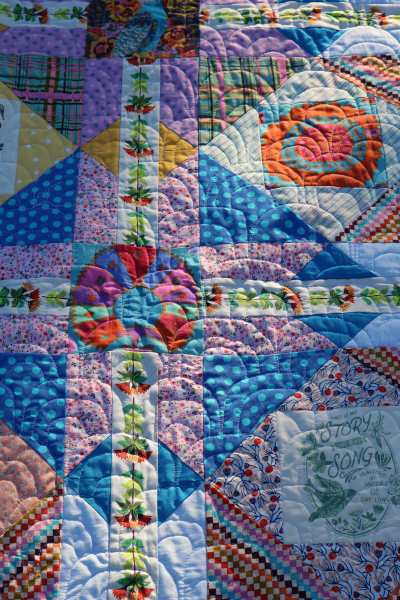 I like how it looks in the evening light.  And the backing was really fun to make.  It features three favorite prints.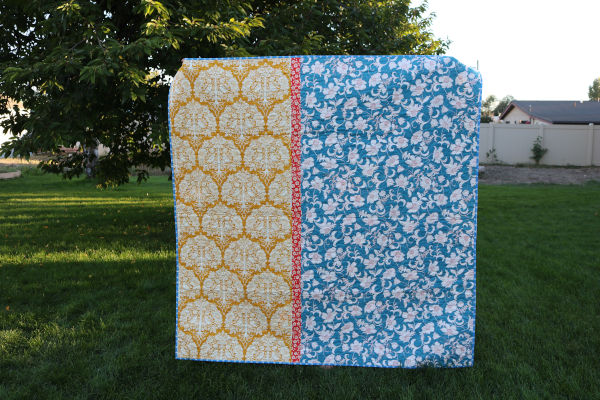 That blue floral has been waiting for it's moment to shine, and this is it.  I paired it with Heather Bailey's gorgeous birds from True Kisses.  Wish I had a lot more of that one!  A skinny strip of a precious red floral adds just the right touch.  Oh yes, this backing makes me smile.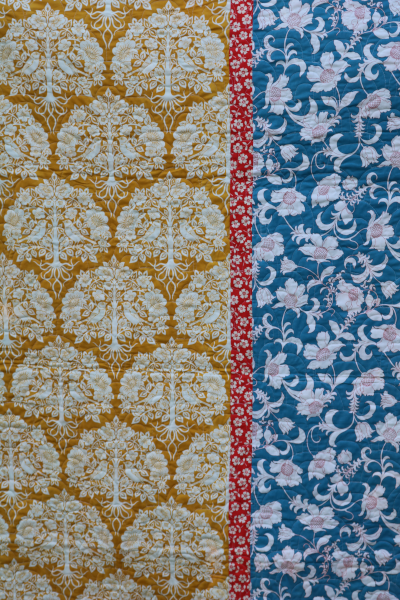 A blue binding finishes things off nicely, don't you think?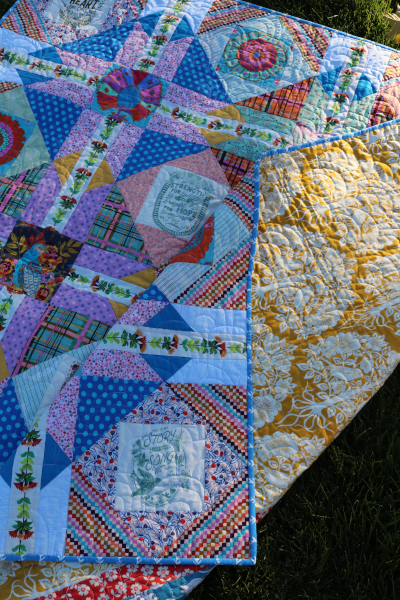 So there you have it, Arise Quilt take two.  Or original.  Whatever.  It's a fun one to make.  My next

Arise quilt

will feature vintage embroidery.  It's been bumped by other deadlines, but I'm excited to get back to it.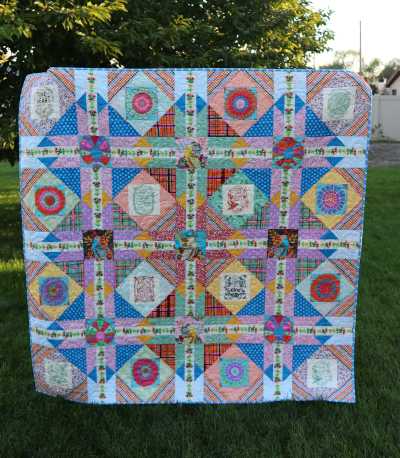 On Thursday I'll be back with

the third quilt in my Resolute pattern collection:  Stand

.  Can't wait to show you!